Net Worth
Revealing MMA Fighter Omari Akhmedov Net Worth: How Rich is He?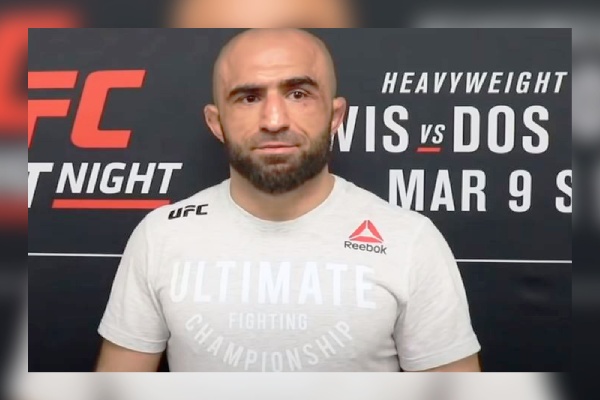 Omari Akhmedov Net Worth. Image Credit: Social Media.
Omari Akhmedov is a Russian professional Mixed Martial Artist who currently competes in the Light Heavyweight division of the Professional Fighters League (PFL). Previously, he fought in the Ultimate Fighting Championships (UFC). Since turning pro in 2010, Akhmedov has built a desirable fortune.
Despite being brutal and fearsome, the sport of MMA is equally rewarding. So, today, we will take a closer look at Omari Akhmedov net worth and his career earnings. In the world of MMA, fighters can earn a lucrative amount of money, which is also backed up by sponsorships, pay-per-views, bonuses, and other endeavors.
Omari Akhmedov Brief Overview
Omari Akhmedov was born on October 12, 1987, in Dagestan, Russia, to a Lak family, who are a Northeast Caucasian ethnic group who speak the Lak language.
In Dagestan, the culture of taking up wrestling is normal, and therefore, Omari took up freestyle wrestling from a young age. As an amateur, he accomplished numerous titles.
Omari started his professional fighting career in 2009 when he was 22. After completing high school, the Russian native graduated from Dagestan State Institute of National Economy.
Before embarking on a fighting career, Akhmedov helped his parents in the family business. However, he always wanted to pursue mixed martial arts.
A black belt and second Dan in MMA, Akhmedov won the title of Russian National Hand-to-Hand Combat Champion in Russian of Union Martial Arts.
Transition from Wrestling to MMA
During his amateur wrestling competition, Omari Akhmedov became a two-time Russian champion in pankration hand-to-hand combat. Also, he became a Dagestan Combat Sambo Champion, along with winning a world champion title in the amateur MMA "Mix Fight" version.
From 2010-2013, Akhmedov logged a professional MMA record of 12-1 in his homecountry Russia. He made his MMA debut on January 30, 2010, fighting the bout against Iskhan Zakharian at ProFC: Fight Night 2. During his three seasons, Omari managed to earn over $30,000 in career earnings. However, after joining UFC, his wealth saw a rapid rise.
ALSO READ: Revealing UFC Fighter Miesha Tate Net Worth: The Value Behind The Punches.
UFC Earnings, Fight of the Night and Bonuses
The UFC officials signed Omari Akhmedov with a contract worth $12,000, which is the UFC debutants' starting salary. If they win their debut match, then the fighters receive double their earnings, which is $24,000. Likewise, Akhmedov made his UFC debut against Thiago de Oliveira Perpetuo at UFC Fight Night 32, which was held on November 9, 2013, in Brazil.
Both Akhmedov and Perpetuo received $50,000 bonuses after earning the Fight of the Night title for their wild middleweight affair. However, Omari decided to part ways with UFC in July 2021 after losing to Brad Tavares at UFC 264 in Las Vegas.
| | | | |
| --- | --- | --- | --- |
| Year | Tournament | Opponent | Earnings |
| 2015 | UFC 182 | Mats Nilsson | $20,000 |
| 2016 | UFC Fight Night 101 | Kyle Noke | $5,000 |
| 2017 | UFC Fight Night 109 | Abdul Razak Alhassan | $49,000 |
| 2019 | UFC 245 | Ian Heinisch | $120,000 |
| 2020 | UFC Fight Night 174/UFC Vegas 6 | Chris Weidman | $70,000 |
| 2021 | UFC Fight Island 8 | Tom Breese | $130,000 |
Table Source: Espn
In his eight years of UFC career, Omari Akhmedov scored key wins over Ian Heinisch, Zak Cummings, Tim Boetsch, etc. Other than prize money, the former wrestling champion received numerous bonus earnings, and he had sponsorships with Reebok as well.
The former UFC fighter Omari Akhmedov earned over $800,000 from his contract salaries and paychecks each time he stepped inside the Octagon. As per reports, the minimum earnings UFC fighters get is between $10,000-$30,000, and the highest earnings are reported as between $500,000 and $3,000,000 per fight.
This might interest you: Famous Female MMA fighter Cat Zingano's Net Worth.
Know Omari Akhmedov Net Worth: Omar VS Rob Wilkinson
After parting ways with UFC in 2021, Omari Akhmedov joined the Professional Fighters League (PFL). He made his debut against Jordan Young on October 27, 2021, at PFL 10, held in Florida. Unlike most promotions (excluding Bellator), the PFL's entire platform is a tournament format.
During his 14 years of professional MMA fighting, Omari Akhmedov net worth is reported to be around $3 million. However, the figures may vary a little as fighters spent their wealth on diverse pursuits.
In the PFL, fighters compete for a $1 million prize if they make it to and win the finals. However, outside of the $1 million, they earn a separate paycheck coming from sponsorships and bonuses. On June 17, 2023, Omari appeared in the PFL 4 tournament that was held in Atlanta, Georgia. He won the fight against Teodoras Aukstuolis via technical submission. Omari received $206,000 in prize money, with $103,000 for his appearance.
On November 25, 2022, Omar Akhmedov faced Rob Wilkinson, and the pay-per-view main card event premiered at Hulu Theater from Madison Square Garden, New York City. In a YouTube interview, Omari revealed his plan to open a coffee shop in Florida if he would win the $1 million prize money. Unfortunately, the fighter's dream was shattered after he lost the bout.
FAQs
Q: Who is Omari Akhmedov?
A: Omari Akhmedov is a Russian professional MMA fighter who is currently signed with the Professional Fighters League (PFL).
Q: What is Omari Akhmedov's net worth?
A: Omari Akhmedov has an estimated net worth of $3 million.
Q: How much do PFL fighters make?
A: PFL fighters compete for a $1 million prize money.
Q: What is the minimum pay for UFC fighters?
A: UFC Fighters earn as minimum as $12,000 and a maximum of over $1 million.
Did you notice an error ?
Please help us make corrections by submitting a suggestion. Your help is greatly appreciated!