Top Lists
What Was The Reason Behind Kristie Mewis and Rachel Daly Breakup? Who Are They Dating Now?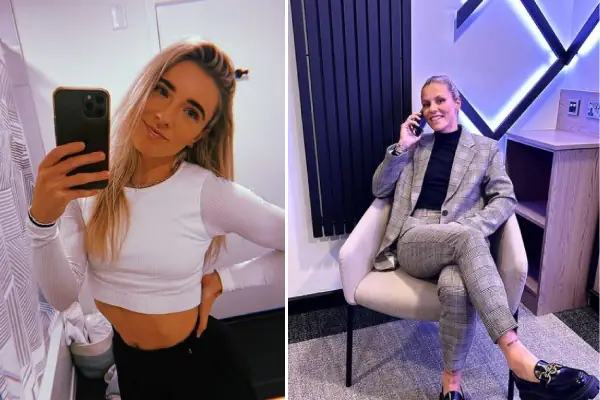 Kristie Mewis and Rachel Daly. Image Credit: Instagram.
Among the lists of power couples in women's sports, the names of soccer stars come at the top. While it's common for the teammates to be engaged in a romantic relationship, the couple does face tension in their personal affairs.
In women's soccer, Kristie Mewis and Rachel Daly were beloved superstars in their rights. However, the couple parted ways, citing irreconcilable differences. But what exactly was the reason behind their separation? We present you with some interesting facts about the former women lovebirds.
A Brief Overview of Kristie and Rachel
Kristen Anne Mewis was born in Massachusetts, and from a young age, she was a talented midfielder. She represented her country in both the U-17 and U-20 World Cup tournaments.
Kristie is the younger sister of Samantha Sam Mewis, who is a successful women's footballer. Sam is a midfielder for Kansas City of the National Women's Soccer League.
Both Kristie and Sam played for the 2008 Under-17 U.S. Youth World Cup Team that won the silver medal. This achievement made the Mewis siblings the first sisters to represent the U.S. at a women's youth World Cup event.
Rachel Ann Daly, an English professional footballer, plays for the England National Team and Aston Villa in the FA Women's Super League. Previously, Daly played for the Houston Dash.
Daly attended John University and played football for the college team, Red Storm. During college, she set numerous records and was named NSCAA All-American.
Likewise, Daly became the first player to be selected to the NSCAA All-America First Team. Similarly, Rachel became the first player to be named as a semifinalist for the Hermann Trophy.
What Happened Between Kristie Mewis and Rachel Daly?
Kristie Mewis dated Rachel Daly while they were teammates on Houston Dash. The formal introduction flourished into a friendship and a romantic relationship in November 2017. Kristie and Rachel were open about their relationship, and their affair was quite popular on media tabloids.
After two years of love affair, Mewis and Daly ended their relationship, keeping the reasons private. The two split in 2019, but they remained teammates until 2021. Meanwhile, Kristie began a new chapter with Gotham FC, while Daly returned to England, joining Aston Villa. Afterward, both the stars went on to date their respective loved ones. Scroll down to know more.
ALSO READ: Top 5 Interesting Facts About Ali Krieger And Ashlyn Harris: Power Couple of Women's Soccer
Who is Kristie Mewis Dating After Rachel Daly?
Kristie Mewis first met Australian captain Sam Kerr, the Matildas star, in the 2019 US League. But it's said that the two began a relationship in 2021. Nevertheless, the couple has emerged as one of the football's power couples. Similarly, Sam and Kristie have decided to be out loud and proud in both queer and straight communities.
The Gotham FC midfielder Kristie Mewis's partner Sam Kerr is an Australian forward. Likewise, she is the captain of the Australia women's national team, also known as the Matildas. For information, Sam and Kristie went public with their relationship after their love affair made headlines at the Tokyo Olympics in August 2021. Moreover, the lovebirds made their relationship public online on Instagram after a few days.
Who is Rachel Daly Dating now?
Rachel has previously dated Millie Turner, who played in defense for Manchester United. The two started dating in July 2021, and the couple stayed in a live-in relationship with their rescue dog, Dexi. Their relationship was initially long-distance, but Rachel moved back to the United Kingdom from Texas in 2022.
While the Lioness victory over Australia occurred, the drama around Kristie, Sam, and Rachel made headlines. As Sam is Kristie Mewis' current girlfriend, Rachel sort of went up against her ex-girlfriend.
Now, talking about Rachel Daly's current relationship, she has a new partner. Yes, Rachel and Millie have already separated, but they parted ways privately. As per reports, Rachel Daly's new partner is Sarah Mayling, her Aston Villa teammate.
FAQs
Q: Why did Kristie Mewis and Rachel Daly break up?
A: Kristie and her ex-girlfriend, Rachel, separated without revealing why.
Q: Who is Kristie Mewis dating now?
A: Kristie is dating Australian footballer Sam Kerr.
Q: Who is Rachel Daly dating now?
A: Rachel Daly's current partner is Sarah Mayling. She started dating Mayling after her break-up with Millie Turner.
Did you notice an error ?
Please help us make corrections by submitting a suggestion. Your help is greatly appreciated!