Sports
Kimmo Timonen Biography: Former Ice Hockey Defenseman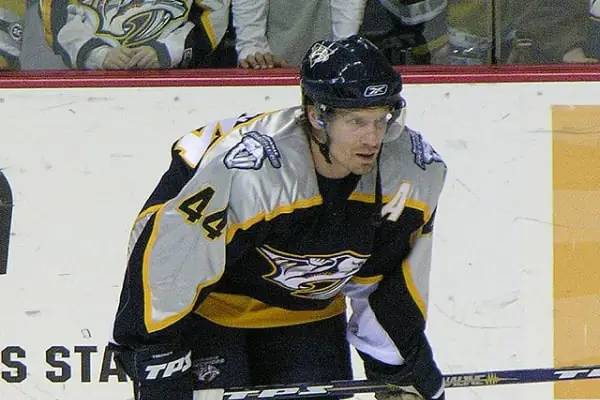 Kimmo Timonen Biography. Image Credit: Sean Russell.
Full Name

Kimmo Samuel Timonen

Age

48 yrs

Birth Date

March 18, 1975

Country

Finland

Relationship Status

Married

Spouse

Johanna Timonen

Nationality

Finnish

Profession

Ice Hockey Defenseman

Children

Samuel Timonen, Ava Fiona Timonen and Ella Amelie Timonen

Awards and honors

Stanley Cup Winner

Net Worth

$44 Million

Height

5 feet 10 inches
In the fast-paced and physically demanding world of ice hockey, few players have left as lasting an impression as Kimmo Timonen, a former Finnish ice hockey defenseman.
With a career spanning over a decade, Timonen's exceptional skills, leadership, and unwavering determination made him a force to be reckoned with on the ice.
In Kimmo Timonen biography, we delve into the life and career of this Finnish player, tracing his journey from humble beginnings to becoming one of the most respected defensemen in the game. Join us as we explore the remarkable achievements, challenges, and legacy of this legendary figure in the world of ice hockey.
Introduction to Ice Hockey
Kimmo Samuel Timonen, born on March 18, 1975, in Kuopio, Finland, had the privilege of experiencing a childhood surrounded by the fervor for ice hockey that is deeply ingrained in his home country.
From an early age onwards, he became enamored with this captivating sport and displayed remarkable skill alongside a commendable commitment to hard work, traits which would ultimately pave the way for his exceptional achievements.
Timonen dedicated himself to honing his abilities through active involvement in various youth leagues throughout Finland, where he consistently impressed as a defenseman due to his nimbleness on ice, an astute understanding of the game's intricacies, and noteworthy contributions both defensively and offensively.
Rise in Finnish Leagues
Timonen's road to becoming a professional ice hockey defenseman commenced in the Finnish leagues. At just 17 years old, he made his debut in the esteemed Finnish Elite League, impressing with his remarkable skills and garnering recognition as an exceptionally talented young player.
Surpassing expectations, Timonen became the youngest participant for Finland at the 1993 IIHF World Junior Championships, showcasing his incredible abilities on an international stage.
Having recorded an impressive shot total of 44 during the tournament – which ranked second-highest – Timonen's exceptional performances in Liiga captured the attention of NHL scouts, paving the way for him to grace the sport's highest echelons.
In a landmark moment in his career, Timonen was selected by the Los Angeles Kings during the tenth round of the NHL Entry Draft held back in 1993, thus signaling a pivotal turning point towards embarking upon his North American hockey journey.
NHL Career and Notable Achievements
In 1998, Kimmo Timonen began his NHL career with the Los Angeles Kings. However, it was during his time with the Nashville Predators that he truly made a lasting impact.
Timonen spent over eight seasons with the Predators and established himself as one of the league's top defensemen. Renowned for his offensive skills, smooth skating ability, and strong defensive play, Timonen became an essential part of the team's roster. He consistently ranked among their leading scoring defensemen and received recognition for his exceptional two-way performance.
During the 2004-05 NHL lockout period, Timonen played for KalPa – a team from his hometown which he co-owns alongside former Flyers teammate Sami Kapanen. Additionally, he convinced fellow teammate Adam Hall to join him at KalPa throughout this temporary period.
On October 3rd, 2006, Timonen was appointed as captain of the Nashville Predators for the upcoming season. This particular year in his time there proved to be Timonen's most remarkable season as he achieved career-best statistics in dishing out assists and total points.
Philadelphia Flyers and Stanley Cup Run
During the 2006-2007 season, Kimmo Timonen joined the Philadelphia Flyers and became a key player for them throughout his NHL career. He later agreed to a six-year contract extension with the team worth $37.8 million, making him the highest-paid Finnish player in the league at that time.
Meanwhile, Timonen's younger brother Jussi was also part of the Flyers organization as he played for their AHL affiliate, the Philadelphia Phantoms. However, Jussi was eventually traded to the Dallas Stars early in the following season (2007-08).
Thanks to Timonen's leadership skills and contributions on the ice, he played a crucial role in helping lead the Flyers during their impressive journey towards reaching the Stanley Cup Final during the 2009-2010 season – an accomplishment that marked his first-ever appearance in this prestigious championship series. Although they ultimately lost to the Chicago Blackhawks after а challenging six-game battle against them.
ALSO READ: Gabriel Bortoleto Biography: Meet The Brazilian Motorsports Racing Driver
Tase of an International Success with Team Finland
In addition to his accomplishments in the NHL, Kimmo Timonen made a significant impact representing Finland on the international stage. He showcased his skills in various prestigious tournaments, such as the Winter Olympics and IIHF World Championships, playing a crucial role in Finland's achievements.
With his exceptional leadership skills, defensive prowess, and ability to perform under pressure, Timonen contributed to Finland's impressive performances and their achievements in winning medals. Throughout his career, Timonen participated in five Olympic Games (1998, 2002, 2006, 2010, and 2014), earning a bronze medal in 1998.
@SidneyCrosbyEgo @ChirpHard Cant change this either pic.twitter.com/oF0lCKfoEe

— Kimmo Timonen (@BigDaddyKimmo) May 21, 2013
Additionally, the captain took part in seven World Championships (1997-98, 2000-01, 2003-04, and 2009), where he secured two silver medals (in '98 & '01). Furthermore, he enjoyed playing for team Finland at two World Cups.
Timonen held an integral position as one of Finland's key players for many years. He was renowned for being dependable on both defense fronts while showcasing adaptability across all game situations. Moreover, his influential captaincy extended not only during gameplay but also outside it. In recognition of this remarkable career, Finnish defenseman Kimmo Timonen achieved induction into the prestigious IIHF Hall of Fame in 2020.
Career-Ending Scare and Sweet Victory Afterwards
Kimmo Timonen won the Stanley Cup with the Chicago Blackhawks in 2015 in his final career game. It was his first and only Stanley Cup victory.
Timonen had a lasting and successful career in the NHL, but he had never been able to win the Stanley Cup. He came close in 2010 when the Philadelphia Flyers reached the Stanley Cup Final, but they lost to the Chicago Blackhawks.
View this post on Instagram
In 2015, Timonen signed with the Blackhawks as a free agent. He was 40 years old at the time, and he was coming off a blood clot scare that had threatened his career. However, Timonen was determined to win the Stanley Cup, and he worked hard to get back into shape.
Timonen played a limited role for the Blackhawks in the 2014-15 season, but he was still an important member of the team. He was a leader in the locker room, and he helped the young players on the team.
The Blackhawks made it to the Stanley Cup Final in 2015, and they faced the Tampa Bay Lightning. The Blackhawks won the series in 6 games, and Timonen was finally able to lift the Stanley Cup.
Timonen's Stanley Cup victory was a special moment for him and for his fans. He had overcome a lot to achieve his dream, and he was a deserving winner.
Kimmo Timonen's Net Worth and Career Earnings
Throughout his career in ice hockey, Kimmo Timonen had the opportunity to play for teams like the Nashville Predators, Philadelphia Flyers, and Chicago Blackhawks.
Over a span of more than twenty seasons in professional hockey, he managed to accumulate earnings exceeding $55 million. As of now, he is currently ranked 154th among NHL players with respect to overall earnings.
For an approximate breakdown of Kimmo Timonen's annual income, please refer below:
| | |
| --- | --- |
| Year | Salary |
| 2013 | $3.7 million |
| 2014 | $8.5 million |
| 2015 | $3.5 million |
| 2016 | $200,000 |
| 2017 | $225,000 |
| 2018 | $300,000 |
| 2019 | $300,000 |
| 2020 | $290,000 |
| 2021 | $320,000 |
| 2022 | $300,000 |
Table Source: WealthyGorilla
As of October 2023, it is estimated that Kimmo Timonen's net worth is around $44 million. He possesses properties in Finland and the United States, particularly in Chicago, where he relocated after retiring.
Similarly, you might be interested to read about Manchester United winger Jadon Sancho's salary per week.
Personal and Post-Retirement Life
Kimmo Timonen is married to Johanna Timonen, and they have three children together: son Samuel and daughters Elle Amelie and Ava Fiona. The family lives in Kuopio, Finland, where Timonen owns several restaurants and nightclubs.
Timonen is a private person, and he does not share much information about his personal life with the media. However, he has spoken about the importance of family in his life. In an interview with NHL.com, he said: "Family is the most important thing to me. They're the ones who are always there for me, no matter what."
Timonen is also a role model for young players. He is known for his work ethic, his dedication, and his positive attitude. He is also a strong advocate for education and charity.
Timonen is a remarkable individual, and he is an inspiration to many people around the world. Kimmo Timonen biography is a great example of what can be achieved through hard work, perseverance, and dedication.
Did you notice an error ?
Please help us make corrections by submitting a suggestion. Your help is greatly appreciated!