Business
Tony Ressler Biography: Journey of a Visionary Investor and Business Titan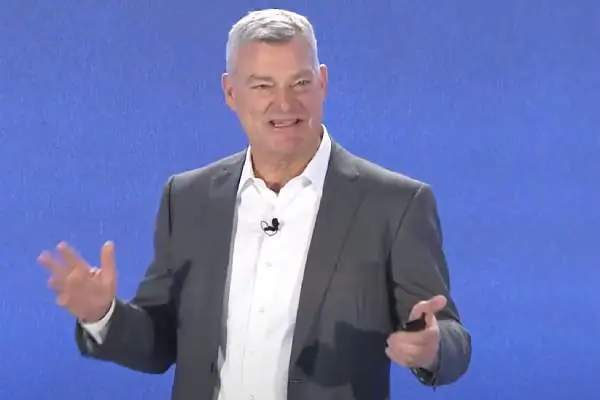 Tony Ressler Biography. Image Credit: Social Media.
Full Name

Antony P. Ressler

Age

63 yrs

Birth Date

October 12, 1960

Country

America

Relationship Status

Married

Spouse

Jami Gertz ​(m. 1989)

Nationality

American

Ethnicity

White

Profession

Businessman

Children

Oliver Ressler, Nicholas Ressler and Theo Ressler

Education

MBA from Columbia Business School

Net Worth

$7.3 Billion

Height

5 feet 8 inch
In the fast-paced world of finance, where innovation and strategic acumen are paramount, Tony Ressler stands out as a visionary businessman whose journey has left a lasting impact on various industries.
A visionary investor and brilliant businessman, Ressler's life is a testament to entrepreneurial prowess and a commitment to making a positive impact. Follow along as we discover Tony Ressler biography, his professional accomplishments, and his dominion over the business.
Ressler has invested in almost every sector, including sports, technology, education, and energy sources, among a list of other industries. Further, Tony Ressler's wife is a renowned actress who gives competition to Hollywood's top moguls in the context of fame and riches.
Early Life, Educational Foundation, And Apollo
Born Antony P. Ressler on October 12, 1960, in Washington D.C., the United States, Tony's parents were Ira Ressler and Dorothy Ressler. One of the five children, Tony's siblings are Bruce Ressler, Jonathan Ressler, Debra Ressler, and Richard Ressler.
Taking about education, Ressler attended Georgetown University's School of Foreign Service. Further, he received an MBA from Columbia Business School. Ressler's educational foundation at Columbia laid the groundwork for his future endeavors. Armed with the knowledge of a solid understanding of economic principles and investment strategies, Tony was poised to embark on a journey that would see him rise to prominence in the world of finance.
Afterward, Tony began working at a firm named Drexel Burnham Lambert. There he worked his position, eventually reaching senior vice president in the high-yield bond department with responsibility for the new issue/syndicate desk. At 30, Tony co-founded the private equity firm Apollo Global Management in 1990 with Leon Black, who was Drexel's managing director. For information, Black is the billionaire hedge fund manager who also happens to be Ressler's brother-in-law, married to Debra Ressler.
Further, most of the other founders were Drexel's employees, including John Hannan, Craig Cogut, Marc Rowan, Josh Harris, and Michael Gross, among others. In 1997, Ressler, with former colleagues from Apollo Global Management John H. Kissick and Bennett Rosenthal, co-founded Ares Management.
ALSO READ: Wyc Grousbeck Biography: Owner and Governor of The NBA's Boston Celtics
Founding Ares Management: A Trailblazing Venture
Filled with an ambition to mark his name in the world of finance, Ressler began working for various financial firms and honing his skills in investment banking. After founding Ares Management, Tony worked day and night to establish his firm as a powerhouse in the realm of alternative asset management. Moreover, he served on several B.O.D of companies owned or controlled by Ares investment funds and stepped down as CEO in December 2017 and became executive chairman.
So that you know, Ares Management is a major corporate backer of the Pilgrim Pipeline. Ares Management is a private equity company that manages tens of billions in assets. Ares invests in oil and gas, including companies like Blackbrush, CWI, Gastar, Halcon, Verdad, etc., the military-industrial complex Sotera, healthcare CHG, Aspen Dental, Unified Physician Management and retail including 99c Only Stores, Neiman Marcus, etc.
Ressler's unique approach to investment emphasized understanding market trends, mitigating risks, and fostering long-term partnerships. Further, he owns a minority stake in the baseball team Milwaukee Brewers and a majority stake in NBA's Atlanta Hawks. Not only is he a brilliant investor, but Tony believes in giving back to the community. He has donated millions of dollars to the Los Angeles County Museum of Art and Cedars-Sinai Medical Center and sits on the boards of both.
The Atlanta Hawks Acquisition: Merging Finance and Sports
While his influence in the world of finance was well-established, Ressler's ambitions extended beyond balance sheets and investment portfolios. In 2015, he led an ownership group that successfully acquired the Atlanta Hawks, a professional basketball team competing in the National Basketball Association (NBA). This move marked a compelling intersection of Ressler's financial expertise and his passion for sports.
Under Ressler's ownership, the Atlanta Hawks underwent a revitalization, not only in terms of performance on the court but also in terms of overall fan engagement and community outreach. His strategic insight from the finance sector translated into thoughtful decisions that bolstered the team's operations, including player acquisitions, coaching appointments, and arena improvements.
Ressler's hands-on involvement in the team's management showcased his dedication to excellence and his commitment to creating a winning environment. This approach was not limited to the players and coaching staff; Ressler's emphasis on community engagement led to partnerships with local organizations and initiatives aimed at positively impacting Atlanta's neighborhoods.
Similarly, you would like to read about Jan Koum's Biography.
Tony Ressler and Jami Gertz: A Dynamic Partnership of Business, Love, and Philanthropy
Tony Ressler and Jami Gertz's paths crossed in the 1980s, setting the stage for a love story that would bridge their two distinct worlds. Their relationship blossomed amidst their respective pursuits, and their marriage in 1989 united their futures in a dynamic partnership.
Talking about their marriage, Tony Ressler and Jami Gertz tied their wedding knot on June 16, 1989. Their marriage brought together two individuals from different worlds: Ressler's expertise in finance and investment and Gertz's accomplishments as an actress in the entertainment industry. Nevertheless, their marriage has been characterized by mutual support, shared values, and a commitment to both personal and professional growth.
The couple has been blessed with three sons, and their family life has been a cornerstone of their journey together. Oliver Ressler, born in 1992, is the eldest son of Tony Ressler and Jami Gertz. His upbringing has been marked by the presence of two accomplished parents who have instilled values of hard work, compassion, and philanthropy.
Nicholas Ressler, the second son, was born in 1995. Growing up in a household where both parents are successful in their respective fields has likely influenced his perspectives on career and life. Likewise, Theo Ressler, born in 1998, completes the trio of Ressler-Gertz sons. His childhood has been shaped by the dynamic blend of Hollywood and finance that defines his parents' lives.
Tony Ressler and Jami Gertz's ability to balance their thriving careers with their personal lives is a testament to their partnership's strength. Despite their busy schedules, they have prioritized creating a nurturing and supportive environment for their children, ensuring that family remains at the heart of their journey.
Balancing Careers, Family, and Philanthropic Endeavors
While Tony Ressler's career in finance flourished with the growth of Ares Management, Jami Gertz continued to make her mark in Hollywood with acclaimed performances in film and television. Despite their divergent professional spheres, the couple's shared values and mutual support formed the bedrock of their enduring relationship. The duo's three decades of marriage is no doubt a blend of Hollywood and business, united by their love and shared commitment to philanthropy.
In 1988, the couple established the Ressler-Gertz Foundation, a philanthropic organization dedicated to addressing a wide range of social challenges. The foundation's initiatives span diverse areas such as education, healthcare, poverty alleviation, and community development. Through their combined resources and influence, Tony Ressler and Jami Gertz have channeled their efforts into supporting organizations that strive to uplift marginalized communities and create opportunities for those in need. Their shared vision for a better society is realized through targeted investments and partnerships with impactful organizations.
The family's commitment to philanthropy is a central aspect of their shared values. The Ressler-Gertz Foundation, established by Tony Ressler and Jami Gertz, reflects their dedication to giving back to society. Through their foundation, the couple supports causes in areas such as education, healthcare, poverty alleviation, and community development. Their philanthropic efforts serve as a powerful example for their children, instilling in them the importance of using their resources and influence to create positive change.
Through their business success, their enduring love, and their dedication to giving back, Tony Ressler and Jami Gertz leave a legacy that extends far beyond their individual achievements, a legacy of compassion, collaboration, and a shared commitment to creating a better world.
Tony Ressler Net Worth: A Staggering Display Of Fortune
Every person sees the numbers but not the vision, ambition, strong work ethic, and multiple failures behind a man's success and fortune. As a chairman and co-founder of his firm, Ares Management Corporation, he has risen to the top of the corporate world because of his sharp financial sense. Ressler's ownership of the Atlanta Hawks basketball team has demonstrated his breadth of interests and imaginative leadership outside of his financial endeavors.
As per Forbes, Tony Ressler's net worth is $7.3 billion, and the majority source of his income is finance. Tony Ressler co-founded private equity giant Apollo Global Management with brother-in-law and fellow billionaire Leon Black in 1990.
| | |
| --- | --- |
| Year | Net Worth |
| 2019 | $2.1 Billion |
| 2020 | $2.7 Billion |
| 2021 | $4.3 Billion |
| 2022 | $5.7 Billion |
| 2023 | $5.9 Billion |
Table Source: Forbes
Do you know Tony Ressler's wealth helped him climb to the 158th rank in the Forbes 400 Wealth History list? His firm, Ares, is based in L. A is widely known for its expertise in diverse areas such as credit, private equity, and real estate investments.
Tony Ressler biography is a testament to his strategic vision and keen ability to identify lucrative investment opportunities that set the stage for the firm's remarkable growth. Under his leadership, the company became a dominant force in the private equity landscape, engaging in complex financial transactions such as distressed debt investing and leveraged buyouts.
Did you notice an error ?
Please help us make corrections by submitting a suggestion. Your help is greatly appreciated!