Sports
Matt Faessler Biography: An Australian Rugby Star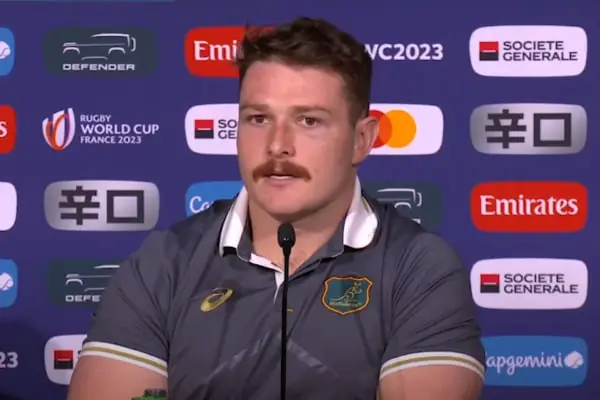 Matt Faessler Biography. Image Credit: Social Media.
Full Name

Matt Faessler

Age

24 yrs

Birth Date

December 21, 1998

Country

Australia

Relationship Status

Not Confirmed

Nationality

Australian

Profession

Rugby Union Player

Education

Toowoomba Grammar School

Height

6 feet 0 inches
In the heart of Australian rugby, where the sport's spirit burns bright, and legends are forged, there exists a player whose brilliance illuminates the field like a shooting star. Matt Faessler is more than just an extraordinary Australian rugby star; he embodies excellence in every aspect of his game, captivating audiences with his awe-inspiring skills and unwavering passion for this beloved sport.
Beyond his remarkable talents, Faessler possesses an innate ability to command the field, drawing upon his journey from humble beginnings to achieve rugby stardom. His path is one defined by indomitable spirit and relentless pursuit of greatness—a compelling narrative that enriches our understanding of Faessler as a person and player.
In Matt Faessler biography, we embark on a thrilling exploration not only into the rugby union player's life and career but also into the characteristics that have shaped him into an Australian rugby icon—one whose name will forever be etched in the annals of this beloved sport's rich history.
Early Life and Sporting Roots
Born on a summer day on December 21, 1998, amidst the picturesque landscapes of Toowoomba, QLD, Australia, Matt Faessler's early years were deeply influenced by his grandfather, Vince Bermingham's revered status as an icon of sports.
Surrounded by unwavering support from his parents (Craig and Dani) and inspired to carry forward his grandfather's legacy, Fae7ssler found himself drawn to the rugged beauty and tactical finesse of rugby. His innate athleticism and profound insight into the sport became evident at a tender age.
As Matt matured through his formative years, he dedicated countless hours to refining his skills in local fields while immersing himself in the captivating tapestry of rugby that wove through every aspect of community life. This immersive experience sculpted not only a player but also nurtured an enduring love for the game within him.
Growing up in Toowoomba, both Faessler and Vince were deeply rooted in the local community. Faessler's rugby journey began as a prop for the University of Southern Queensland Saints' U5s. His dedication to the sport was evident during his time at Toowoomba Grammar School, where he honed his skills on the 1st XV for two seasons (2015-16).
It was through his exceptional performance that Matthew achieved selection in the Australian Schools Barbarians squad – essentially Australian Schools II. This accomplishment placed him among esteemed players such as Harry Wilson, Dylan Pietsch, Jordan Petaia, Tate McDermott, and Nick Frost.
The Highs and the Lows
After school, Faessler dedicated himself to playing rugby with Brothers in Queensland's Premier Rugby competition. It was through this experience that he earned the opportunity to represent Australia at the World Rugby U20 Championship in France.
Faessler's leadership qualities have been evident both on and off the rugby field. His contribution to Queensland Schools in 2015 and his subsequent captaincy in 2016 showcase his dedication to the sport.
After delivering exceptional performances in 2016, he secured a spot as captain of the prestigious Australian Schools Barbarians. Following this success, Faessler continued to hone his skills with the Queensland Reds U20s in 2017 before gaining further recognition by representing Queensland Country at the National Rugby Championship in 2019.
Despite his strong background, Faessler faced uncertainty when Queensland did not offer him a contract and found himself "sweating it out at Latham Park in [Sydney's] Maroubra" early in 2022.
Randwick DRUFC coach Ben McCormack saw potential in Faessler and convinced him to stay onshore, urging him to join Randwick and gain more exposure by participating in the Shute Shield competition.
Just before his first trial match for Randwick, Faessler received an unexpected call from the Reds offering a 10-week injury cover contract, which he accepted without hesitation.
Debut For the Queensland Reds
In a whirlwind 2022 year, Faessler made his Reds' debut in the 29-16 away win over the Western Force. Four months later, he started in the number two jersey for Australia A' in their 32-18 defeat of Fiji in the Pacific Nations Cup.
Throughout 2023, Faessler continued to impress with his aggressive style of play, remarkable work rate, and exceptional accuracy at lineouts compared to many of his peers within domestic rugby. Moreover, he showcased his talent by scoring six Super Rugby tries for the Reds. With Matt starting at hooker alongside Sef Fa'agase and Zane Nonggorr, the Reds seem to have found a winning formula.
Given this performance level, it comes as no surprise that Faessler's name earned its place on Eddie Jones' 34-man squad for The Rugby Championship.
ALSO READ: Ashleigh Buhai Biography: From Amateur Golfing Sensation to Major Champion
Representing the Wallabies and Carrying His Family Legacy
Faessler's selection as one of three Australian hookers for the Rugby Championship campaign was a testament to his exceptional form for the Reds this season, solidifying his position as one of the standout players in Eddie Jones' Wallabies squad.
With an ancestral connection to rugby greatness through his grandfather, who was part of the first Wallabies team to secure the Bledisloe Cup, there is a palpable sense of hope and anticipation among Australian rugby fans that Matt Faessler will carry on his family legacy.
View this post on Instagram
Despite never having had the chance to meet his grandfather, who passed away in 1983, Faessler has grown up surrounded by tales and reminiscences about him, often marveling at old photos and occasionally donning his vintage Wallabies jerseys and Test cap.
As Faessler achieved his first Test cap, he joined a prestigious group of Wallaby families. Following in the footsteps of well-known rugby lineages such as the Lawtons and the McLeans, he and his grandfather, Bermingham, became part of an exclusive club as the seventh grandfather-grandson combination to represent Australia in Test rugby.
Love Life and Finances
The public is always curious about the personal lives of celebrities, with a particular interest in their relationships and financial status. For Matt Faessler, these topics appear to be especially popular online. A perusal of his social media profiles suggests that he may currently be single, as there are no visible mentions or images of a romantic partner.
This intriguing absence could also indicate that Matt Faessler's girlfriend prefers to remain anonymous, adding an air of mystery to the situation. Matt joins his national teammates David Porecki and Pone Fa'amausili, who have also kept their love life a secret.
While the exact figures of Matt Faessler's net worth are not publicly available, it's important to delve into the intricate elements that shape a professional rugby player's financial status. This encompasses not only their salaries but also lucrative endorsement deals and shrewd investments.
Professional rugby players in Australia have the potential to command significant incomes, especially those who demonstrate outstanding performance and make substantial contributions to their teams.
Furthermore, securing endorsements from renowned sports brands and other corporate entities can substantially augment a player's overall earnings. After renewing his contract with the Reds till 2025, Matt's fortunes will only increase.
We hope that the above article on Matt Faessler biography has provided you with a comprehensive understanding of the player, allowing you to gain valuable insights into his life and career.
Did you notice an error ?
Please help us make corrections by submitting a suggestion. Your help is greatly appreciated!