Sports
Taylor Kornieck Biography: From Dreamer to Achiever of USWNT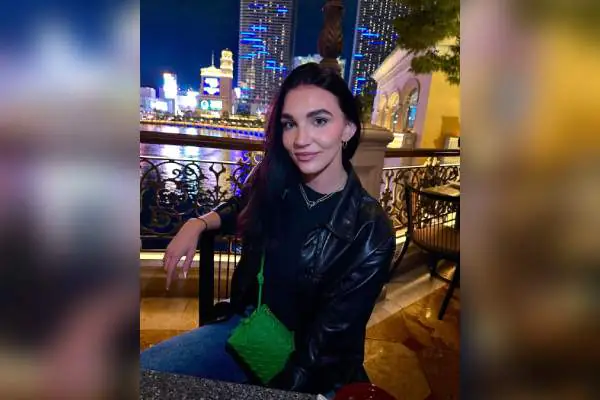 Taylor Kornieck biography. Image Credit: Instagram.
Full Name

Taylor Jacklyn Kornieck

Age

25 yrs

Birth Date

November 22, 1998

Country

America

Relationship Status

In a relationship

Nationality

American

Ethnicity

White

Profession

American Football Player

Awards and honors

SheBelieves Cup: 2023

Education

University of Colorado

Height

6 feet 1 inches
Taylor Kornieck is a highly skilled soccer player who has successfully overcome various challenges to fulfill her aspiration of joining the United States Women's National Team. Her remarkable path from an aspiring young athlete to becoming a prominent figure on the global stage demonstrates her unwavering resilience, strong drive, and undeniable love for the sport.
Taylor Kornieck biography delves into different phases of her life, shedding light on her journey from playing grassroots soccer to proudly representing her nation at the highest echelons of competition.
Early Life and Introduction to Soccer
Taylor Jacklyn Kornieck, born on November 22, 1998, in Henderson, Nevada, discovered her love for soccer at a young age. Coming from a sports-oriented family and displaying innate talent and dedication to the game, she honed her skills with unwavering determination. Over time, her passion for soccer intensified as she aimed to reach new heights in competition.
Taylor, a former NSCAA All-American, demonstrated exceptional athletic abilities throughout her high school career at Coronado High School. Serving as team captain, she showcased her skills by scoring 84 goals and assisting with 44 more.
As a senior, Taylor's outstanding performance led to her being awarded the prestigious title of Gatorade Player of the Year for Nevada. Not only did she excel in soccer, but she also displayed versatility by playing outside hitter for the school volleyball team and wide receiver for the flag football team.
In addition to her accomplishments at Coronado High School, Taylor made significant contributions at the club level, too. Playing for renowned clubs such as San Diego Surf and Las Vegas Premier ECNL clubs highlights her commitment to honing her soccer abilities further. Her talent did not go unnoticed, as she was selected to represent both the Nevada Olympic Development Program team and the Region IV ODP team in 2015.
USWNT Youth National Team and Development
During her time at the University of Colorado, Taylor Kornieck's soccer skills flourished, positioning her for success in a professional career. As part of the prestigious Colorado Buffaloes team, she consistently demonstrated her prowess and adaptability on the field.
Known for her goal-scoring abilities, playmaking expertise, and physical presence, Kornieck quickly established herself as an imposing force to be reckoned with. Her stellar performances garnered recognition nationwide as one of the top collegiate players.
Kornieck's exceptional talent did not go overlooked by national team selectors who extended their invitation to join United States Youth National Teams. Representing her country across various age groups provided invaluable learning experiences that honed Kornick into a more well-rounded player.
Driven by ambition and determination, she devoted herself to continual improvement with hopes of one day representing USWNT at senior-level play.
ALSO READ: Midge Purce Biography: Soccer Star's Journey From Harvard Crimson To USWNT 
Professional Career and International Breakthrough
In January 2020, Taylor Kornieck achieved a major milestone in her career when she was chosen as the third overall pick in the National Women's Soccer League draft by the Orlando Pride.
Transitioning to professional soccer presented new and exciting challenges, but through her determination and adaptability, Kornieck was able to make a positive impression. Her performances in the NWSL caught the attention of USWNT coaches, resulting in her long-awaited call-up to represent the senior national team.
In June 2022, Kornieck received her first call-up to represent the senior international team. Standing at an impressive height of 6'1″, she made history as the tallest player ever called up for the program.
On June 25, 2022, Kornieck made her debut for the United States in a friendly match against Colombia. She came on as a substitute in the 73rd minute and showcased her skills by scoring a goal in the last minute of play, contributing to their convincing 3-0 victory.
Another notable moment came during a match against New Zealand when Kornieck scored once again with a powerful header from Rose Lavelle's corner kick at the 80th-minute mark, helping secure an impressive 5-0 win for her team.
Kornieck's inclusion in the USWNT marked an important moment for her professional journey. Her debut with the national team showcased not only her skills on display at their highest level but also highlighted qualities such as physicality, prowess when it comes to aerial battles and refined technical abilities that have proven crucial contributions to enhancing gameplay.
However, unfortunately, the talented soccer star missed out on making the roster for the 2023 Women's World Cup.
Overcoming Challenges and Personal Growth
Throughout her career, Taylor Kornieck has encountered various challenges commonly faced by athletes. These obstacles include injuries, setbacks, and the competitive nature of soccer. However, Kornieck's unwavering determination and strong support system have been instrumental in helping her overcome these hurdles and grow both as an athlete and as an individual.
In addition to her on-field accomplishments, Taylor Kornieck is deeply committed to giving back to the community. She serves as a source of inspiration for young aspiring athletes, encouraging them to pursue their dreams with diligence and perseverance.
Moreover, the midfielder takes great pride in mentoring younger players by sharing valuable experiences and knowledge that contribute to their skill development and enable them to reach their maximum potential.
Taylor Kornieck Net Worth
The specific monetary value of Taylor Kornieck net worth is not widely available, but it is approximated to be in the vicinity of $1 million. This encompasses her earnings from professional soccer, sponsorship agreements, and other sources of revenue.
Kornieck receives an annual base salary of approximately $40,000 as a player in the NWSL. Additionally, she has secured endorsement deals with prominent brands such as Nike and Electrolit. Furthermore, she has also accumulated earnings through participating in tournaments.
Given Kornieck's young age and impressive skills on the field, it is expected that her net worth will increase significantly over time. With her evident talent and promising future in soccer ahead of her, a prosperous career lies ahead for Kornieck.
Personal Life
Kristin, Taylor's mother, had a successful career as a volleyball player in Europe. Likewise, Nick, Taylor's older brother, showcased his basketball talents at Doane Tigers and CSU Dominguez Hills Toros during his college years.
Taylor intends to pursue a degree in sports medicine at Colorado and has an additional interest in business. Her goal is to establish a facility that specializes in rehabilitating athletes who have suffered injuries after their professional athletic careers.
Taylor Kornieck's boyfriend, Bailey Flint, hails from Melbourne, Australia. He is undeniably handsome, and the pair exuded elegance when they made their relationship public at an event in November 2022.
The duo regularly post about each other on their social media handles and are very supportive of each other's job. Taylor Kornieck's partner is an athlete, a singer as well as an aspiring actor.
Taylor Kornieck biography is an ongoing one, and she continues to set new goals for herself. Her aspirations include further establishing herself as a key player for the USWNT, contributing to the team's success in major tournaments, and continuing to develop her skills and leadership qualities. Kornieck's dedication, perseverance, and passion for the game position her for a bright future in women's soccer.
Did you notice an error ?
Please help us make corrections by submitting a suggestion. Your help is greatly appreciated!