Sports
Zane Nonggorr Biography: The Rising Prop Star of Australian Rugby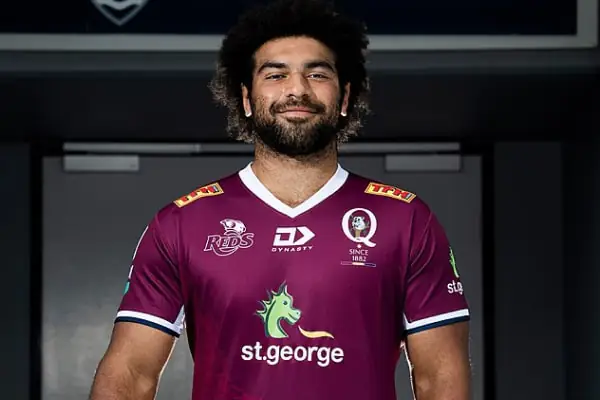 Zane Nonggorr Biography. Image Credit: CavImages.
Full Name

Zane Nonggorr

Age

22 yrs

Birth Date

March 30, 2001

Country

Australia

Relationship Status

In a relationship

Nationality

Australian

Profession

Rugby Union Player

Education

The Southport School

Height

6 feet 2 inches
Zane Nonggorr, a prodigious and captivating force in Australian rugby, has enraptured both fans and pundits alike with his extraordinary abilities and boundless potential. From the very inception of his passion for the game, Nonggorr's ascent from modest origins to become an ascending star in Australian rugby is a resounding testament to his unwavering commitment and innate aptitude.
Through Zane Nonggorr biography, we embark on an immersive exploration into the life and trajectory of the Australian rugby union player, unearthing every facet of his journey starting from its earliest roots all the way up to his meteoric rise as an indomitable prop within Australian rugby circles.
Drawing from interviews with Nonggorr's family, teammates, and coaches, this biography offers an intimate and comprehensive account of the young athlete's evolution both on and off the field. From his days as a passionate youngster to his development in local club competitions, Nonggorr's determination and work ethic have consistently set him apart from his peers.
Early Life and Rugby Beginnings
Zane Nonggorr's birth on March 30, 2001, in Cairns, Queensland, Australia, marked the beginning of a remarkable journey. From an early age, inspired by his family's unwavering devotion to rugby, he embraced the sport wholeheartedly and immersed himself in local clubs.
These formative experiences not only honed his skills but also ignited a deep-seated ambition within him – the dream of becoming a professional rugby player.
In pursuit of both intellectual growth and athletic excellence, Nonggorr pursued studies in Law at Bond University while simultaneously making strides in his rugby career with the Bull Sharks.
This seamless integration showcased Nonggorr's ability to balance academic rigor with athletic passion as he navigated through these two distinct realms.
ALSO READ: David Ribbans Biography: The Rugby Odyssey From Somerset to Toulon
Nurturing Talent in School and Club Rugby
With a unique blend of Papua New Guinean and Australian heritage flowing through his veins, Nonggorr's rugby journey began as he took to the field in the formidable position of prop for the U10 Gold Coast Eagles team.
Zane's passion and dedication led him on an educational path at The Southport School, where he not only excelled academically but also showcased his talent on the rugby pitch as part of their renowned 1st XV for three seasons consecutively from 2017 to 2019.
During this time, Nonggorr experienced moments that would be etched into TSS history forever. In 2017, under his influential leadership as captain, they emerged victorious and lifted the premiership trophy high above their heads. However, it was in his final year at TSS when destiny beckoned with open arms.
Unbeatable determination fueled by teamwork propelled them towards unprecedented glory – winning the coveted title in 2019 while still maintaining an unbeaten record throughout.
Nonggorr's exceptional abilities did not go unnoticed beyond school boundaries; he earned himself a place amongst Australia's finest young athletes representing both Australian Schools & U18s teams. Standing side by side with notable talents such as Tom Hooper, Joseph Suall'i, Billy Pollard, and Josh Flook, they defeated New Zealand Schools for the first time since 2012.
Queensland Reds and Super Rugby
Zane Nonggorr's career took a significant leap in 2020 when he received a call-up to join the prestigious Queensland Reds, one of the top teams in Super Rugby. This opportunity allowed him to compete at the highest domestic level in Australia, joining the ranks of seasoned professionals.
The coaching staff's decision to include Nonggorr in the Reds' squad spoke volumes about their faith and belief in his abilities. He embraced this chance and made sure to make an impact on the grand stage.
Although circumstances caused by COVID-19 prevented him from participating in the 2020 U20s Junior World Championships, there was a silver lining as he was added to the main Reds' squad after an initial break driven by pandemic concerns.
It wasn't long before Nonggorr made his debut for Queensland, coming off the bench during their away loss against Waratahs with a scoreline of 12-45 at SCG. Unfortunately, his promising journey through that season hit an obstacle when he suffered a medial collateral ligament injury during their away win over Rebels, which brought it all too soon.
However, resilience is key for any dedicated athlete like Nonggorr, who returned stronger than ever during Queensland's late-season tour of Japan, where he brought the best version of himself and shone on the field.
International Recognition and Wallabies Call-Up
In a remarkable turn of events, Nonggorr embarked on an ambitious journey at the start of 2023: to secure a coveted starting XV position for the Reds in the highly competitive Super Rugby Pacific competition.
Little did he know that within six short months, Zane's dedication and skill would propel him into an elite group – adorned with his Wallaby Test cap and five appearances for the national side, including two pivotal matches under the leadership of David Porecki during the prestigious Rugby World Cup.
This extraordinary achievement not only solidified Nonggorr's reputation but also allowed him to bask in the honor and privilege of representing his country on such a grand stage. The notion that he had "big shoes to fill" when stepping onto this formidable path fails to capture just how truly daunting it was.
View this post on Instagram
Even before playing a single game of Super Rugby, this young prodigy from Queensland had already been christened as 'Baby Thor,' further increasing expectations placed upon him.
However, fate seemed determined to test Nonggorr's mettle even further. With Taniella Tupou's season-ending Achilles injury leaving a significant void in Red's front row lineup from last year still fresh in everyone's minds, it fell upon Nonggorr shoulders' responsibility to bridge this yawning gap entering 2023.
Being named in the Wallabies' first touring squad is a remarkable achievement for Nonggorr, highlighting his unwavering determination and unwavering efforts. He possesses immense raw power, exceptional skills in scrummaging, and an impressive work rate that positions him as a highly promising prospect for the future of the Wallabies.
Playing Style and Strengths
Zane Nonggorr embodies the essence of a dominant prop through his remarkable blend of physicality, agility, and technical skill. His towering (6ft 2 in) presence on the field, coupled with immense strength (287 lbs), allows him to excel in scrummaging, establishing himself as an unstoppable force in the set-piece battles.
Not only does Nonggorr showcase an incredible work rate, but he also possesses the ability to make powerful runs that greatly contribute to his team's success during open play. What truly sets him apart is his exceptional versatility and seamless adaptation to various game situations, making him an invaluable asset for any team fortunate enough to have him.
Zane Nonggorr cannot be stopped!

WATCH LIVE: https://t.co/rlTze2s4i1 pic.twitter.com/dCTBWgfG3X

— RUGBYcomau (@rugbycomau) October 6, 2018
As new chapters are added to Zane Nonggorr biography, it becomes evident that a bright future awaits him. Each match serves as another building block upon which he gains irreplaceable experience while cementing himself as a cornerstone player within Australian rugby circles.
Driven by ambition and fueled by an unwavering desire for excellence at both club and international levels, Nonggorr consistently pushes beyond limits in order to achieve extraordinary feats on the field.
Another prop player making a name for himself on the international stage is Ellis Genge. Be sure to read about him.
A Positive Look Towards Life: Girlfriend And Financial Aspects
Australians are renowned for their lively and exuberant personalities, embracing a vibrant approach to life. Zane exemplifies this spirit effortlessly. In addition to his dedicated athletic pursuits, he finds joy in reveling with friends during leisurely moments of partying and camaraderie.
Furthermore, Nonggorr holds dear the importance of familial bonds as he often chooses to spend his holidays cherishing moments with loved ones by his side. With an unabashed desire to connect with fans, the Australian sportsman generously shares these cherished memories through various social media platforms.
Naturally, being a prominent figure within the national team ignites curiosity regarding one's romantic endeavors. It should come as no surprise that the handsome man is already taken.
Zane Nonggorr's girlfriend is Luna Priestley – an individual who has captured both his heart and attention. The athlete openly displays affectionate images depicting intimate snapshots of their relationship on his Instagram page for all admirers to witness and appreciate. However, Miss Priestley prefers to stay away from the limelight; hence, we do not know much about her life or profession.
When it comes to Zane Nonggorr's net worth, the exact figure remains undisclosed. However, given his sponsorship deals with prominent brands like The Vision Effect, it can be inferred that he has amassed a considerable amount of wealth.
Although specific details about Zane Nonggorr's salary are not publicly available, it is essential to acknowledge that rugby players' earnings can fluctuate significantly based on various factors such as experience, skill level, and contractual arrangements with their teams. Seasoned players who have achieved international recognition often command higher salaries in the sport.
As fans eagerly anticipate witnessing this young prop star further ascend to heights of greatness, pundits alike relish every opportunity they get to witness firsthand how one man can leave such a lasting impact on the sport he cherishes so dearly.
Did you notice an error ?
Please help us make corrections by submitting a suggestion. Your help is greatly appreciated!