Net Worth
Discover The Swiss Snooker Player Alexander Ursenbacher Net Worth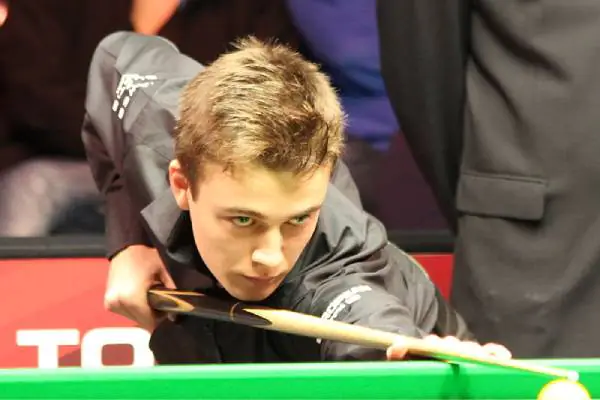 Alexander Ursenbacher Net Worth. Image Credit: Benutzer:Bill da Flute.
Today, the new generation of players are slowly surpassing the veterans in every sport. The same is true in professional snooker as well, where newcomers, such as Alexander Ursenbacher, are gaining the spotlight and worldwide popularity.
Today, in this article, we are going to discuss the finances of this excellent snooker player, find out Alexander Ursenbacher net worth, and explain whether playing snooker has earned him a good livelihood or not. Currently ranked 120 in the World Snooker Rankings, he is the first-ever snooker player from Switzerland to play professionally in the official snooker calendar seasons.
Therefore, follow us until the end to quench your enthusiasm about the earnings of this Swiss snooker phenomenon. Further, we will also divulge some interesting facts about his early career. So, let's begin.
A Brief Overview of the Snooker Player
Alexander was born to his parents on 26 April 1996 in Rheinfelden, Aargau, Switzerland. He has not mentioned much about his parents, but his mother is from Portugal. Also, he keeps his personal life away from the limelight.
Ursenbacher began his snooker journey at the age of twelve years old and won multiple junior titles in his native country. He was trained by former professional snooker player Ian McCulloch.
The Swiss national is nicknamed Federer of the Baize and The Swiss Fish by the media and fans.
Early Professional Career as a Main Event Debutant
Alexander began his professional snooker by participating in the 2013 Q School, which is a series of three snooker tournaments that works as a qualification into the main World Snooker Calendar. He had a tough start in the tournament but later made a comeback by making the highest break of 140 and beating Women's World Champion Reanne Evans.
Ready for my match at 1pm again many thanks to @SpiderEx and https://t.co/DuIg1v2LN0 for their help! pic.twitter.com/EN9o7yM99v

— Alex Ursenbacher (@SwissNR1) December 8, 2020
The Swiss player eventually earned his entry into the main events after a triumphant victory over Paul Wykes in the final round of Q School. His initial main event matches resulted in defeat, but he later bounced back in 2014 and made his entry into the 2014 Wuxi Classic.
Ursenbacher won the first round of qualifying for a place in the 2014 Australian Goldfields Open but could not enter the tournament and was subsequently released from the main tour because of fifteen consecutive defeats. Still, he earned a decent amount of money by appearing in the main draw matches, which slightly increased Alexander Ursenbacher net worth.
ALSO READ: Revealing Quintessa Swindell Net Worth: Drenched In Riches?
Championship Wins and Back to the Main Tour – Improving His Wealth
The Swiss snooker player won his first-ever professional tournament in 2017 at the 3 Kings Open when he defeated Bjorn Haneveer in the finals by 5-1. Further, in the same year, he won the European Under-21 Snooker Championship and earned his way back into the main tour.
Similarly, 2017 turned out to be even more fruitful to the player when he reached the semi-finals of the 2017 English Open, where he defeated the veteran of the game, Shaun Murphy. As prize money, he won around $24,000. Further, at the 2019 Welsh Open, he surprised the whole world by knocking out the tournament favorite Ronnie O'Sullivan in the third round.
Below is the breakdown of Alexander Ursenbacher's earnings.
| | |
| --- | --- |
| Year | Earnings (GBP) |
| 2016/17 | 12,000 |
| 2017/18 | 33,100 |
| 2018/19 | 29,600 |
| 2019/20 | 47,250 |
| 2020/21 | 50,000 |
| 2021/22 | 18,000 |
| 2022/23 | 19,750 |
Table Source: CueTracker
Again, in 2019, the Swiss national claimed another title, this time, the Italian Snooker Open, by defeating Rob James in the final by 3-0. Alexander Ursenbacher net worth must have increased significantly after this victory.
Alexander became the first player from Switzerland to earn a spot in the World Championship main draw in July 2020. However, Barry Hawkins, the fifteenth seed, defeated him 10-2 in the opening round. Still, it was a significant improvement for the young player. As of November 2023, Alexander Ursenbacher's career standing stands over $260,000.
Similarly, you might be interested in reading about pro golfer Atthaya Thitikul's Net Worth and professional career.
What is Alexander Ursenbacher Net Worth?
The Swiss snooker sensation Alexander has shown great potential over the years and has defeated some legends of the game. However, the player still has a lot to learn to improve his game and reach the level of players such as Luca Brecel.
As of November 2023, Alexander Ursenbacher's wealth is not disclosed. The player has a long career ahead of him. So, with time and more impressive performances in the upcoming years, he is sure to earn more money and improve his income. At present, his exact bank balance is not mentioned anywhere.
In conclusion, we wish this amazing and aspiring snooker player all the best in his upcoming matches and hope that he continues to play in the main snooker tour and improves his rank and worth even more.
FAQs
Q: What is Alexander Ursenbacher's nationality?
A: Alexander Ursenbacher's nationality is Swiss.
Q: When was Alexander Ursenbacher born?
A: Alexander was born on 26 April 1996.
Q: When did Alexander Ursenbacher turn pro?
A: Ursenbacher turned professional in 2013.
Q: Has Alexander Ursenbacher defeated Ronnie O'Sullivan?
A: Yes, the Swiss national defeated Ronnie O'Sullivan in the third round of the 2019 Welsh Open.
Q: What is Alexander Ursenbacher's current ranking?
A: Alexander is currently ranked 120.
Q: What is Alexander Ursenbacher's highest ranking so far?
A: Ursenbacher achieved his highest ranking of 41 in October 2021.
Q: What is Alexander Ursenbacher's nickname?
A: The Aargau native's nickname is Federer of the Baize and The Swiss Fish.
Did you notice an error ?
Please help us make corrections by submitting a suggestion. Your help is greatly appreciated!