Net Worth
Breaking Down Maro Itoje Salary From His Rugby Career: How Much He Earns?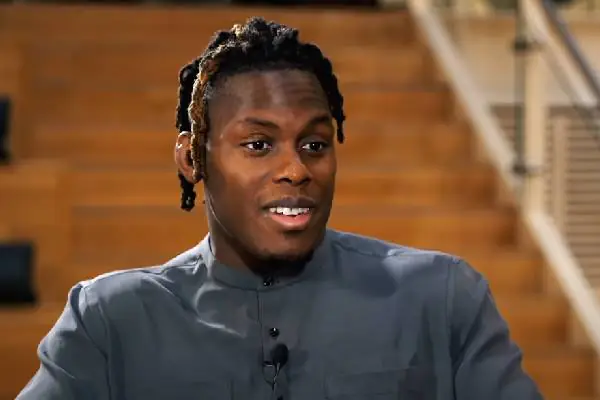 Maro Itoje Salary. Image Credit: Social Media.
In rugby, passing, running, tackling, and decision-making are crucial to showing good performance and winning the match. Maro Itoje, an English professional rugby union player, is a boon for his home team and a nightmare for his opponents because of his mobility and agility inside the rugby field.
In this article, we are going to take a deep dive into the professional career of this outstanding athlete and find out Maro Itoje salary from his illustrious career as a rugby union player.
Therefore, put on your fan hats and come with us, as we will take you on one of the most thrilling rides into the professional life of this rugby force of nature and clear your doubts about his earnings and life.
Early Life and Education – Where It All Began?
Itoje was born Oghenemaro Miles Itoje on 28 October 1994 in Camden, North London, to his father, Efe Itoje, and mother, Florence Itoje. His parents are natives of Nigeria.
The English player did his schooling at Salcombe Preparatory School in Southgate and later moved to St George's School in Harpenden. His early exposure to rugby came at St George. Later, he shifted to Harrow School after winning a scholarship.
Maro played multiple sports, including football, athletics, basketball, and rugby, during his school days and even represented England's Under 17 team in shot put.
How Much Is Maro Itoje Salary? Revealing the Huge Figure
Like his fellow countrymen, Ellis Genge and Lewis Chessum, Maro is one of England's most successful and sought-after rugby players. He began his journey as a training prodigy at Saracens Academy and made his grand senior debut for Saracens Rugby Club in the 2013-2014 season at the age of nineteen.
Similarly, as a lock and flanker for the Saracens, the English national has appeared in over 162 matches, gathering a massive 115 points, and has played a crucial role in winning five Premiership titles for the team in 2015, 2016, 2018, 2019, and 2023. Further, thanks to his speed, agility, and leadership, Saracens successfully won the 2016, 2017, and 2019 European Champions Cup.
View this post on Instagram
Saracens are paying him a massive amount of over $900,000 per year for his contribution to the team. Thus, it is evident that Maro Itoje salary is vast and is second highest behind his teammate Owen Farrell.
Further, as a national team member, the rugby union player has appeared in over 100 matches and accumulated 75 points as of November 2023. Also, he has won prestigious titles such as the Six Nations Championship, Grand Slam, Triple Crown, and Autumn Nations Cup. Hence, he is entitled to his thousands of dollars in salary.
ALSO READ: Discover The Swiss Snooker Player Alexander Ursenbacher Net Worth
Widening His Income With Lucrative Endorsement Deals
Itoje has often been regarded as a hard-working and star player and has shown impeccable results both as a player and team leader. Thanks to that, his income sources have significantly increased with multiple brand endorsement deals and sponsorships.
First and foremost, the London native has been the brand ambassador of a global technology firm, Ricoh, since 2016. Similarly, he is associated with a sports management company called Roc Nation Sports International, founded by Jay Z.
Finally, the rugby player has also signed a contract with an American sportswear company called Under Armour. He endorses the brand on his social media handles. Therefore, it is sure that he is earning a significant amount of money from his sponsorships, which tucks some decent amount of cash into his bank account apart from Maro Itoje salary from rugby.
Similarly, you might like to clear your doubts by reading about actor Quintessa Swindell's Net Worth from their successful acting career.
Discover Maro Itoje's Net Worth – Is He Rich?
Professional rugby players such as Zane Nonggorr, David Ribbans, and David Porecki have kept their personal wealth secret from the media and fans. So, it looks like Maro has also followed in his fellow players' footsteps and has not mentioned anything about his fortune.
However, some sources have claimed that the number has crossed the $2 million mark, but the information has never been clarified. Therefore, as of November 2023, Maro Itoje's wealth is undisclosed. Still, with a successful career so far in rugby and a long career ahead of him, the Englishman's bank balance will surely reach greater heights in the future.
With accolades such as 2016 European Player of the Year and 2016, 2017, and 2021 World Rugby Player of the Year nomination, Itoje is already ranked among the game's best players. Thus, his income must also support his enormous rugby persona.
In conclusion, we wish the player all the best in his upcoming matches and tournaments and hope that he publishes his net worth real soon. When he does, we will be sure to update you. Until then, Sayonara.
FAQs
Q: What is Maro Itoje's nationality?
A: Maro Itoje is an Englishman.
Q: When was Maro Itoje born?
A: Maro was born on 28 October 1994.
Q: What is the status of Maro Itoje's illness?
A: Recently, Itoje has been criticized for his loss in form, and the player defended himself by revealing that it happened because of an underlying health condition. However, he mentioned that he is all right now and in a much better position.
Q: Has Maro Itoje played basketball?
A: Yes, Maro played basketball during his school days.
Q: How tall is Maro Itoje?
A: The English player is 6 feet 5 inches tall.
Q: Who are Maro Itoje's parents?
A: Itoje's parents are Efe and Florence Itoje.
Q: Is Maro Itoje relate to Beno Obano?
A: Yes, Maro and Beno are cousins.
Q: What is Maro Itoje's salary?
A: Itoje's current salary is over $900,000 per year.
Did you notice an error ?
Please help us make corrections by submitting a suggestion. Your help is greatly appreciated!