Top Lists
Who is John Tolkin Girlfriend? Is She A Footballer Too?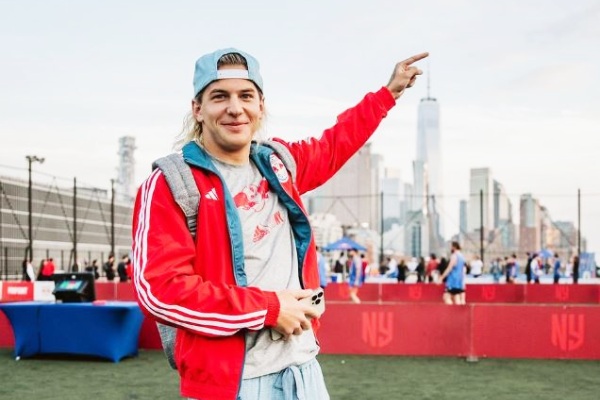 John Tolkin Girlfriend. Image Credit: Instagram.
The New York Red Bulls proved in the 2023 MLS Cup Playoffs that their team has some of the best players in the season. One such star is John Tolkin, who assisted his team in winning the match against Charlotte FC in the opening match.
Soccer players are always in the spotlight, and the talk of John Tolkin girlfriend is a hot cake in the media. As he is a star footballer with a famous mullet haircut, the focus constantly shifts towards his personal life. So, today, we will dive into some interesting details about the left-back for the NY Red Bulls.
Early Years: The World's Most Promising Left-back?
Born on July 31, 2002, in New Jersey, United States, Tolkin grew up in a suburban borough called Chatham. His parents are Chris Tolkin and Sara Tolkin, who wholeheartedly supported their son's dream of becoming a footballer.
As a child, Tolkin wanted to become a basketball player, own a bakery, or be a soccer player. However, John was clearly destined to become a star soccer player. From a young age, Tolkin began training, and he was a standout athlete at Ironbound Soccer Club in New Jersey.
At 13, John joined the NY Red Bulls academy in 2015. Similarly, at 17, he signed a pro contract with the Red Bulls in January 2020. Did you know? Before joining the team, Tolkin regularly attended Red Bulls games and even served as the club's ball boy.
MLS Journey: Rise and Fame Outside the Field
On the international stage, John played for the United States U-17 team in 2019. However, Tolkin missed out on the U-20 cycle due to the cancellation of the World Cup because of COVID-19. He made his professional soccer debut on July 10, 2019, as a second-half substitute for New York Red Bulls II in the USL Championship.
On May 8, 2021, John debuted at Major league Soccer as a substitute against Toronto FC. Likewise, John scored his first professional goal against Columbus Crew on August 18, 2021.
On May 10, 2022, John scored his season's first goal in a 3-0 victory over DC United. He was one of the players who led his club to the 2022 U.S. Open Cup's round of 16. During the game against Charlotte FC on October 25, 2023, Tolkin scored a fantastic free kick in the 26th minute after Elias Manoel opened the scoring in the 10th minute.
The team advanced with a 5-2 score to the first round of the 2023 MLS Cup Playoffs. Manoel completed a hat-trick, while John and Tom Barlow assisted one goal each.
ALSO READ: Ellie Roebuck Biography: Excelling Between The Sticks in Football's Spotlight
Tolkin's International Debut
In October 2022, the New York Red Bulls extended Tolkin's contract until 2027 with an optional for an additional year up to 2028. Similarly, in November 2022, he was named New York Red Bulls' Defender of the Year and was voted #6 for MLS' 22 Under 22, presented by BODYARMOR.
On January 18, 2023, the U.S. squad's interim coach, Anthony Hudson, announced the team members for the friendly matches against Columbia and Serbia. John Tolkin was among the 13 players who earned their first international caps. Unfortunately, the United States Men's National Team (USMNT) did not secure a victory in the January 25th match against Serbia and Colombia.
Similarly, read about female soccer players Kristie Mewis and Rachel Daly Breakup.
Who is John Tolkin Girlfriend?
For John Tolkin's fans, it is no secret that the left-back soccer player is currently in a romantic relationship. But who exactly is his girlfriend? How long have they been together?
Around September 2022, John Tolkin girlfriend, Madison Nicole Montagna, began soft-launching her athlete boyfriend on Instagram. Seeing a couple of initial pictures, fans quickly realized that the soccer player had started dating. Likewise, a few days later, John revealed his lover on his social media.
John Tolkin's girlfriend Madison isn't a footballer but is a talented dancer with expertise in Ballet, Tap, Jazz, Hip-Hop, Contemporary, and many more dance forms. The young couple spends a happy and quality time visiting exotic places and doing adventurous stuff.
While Tolkin is making waves in the sports field, his lover is working on her way to becoming a celebrity artist. Madison is a New York City-based dancer who has appeared in a few music videos, films, and live performances. She trained at some of the best institutes, such as Broadway Dance Center, Dance Complex, and Z Artist Group. Besides dancing, her skills include ice skating, bike riding, acting, singing, and other exciting stuff.
Despite the heartbreak of his female fans, it appears Tolkin is simply happy with his girlfriend. Nevertheless, his well-wishers always offer their unwavering love and support. The star defender for the New York Red Bulls is one of the most promising future stars of U.S soccer. We wish him all the best in his professional soccer career.
FAQs
Q: Why is John Tolkin called JMi?
A: John Tolkin is famously known as JMi inside and outside the field. His uncle gave him the nickname when he was young, and his teammates and family refer to him as JMi.
Q: Who is the left-back for the New York Red Bulls?
A: It is the young and talented John Tolkin who is the left-back for the NY Red Bulls.
Q: Why does John wear the number 47?
A: John revealed that 47 was the number he was handed for his first game when he walked into the academy. It stuck, and he doesn't plan on changing it.
Q: How tall is John Tolkin?
A: John Tolkin is 5 feet 7 inches tall.
Did you notice an error ?
Please help us make corrections by submitting a suggestion. Your help is greatly appreciated!