Top Lists
5 Shocking Facts About Andraia Allsop: Musician Wolfgang Van Halen's Fiance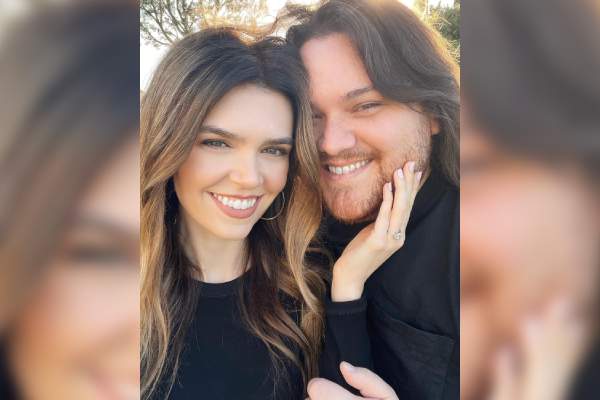 Andraia Allsop. Image Source: Instagram.
The software engineer Andraia Allsop has captured the heart of popular American musician Wolfgang Van Halen. The beauty has been the talk of the town, but who is she, really?
Andraia may not be a household name, but her recent engagement with musician Wolfgang Van Halen has put her in the spotlight. As not being from the media field, Allsop keeps a low profile, but there's more to her than meets the eye.
Get ready to uncover five shocking facts about the woman behind one of rock music's rising stars. From her secret talents to her celebrity connections, we're about to reveal everything you need to know about Allsop. So, buckle up and join us as we take a closer look at the fascinating life of the future, Mrs. Van Halen!
5. The Actress: Little-Known Talent
While Andraia's career as a software engineer may be her primary focus, she also has a hidden talent for acting. In 2012, she appeared in the music video for the single Electric Light by Muscle Hawk. The video, which features Allsop as the lead actress, sees her playing a woman who develops a romantic relationship with a man who is slowly losing his mind. Despite her relatively brief appearance, Allsop's emotive performance clearly showcases her acting abilities.
In addition to her music video appearance, Allsop has also been featured in nine episodes of her future mother-in-law Valerie Bertinelli's reality show, "Valerie's Home Cooking." While her role on the show is primarily as herself, it's clear that the engineer is comfortable in front of the camera and has a natural ease on screen. With her talent for acting and her experience in front of the camera, it's possible that we may see Allsop pursuing more on-screen opportunities in the future.
ALSO READ: Know Interesting Facts About TikTok Star Yesly Dimate Boyfriend.
4. The Photographer: Allsop's Passion for Capturing Moments on Stage
While Allsop's career may be in software engineering, she has a passion for photography as well, particularly capturing moments on stage. Her public Instagram account is dedicated to her photography, which heavily features images she's captured of her fiance, Wolfgang Van Halen, performing on stage with his band, Mammoth WVH. Her ability to capture the energy and excitement of a live performance is evident in the stunning shots she shares with her followers.
Allsop's talent for photography extends beyond concerts, however. Her Instagram also features breathtaking landscape and nature shots, as well as intimate portraits of her friends and family. Her eye for detail and composition is evident in every shot, and it's clear that she has a natural talent for capturing the beauty in the world around her.
While her career may be in software engineering, it's clear that Allsop has a creative side, and her passion for photography is just one way she expresses it.
3. The Educated Engineer: Allsop's Impressive Academic Background
In addition to her hidden talents, Allsop's academic background is equally impressive. She graduated from the University of Utah in 2016 with a Bachelor's degree in computer science. During her time at the university, Allsop was a member of the Women in Computing Club and participated in various hackathons and coding competitions.
After her graduation, Allsop started her career as an intern at Instructure, an educational tech organization based in Utah, in 2015. Her experience at Instructure likely helped shape her career path as she continued to pursue a career in software engineering.
Given her academic achievements and her successful career in tech, it's clear that Allsop is a woman of many talents. Her dedication to her education and career has undoubtedly played a significant role in shaping the person she is today.
Similarly, you would love to explore facts about Kulture Kiari Cephus.
2. The Celebrity Connection: Allsop's Relationship with Valerie Bertinelli
As the fiance of Wolfgang Van Halen, Andraia is connected to one of rock music's rising stars. However, she also has a connection to a well-known celebrity chef: her future mother-in-law, Valerie Bertinelli. Bertinelli, who was previously married to Van Halen's father, the late Eddie Van Halen, has been a popular figure in the culinary world for years.
Andraia has appeared on Bertinelli's reality show, Valerie's Home Cooking, where she has been featured in nine episodes. While her appearances on the show are primarily as herself, it's clear that Allsop has a close relationship with her future mother-in-law.
Bertinelli has been vocal about her love and support for her son and his fiancee, and it's clear that Allsop has been welcomed into the family with open arms. With her connection to a well-known celebrity chef, it's possible that Allsop may find herself more involved in the culinary world in the future.
1. The Long-Term Love: Allsop and Van Halen's Seven-Year Relationship
Andraia Allsop and Wolfgang Van Halen have been together for seven years and counting. The couple started dating in 2015, announced their engagement in 2021, and got married in 2023. While they may keep their relationship relatively private, it's clear that they share a deep love and connection.
According to reports, Van Halen proposed to Allsop during a trip to Japan, and the couple celebrated their engagement with a sushi dinner. Since then, they have shared glimpses of their relationship on social media, with Van Halen sharing sweet photos and messages about his fiancee-turned-wife.
View this post on Instagram
The pair's wedding was a private affair with 90 guests, and their location was their own home in Los Angeles. According to Andraia, they held the ceremony in their living room so that they could have some privacy and enjoy the special moment in peace. While the ceremony was held indoors, the reception was outside in their backyard decorated with string lights and flowers. Wolfgang Van Halen's wedding definitely made news all over, and for good reason.
As Allsop and Van Halen move forward with their relationship, it's clear that they have a strong foundation of love, respect, and support. Fans of the couple can't wait to see what the future holds for them as they embark on this exciting new chapter of their lives together.
And that's a sneak peek at what lies beneath the surface of Wolfgang Van Halen's fiancée. Where one seeks the stage lights, the other brings calm. Together, they prove that sometimes, our contrasts create the perfect chord.
Stay tuned for the next chapter of their story – because when two different souls find harmony, the world gets to hear the sweet soundtrack they create together.
References
Did you notice an error ?
Please help us make corrections by submitting a suggestion. Your help is greatly appreciated!