Top Lists
Does Dominik Koepfer Have a Girlfriend or Is He Single?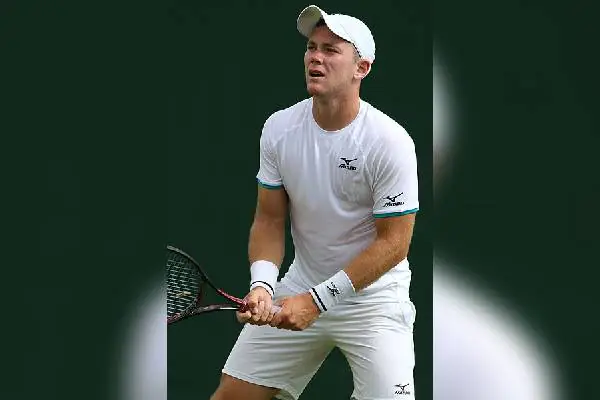 Dominik Koepfer Girlfriend. Image Credit: si.robi.
In tennis, hitting the ball around the court might look easy, but it is really difficult to make it a profession and compete with the best players from around the globe.
However, Dominik Koepfer, a German professional tennis player, makes it look easy when he turns on his A game inside the tennis court.
In this article, we are going to discuss Dominik Koepfer girlfriend and his dating life. Know about the personal life of this fantastic tennis player and find out whether his personal world is also filled with the same energy and success as his professional career.
Meet the German Tennis Sensation
Dominik was born to his parents, Dr. Thomas Koepfer and Marianne Koepfer, on 29 April 1994 in Furtwangen, Germany. He has not mentioned much about his parents, but he does have a sister named Bettina Koepfer, who can be seen on his Instagram.
Koepfer began his tennis journey during his college years and played for his alma mater, Tulane University. During this time, he was ranked number one singles player in the country.
The German national skied and played golf and tennis just twice a week until he was sixteen.
A Look Into Dominik's Career – Loving His Profession
Dominik was a star player ever since his University days as he showed huge potential representing Tulane University as a tennis player. He reached the top 16 of the NCAA Singles and Doubles Championships in 2016 and managed to win the Singles Draw in the ITA National Intercollegiate Championships.
Similarly, the German reached the semifinal and final of the Oracle Master's Tournament and the ITA All-American Championships in 2016 as well. Further, he was awarded the ITA National Men's Senior Player of the Year in 2016 for contributing to the University's tennis program.
After graduating from Tulane in 2016, Koepfer played his first-ever professional ATP main draw tournament at the Winston-Salem Open in 2017 and won his first-ever ATP Challenger Tour title in the same year at the Columbus Challenger.
Furthermore, the Furtwangen native kept on improving his game, made his top 50 debut in 2021, and won another Challenger title at the Mexico City Open and the Piemonte Open in 2023.
ALSO READ: Discover Racer Ralph Boschung Net Worth: How Much He Earns?
Prize Money Indicates His Success
Prize money is key to every tennis player's income, as they make the most of their money through tournament wins and appearances. The same is true for Dominik as well, who has collected over $2.6 million in prize money in his glorious tennis career.
View this post on Instagram
The left-handed player has a decent record in tennis, Singles, and Doubles tournaments, with an average win of 44.9% in singles and a massive 56.8% in doubles. Similarly, he received his career-high singles and doubles ranking of 50 and 92 in May 2021 and February 2022, respectively.
Further, Dominik's Grand Slam results also show his worth of $2.6 million, as he has appeared in the second round of the Australia Open in 2021 and 2021, with a third-round appearance in the French Open and Wimbledon in the same year. Also, the German player represented his country in the 2020 Tokyo Olympics.
Similarly, you might be interested in learning about Comedian Jeff Arcuri Net Worth and his finances.
Who is Dominik Koepfer Girlfriend?
Professional athletes often have the habit of keeping their personal lives away from the public and media. Dominik has done the same, as he has yet to mention anything about his love life. The present situation indicates that the German national is single.
Similarly, Koepfer's social media also does not have any clue on whether the tennis player is committed or not. He usually posts about his tennis journey and occasionally shares pictures with his friends and well-wishers. Thus, his relationship status is not confirmed as of November 2023.
In conclusion, the chapter about Dominik Koepfer girlfriend is currently vacant. So, we would have to wait until the German himself comes up with an announcement in the future. At the moment, he is focusing on winning his first-ever Grand Slam title.
FAQs
Q: Who is Dominik Koepfer?
A: Dominik Koepfer is a professional tennis player.
Q: Does Dominik Koepfer have a girlfriend?
A: No, Dominik Koepfer does not have a girlfriend.
Q: What is Dominik Koepfer's height?
A: Dominik Koepfer's height is 5 feet 11 inches.
Q: What is Dominik Koepfer's net worth?
A: Dominik Koepfer's exact net worth is undisclosed; however, he has earned over $2.6 million in prize money as of November 2023.
Q: Is Dominik Koepfer injured?
A: Dominik is perfectly fine now, but he sustained an arm injury in 2021.
Q: What is Dominik Koepfer's nationality?
A: Dominik Koepfer is a German national.
Q: When was Dominik Koepfer born?
A: Dominik Koepfer was born on 29 April 1994.
Q: Has Dominik Koepfer retired?
A: No, Dominik Koepfer still has plenty of years left before his retirement.
Q: What is Dominik Koepfer's alma mater?
A: Dominik is a graduate of Tulane University in New Orleans, Louisiana.
Did you notice an error ?
Please help us make corrections by submitting a suggestion. Your help is greatly appreciated!