Top Lists
Does Lala Sloatman Have A Daughter? Take A Look Into Her Life Now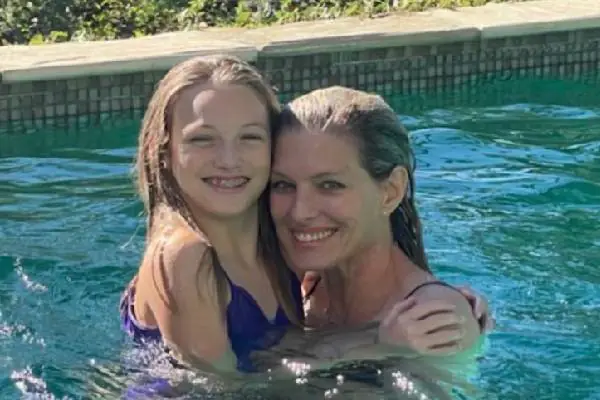 Lala Sloatman Daugther. Image Credit: Instagram.
In the world of cinema and entertainment, nepotism is one of the many factors that might decide a person's future in the industry. However, Lala Sloatman made significant contributions to the film industry and carved her name in its history books with her talent, good looks, and unwavering determination despite being linked to some of the famous names in the industry.
Today, we are going to dive into the personal life of this American actress and find out what is going on in her life outside of cinema. Further, we will also look at some of her achievements and credits in the film industry and answer the frequently asked question: Who is Lala Sloatman daughter?
Meet the Amazing American Actress
Lala was born Lala Cassandra Sloatman on October 12, 1970, in Winter Park, Florida, United States of America. She is named after her grandmother, whose name is Laura Sloatman, and Lala translates to Laura in Hawaiian.
Sloatman has a brother named John Sloatman IV, who is twelve years younger than her. Similarly, she is the niece of famous musician Frank Zappa, which makes Ahmet, Diva, Moon, and Dweezil Zappa her cousins.
The American actress is often credited by her first name in her performances, and sometimes, she is also referred to as Lala Zappa.
Career in the Film Industry – Acting Credits of the American National
The American actress began her silver screen journey like every other newcomer. She made a cameo appearance in the 1998 American romantic crime film Tequila Sunrise, starring Mel Gibson, written and directed by Robert Towne, and portrayed the character of Sin Sister #2.
Similarly, Sloatman claimed the first lead role in the 1998 science fiction horror movie titled Watchers, starring Corey Haim. Similarly, she appeared in seven movies until 1993, including the Bruce Lee biographical movie Dragon: The Bruce Lee Story, where she played the character of Sherry Schnell.
Below is the list of some of Lala's acting credits.
| | | |
| --- | --- | --- |
| Year | Movie | Role |
| 1988 | Tequila Sunrise | Sin Sister #2 |
| 1989 | Dream a Little Dream | Shelley |
| 1990 | The Adventures of Ford Fairlane | Sorority Girl |
| 1991 | L.A. Story | Ariel's lesbian girlfriend |
| 1993 | Amityville: A New Generation | Llaine |
| 1996 | Buy One, Get One Free* | Sophie (voice) |
| 2003 | Pauly Shore Is Dead | Hooker in Loft |
| 2003 | Net Games | Angel |
| 2010 | Somewhere | Layla |
Table Source: IMDb
Furthermore, the veteran actress last appeared in the 2010 drama film Somewhere and has been on a hiatus since then. Similarly, she has also worked as a voice-over artist in television series such as The Twisted Tales of Felix the Cat and What a Cartoon! She currently works as an Inner Critic Coach and Empowerment Guide.
During her initial acting days, Lala dated Corey Haim and later began a relationship with American actor C. Thomas Howell. Similarly, from 1996 to 1998, she was married to the lead singer of The Black Crowes, Chris Robinson.
ALSO READ: Everything You Need To Know About Gary Cherone Dating Life: Truth Behind His Marriage
Who is Lala Sloatman Daughter?
Lala has been single for a long time; however, she is parenting a beautiful daughter named Lula Sloatman. She was born in December 2010. The mother-and-daughter duo can be frequently seen on Lala's social media handles.
The mother-daughter duo is seen frequently on social media. However, there's no mention or information regarding Lula's biological father. The actress has refrained from revealing any information regarding this; hence, we do not know about the father.
Regardless, Lala has made sure to raise her daughter with utmost love and care, which is visible through the glimpses shared on social media. Lala Sloatman's daughter, Lula, has already completed pre-school and elementary school. Lala shared beautiful pictures from her daughter's elementary school graduation ceremony in June 2022.
Similarly, Lula upgraded to seventh grade in August 2023, and Lala captured the moment and shared her pictures on her Instagram.
Further, browsing Lala's Instagram profile made it evident that Lula is learning to play music, and she does musical recitals very often. She performed one of her recitals some days before her birthday in 2022 in the presence of her mother.
Similarly, you might want to read about Dominik Koepfer Girlfriend and his dating life.
Mother and Daughter Are Shinning on Social Media
In this age of social media and technology, it is almost impossible for anyone to not post on the Internet. It only takes a minute for a short clip to become viral. The same is true for Lala and Lula as well. Their frequent collaboration in TikTok and Instagram has gathered a lot of love and appreciation from their fans.
View this post on Instagram
The mom-and-daughter duo can be seen dancing, making reels, and having fun while posting content on social media. Lala's fans love the chemistry of the parent-and-child duo. It looks like Lala Sloatman daughter loves to be in front of the camera, and Lala might have produced another member of the film industry.
In conclusion, we wish Lala and her daughter all the happiness in the world and hope that Lula grows to be a wonderful, beautiful, and talented lady, just like her mother.
FAQs
Q: Who is Lala Sloatman?
A: Lala Sloatman is an actress.
Q: What is Lala Sloatman's nationality?
A: Lala Sloatman is an American.
Q: When was Lala Sloatman born?
A: Lala was born on October 12, 1970.
Q: Is Lala Sloatman married?
A: Lala was previously married to Chris Robinson, but she is currently single.
Q: Does Lala Sloatman have any children?
A: Yes, Lala has a beautiful daughter named Lula Sloatman.
Q: When did Lala Sloatman make her acting debut?
A: Lala made her acting debut in 1988 with the movie Tequila Sunrise.
Q: Is Lala Sloatman related to Frank Zappa?
A: Yes, Frank Zappa is the uncle of Lala, and her cousins are Dweezil Zappa, Diva, Ahmet, and Moon.
Did you notice an error ?
Please help us make corrections by submitting a suggestion. Your help is greatly appreciated!