Top Lists
5 Surprising Facts About Idris Elba's Wife: Luckiest Woman Alive?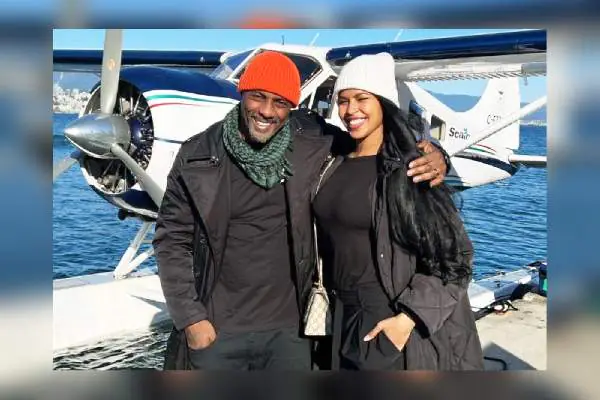 Idris Elba's wife. Image Source: Social media
Golden Globe-winning actor Idris Elba is no doubt a fantastic artist who is loved by millions of fans worldwide. From starring in popular tv series to blockbuster movies, Elba has managed to establish himself as one of the most versatile and bankable actors. Today, however, we will turn the spotlight on Idris Elba's wife, a beautiful woman who is equally accomplished in her respective career.
From her modeling career to her activist journey, stay with us as we unveil five surprising facts about the actor's better half, whose enigmatic charisma will leave you stunned. Married for years, their love is like a young couple caught in the enchantment of their first embrace.
This article is about Idris and his wife, Sabrina Dhowre Elba, a famous Canadian model, media personality, and goodwill ambassador of the United Nations. So, read on with excitement as we sail across the interesting yet surprising facts that await.
5. Idris Made His Wife Believe In Love At First Sight Again: The Origin Story
For hopeless romantics out there, have you ever wondered what it's like to fall in love at first sight? Well, it might be a little exaggeration, but Sabrina went to a point where she hated men. Although she now feels pride in being Idris Elba's spouse, the gorgeous model has had her fair share of toxic relationships in the past.
The Vancouver native had just gotten out of a toxic relationship, where every moment of that previous relationship felt awful. But soon, she was about to meet a man who would later appear on People's Sexiest Man Alive. Their origin story is fascinating and is indeed a real love at first sight.
Sabrina said in an interview that after her breakup, she believed that the opposite sex-species were trash. Then one night at her girlfriend's birthday party, a tall, dark, handsome man entered Slow Jam Sundays, a place of great music and great people in Vancouver, Canada. That man was Idris Elba, who was in Vancouver for a shooting of the movie, The Mountain Between Us.
While Dhowre and her friends wanted to enjoy the party, Idris and his stunt-double crews wanted to enjoy the music. For information, the filming of the survival drama movie, The Mountain Between Us, took place from December 2016 until February 2017. Similarly, most of its parts were shot up in the mountains of Vancouver.
The 6 feet 2.5-inch actor immediately grabbed the ladies' attention, including a friend of Sabrina. She went to him and had a minor chat, but the Luther actor was more interested in Sabrina, so they began a conversation. Being struck by Idris' hardcore, rugged personality, Dhowre initially thought of him as a typical famous guy. However, the more she talked with him, the more she fell for his charm. Additionally, she felt a deep connection as if she already knew him for years.
Later the two exchanged numbers, and Sabrina left the bar with her whole group of girls because the birthday girl wanted to go to another venue. Just when she was about the leave the door, Idris called her and offered her a seat in his car. Without a second thought, she entered the vehicle and then began a strong sense of mutual bond. Sabrina said that they talked for hours inside the car, where she had the most intense and amazing conversation.
It was the first time she ever connected with someone to the point that she went home the next day, called her friends, and told them she found her soulmate. For the next 30 days, the couple were inseparable, talking for hours on cell phones and even in person. So, a woman who was once disgusted by a mere glance of men later became married to one of the sexiest men alive. Sabrina once again believed in love at first sight and found Idris, a perfect guy who is now her husband.
ALSO READ: Top 5 Interesting Facts About Pia Wurtzbach Husband: Who Is The Lucky Guy?
4. Third Time's The Charm: Idris Elba's Wife is Not The First Partner of The English Actor
Marriage is not necessarily a reflection but a mirror. Being Idris Elba's partner, Dhowre realizes that the acclaimed actor is the most amazing human on the planet. After first meeting in early 2017, the couple dated for a year. On February 10, 2018, during the screening of his movie Yardie, Elba went down on one knee and proposed to his then-girlfriend live on stage.
Despite a 16-year age gap, Idris Elba and Sabrina Dhowre married on April 26, 2019, in Marrakesh, one of the largest cities in Morocco. Further, they had a three-day extravagant celebration for the special occasion with the presence of families. The Hobbs and Shaw actor revealed on his wedding day that being married to his wife, Sabrina, was the best thing that happened to him. And the bride still, after four years of marriage, and six years of relationship, still believes Idris is her soulmate.
Before tying the knot with the Canadian model, Elba was married twice, and he was also done with relationships and love. Elba's first marriage was to Hanne Nørgaard from 1999 to 2003, with whom he shares a daughter named Isan Elba. Similarly, his second marriage was to Sonya Nicole Hamlin for four months in 2006. Elba has a son Winston with his former girlfriend, Naiyana Garth.
In an interview, the Emmy-nominated actor revealed that after a second divorce, the last thing he wanted to think about was another relationship. But as fate would have it, Idris met his soulmate in Sabrina. Until now, they are not involved in any controversies or scandals. Well, it looks like the right people at the right time certainly bring a lot of happiness.
3. Know About Vancouver's Former Beauty Queen
Sabrina Dhowre was born on June 16, 1988, in Montreal, Canada. Raised by a single mom Maryam Egal, she is the second oldest of five siblings and moved to Vancouver at age 12. Sabrina belongs to Somali heritage. Likewise, she graduated with a bachelor's degree in philosophy from Simon Fraser University.
Initially wanting to be a lawyer, Sabrina changed the course of her life as a model. She has appeared in several magazines like British Vogue and Elle. Similarly, in 2014, Sabrina won the title of Miss Vancouver at a beauty pageant. She is represented by the IMG Models agency based in London.
The Elbas often weave their heritage into every aspect of their festivities. As Sabrina is of Somali descent and her husband's family hails from Sierra Leone and Ghana, they chose Africa at the heart of their romantic three-day wedding ceremony.
2. Life As An Activist: Charitable Works With Husband, Idris Elba
Besides being a model, Sabrina Dhowre Elba is an outspoken campaigner on topics such as climate justice, gender equality, and racial justice. Likewise, she is associated with several charitable organizations. In April 2020, Elba was appointed as a United Nations goodwill ambassador for the International Fund for Agricultural Development (IFAD). She revealed that the reason for working with UFAD was her mother, as she first introduced her to the fund.
Sabrina has collaborated with her husband, Idris Elba, also a goodwill ambassador for the UN, working with IFAD to help launch a new $40 million fund to decrease the effects of COVID-19 on farmers and food producers in rural regions. Both subsequently worked with the IFAD on initiatives in Kenya, Zambia, and Egypt that aided farmers in their fight against famine and climate change. Further, the couple created a lifestyle and wellness brand known as S'ABLE Labs in 2022.
As an activist, Sabrina also works with civil society organizations, including Conservation International, on issues relating to the environment. In 2022, she was named the co-chair of the European Board of Global Citizens, an international education and advocacy organization. For their contributions to society, the power couple, Idris and Sabrina, received the Crystal Award at the World Economic Forum in Davos in January 2023.
1. Sabrina Elba's Husband is A Multi-Millionaire
Now if you have watched all of Idris Elba's movies, then you know his films have generated massive income at the box office. For example, the 2011 superhero film Thor, in which Elba appeared as 'Heimdall, the Gatekeeper,' collected $449.3 million. The salaries and bonuses from several commercially hit movies contribute to Idris Elba's net worth and fortune. For the 2019 film Hobbs and Shaw, Idris reportedly received $8 million as a salary.
The actor Idris Elba's wealth is a solid $40 million, as per sources. Besides acting, Elba is a producer, musician, DJ, and songwriter. Known for his versatile acting skills and charismatic screen presence, Idris has enjoyed a successful career in both film and television. He has taken on a range of roles in popular projects such as Luther, The Wire, Thor, Pacific Rim, and Mandela: Long Walk to Freedom. In 2023, he appeared in a short role in the blockbuster action movie, Extraction 2 along with former Thor co-actor Chris Hemsworth, where Ukrainian actress Tinatin Dalakishvili also had a major role.
Apart from acting, Elba is a hardcore DJ and a musician, which shows that his various endeavors have contributed to a substantial net worth. So, having such a hard-working partner and loving spouse is certainly a platter on a plate for Sabrina. Although cinema lovers know her as Idris Elba's wife, people across the globe know her as an activist and a social contributor.
References
Did you notice an error ?
Please help us make corrections by submitting a suggestion. Your help is greatly appreciated!