Sports
Kristie Mewis Biography: The Rise of The Soccer Star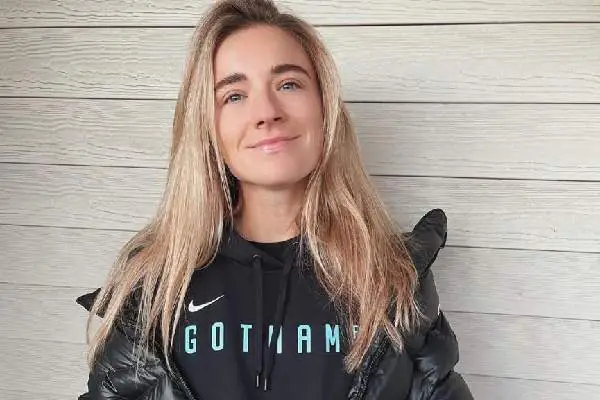 Kristie Mewis Biography. Image Source: Instagram
Full Name

Kristen Anne Mewis

Age

32 yrs

Birth Date

February 25, 1991

Country

America

Relationship Status

In a relationship

Spouse

Sam Kerr (partner)

Nationality

American

Ethnicity

White

Profession

Soccer Player

Awards and honors

SheBelieves Cup(2021, 2022, 2023), 2020 NWSL Challenge Cup Champions

Education

Human Development degree, Boston College

Height

5 feet 8 inch
Few journeys are as inspiring and captivating as that of Kristie Mewis, as her unyielding passion for soccer has helped her to be a prominent figure in the sport.
From being in youth soccer to the highest level of sport, Kristie Mewis biography is one that resonates with many aspiring soccer players. The Gotham FC midfielder has broken up obstacles, passed her dream, and attacked life's misery with defense skills that ultimately led to her dream.
From time to time, the multiple award-winning soccer player has proved her dedication and ability as she always believed she would never settle for anything less. So without any further ado, let's jump right into the personal and professional accomplishments of soccer sensation Kristie Mewis.
Raised By SportsPersons, Making History With Her Sister
Kristen Anne Mewis was born on February 25, 1991, in Weymouth, Massachusetts, U.S, to parents Robert Mewis (father) and Melissa Mewis (mother). Both of her parents played soccer in their youth, so they nurtured a passion for sports in their children.
Raised in a sports-oriented family, Krisite, along with her older sister Samantha Mewis went on to become one of the most successful sisters in women's soccer. The siblings, as their mother recalled, nearly destroyed the family's backyard practicing soccer for hours.
Talking about their early life, both Kristie and Sam attended Whitman-Hanson Regional High School and played soccer for a number of youth teams. They finished their high school career with over 70 goals and 34 assists, respectively. While Kristie was a three-time NSCAA All-American, First-Team All-Star, and All-New England, Sam earned Parade All-American honors twice during her high school years.
Kristie and Sam were members of the 2008 Under-17 U.S. Youth World Cup Team that won the silver medal. With this achievement, the Mewis siblings created history as the first pair of sisters who represented the United States at a women's youth world cup event held in New Zealand. Kristie co-captained the U-17 team and was the recipient of the Bronze Ball as the tournament's third-best player. Likewise, she was named the U.S. Soccer Young Female Athlete of the Year and the NSCAA Youth Player of the Year.
Since 2008, Kristie, along with her sister, have shared many events in their soccer careers. For the information, they scored all four goals for the 2021 US Women's National soccer team in the match on January 19, 2021. The fact that both Kristie and Sam both became professional soccer players is a remarkable testament to their family's dedication and the strong bond between the sisters.
ALSO READ: Alyssa Thompson Biography: Road to Becoming the Stand-out Soccer Player
Boston College Career
After completing high school, Kristie enrolled in the Lynch School of Education and Human Development at Boston College. She graduated with a degree in Human Development with a minor in Communications. From 2009 until 2012, she played for the Boston College Eagles women's soccer team. In her first season, Mewis was named to the All-Acc Freshman Team and became a member of the gold-medal-winning U-20 Women's National Team the next year.
During her sophomore year in 2010, Mewis appeared in all 25 games and received the ACC Player of the Week Award and CollegeSoccer360 Team of the Week honors. Likewise, she received numerous honors and accolades, including the New England Soccer News Player of the Year, All-ACC First-Team selection, and NSCAA All-American. Further, Kristie was a Hermann Trophy semifinalist and a member of Soccer America MVP's First Team.
In her senior year in 2012, Kristie became Boston College's senior female scholar-athlete. She finished the season with a career-high of 16 goals and ended her college career with 39 goals. Moreover, Mewis became the second player to register a goal in five straight games. At Boston, Kristie's impressive performance was marked by her exceptional skills and versatility on full display. Her ability to play both as a midfielder and forward added a dynamic edge to her game.
NWSL and USWNT Career
The 2008 Herman Trophy finalist Kristie began her National Women's Soccer League (NWSL) career after signing with the Australian team Canberra United FC in 2013. Likewise, she received her first senior national team call-up earning her inaugural cap with the USWNT. In 2014, she was traded to the Boston Breakers, played for a year at FC Bayern Munich, and was traded to the Washington Spirit for the 2016-2017 season.
In 2017, Kristie appeared in one game for the Chicago Red Stars and was later traded to Houston Dash in August 2017. In December 2021, Kristie was selected by NWSL club San Diego Wave FC and eventually tarded to Gotham FC in exchange for $200,000 in allocation money.
Talking about their international career, both Krisite and Sam played at the 2010 FIFA U-20 Women's World Cup in Germany. Likewise, they were also the first sisters ever to make an Olympic Team in the 2020 Summer Olympics, as well as being the most capped sisters in USWNT history.
Between 2013 and 2014, Kristie earned 15 international appearances. In February 2013, she made her debut for the senior national team but missed the 2019 FIFA Women's World Cup as she previously suffered from an ACL injury in 2018. The former youth captain revealed that the injury led her to a minor breakdown, both physically and mentally. Nevertheless, she made a comeback in 2019 and won the Challenge Cup with Houston Dash in 2020.
Talking about the 2019 Women's FIFA, the US team defended their title as a champion in a 2-0 victory against the Netherlands in the finals. The women's team, including top players Megan Rapinoe (winger) and Rose Lavelle (midfielder), scored the victory goals. Likewise, the team consisted of her sister, Sam Mewis, Emily Sonnett, Alex Morgan, Ashlyn Harris, Crystal Dunn, Ali Krieger, etc, among others.
Kristie Mewis and Sam Kerr's Relationship
The Gotham FC midfielder Kristie Mewis's partner is Sam Kerr, an Australian forward and captain of Australia women's national team (the Matildas). The couple are openly proud lesbian lovers who are considered one of the most beloved star power couples in today's women's soccer.
Kristie Mewis' lover, Sam Kerr, first met the midfielder during the COVID-19 pandemic. However, the couple did not go public with their relationship until they made headlines at the Tokyo Olympics in August 2021. During one match, the USWNT defeated Australia, and after the tournament, Mewis was seen consoling Kerr in a lovely manner. Well, this was the time they first captured the world's attention. Further, the couple made their relationship public, sharing a picture on Instagram after a few days.
Sam Kerr's girlfriend, Kristie Mewis, previously dated Houston Dash's teammate, Rachel Daly. They had dated from November 2017 until 2019 but continued to play for the same team until 2021. Meanwhile, Kerr previously dated Seattle star Nikki Stanton.
Recently when the Australian team, the Matildas, defeated France in an epic penalty shootout, Sam and Kristie once again melted their fans' hearts after embracing a loving kiss. After the victory, the Matildas have gone to the semi-finals in the 2023 FIFA Women's World Cup.
2023 FIFA Women's World Cup: Fans' Reaction On USWNT Performance
The NWSL soccer sensation Kristie made her debut at the 2023 FIFA Women's World Cup after head coach Vlatko Andonovski named her to the USWNT's 23-player roster. All eyes were on this new midfielder as Kristie's commitment to the sport separated her from the rest. Also, this was Kristie's debut at the most high-profile tournament.
Unfortunately, the USWNT was eliminated in the game against Sweden in the round of 16 on penalties 5-4. With this loss, the four-time world cup champion, USWNT's dream of winning the World Cup couldn't be fulfilled. The main reason behind the team's weak performance was said to be head coach Andonovski's lack of planning and full utilization of the player's abilities.
For the information, players like Ali Krieger and Megan Rapinoe have also announced their retirement from soccer after the 2023 World Cup upset. Well, we hope the future of the women's national team will go in the bright path in the coming days.
Kristie Mewis Net Worth
One of the hottest prospects in women's soccer, Kristie Mewis' net worth might be an estimated $500,000. However, the exact information regarding Kristie Mewis's wealth is not available as her contract with Gotham FC is under review. In 2021, Mewis' current club, Gotham FC, acquired her from San Diego in exchange for $200,000 in allocation money. Likewise, some of the factors, such as the club's paychecks, endorsement deals, and partnerships with renowned brands, contribute to Kristie Mewis's fortune.
On the other hand, Mewis earns a lucrative income from her partnership and product promotions with brands, including Truly Drinks, SixStarpro Nutrition, Secret Deodorant, etc. Meanwhile, Kristie Mewis's partner, Sam Kerr, is one of the highest-earning female soccer players, with an annual salary of over $500,000 and an estimated net worth of $3 million.
As a U.S. national women's team player, Kristie Mewis's earnings are significantly higher than players in lower-level leagues. For information, the average salary for a female soccer player ranges somewhere between $40,000-$250,000. Also, the players' income varies widely depending on their experience, skill, and team's popularity. Some of the highest-paid female soccer players are Megan Rapinoe, Alexia Putellas, and Alex Morgan, whose annual earnings range between $500,000-$900,000.
Although the 2023 Women's World Cup's prize money jumped from $30 million to $110 million, the increment is still far from the $440 million paid out in the 2022 World Cup in Qatar. There exists a clear barrier between the wealth-creation potential of female athletes and their male counterparts. Nevertheless, Kristie Mewis is a beam of light in women's soccer who has proven her ability and diligence.
Throughout the 2012-2022 season, Kristie has scored a total of 39 goals in a total of 183 appearances. She has played in the national women's soccer league and is considered one of the best midfielders of modern times. In conclusion, we hope this article on Kristie Mewis Biography has given you some insight into the player's personal and professional quest on life's journey.
References
Did you notice an error ?
Please help us make corrections by submitting a suggestion. Your help is greatly appreciated!