Top Lists
Meet Pianist Yuja Wang Partner Who is a Cellist: An Adorable Couple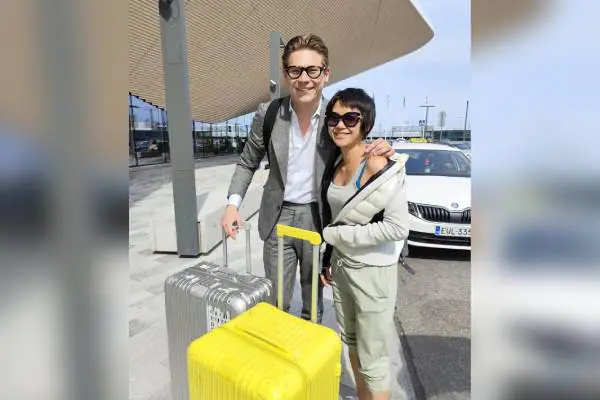 Yuja Wang Partner. Image Credit: Instagram.
Music has the power to mesmerize anyone with its melodious tunes and cords. When mixed with the soft and smooth tone of a piano, the resulting combination is beyond beautiful. Yuja Wang is a Chinese pianist whose fingers do magic when struck against the metal strings. She has established herself as one of the leading pianists of this generation with prominent performances in the Classical genre.
In this article, however, we are going to talk about the person who mesmerized this music maestro. So, stay with us until the end to meet the man who stole the heart of this Chinese artist, as we will divulge interesting facts about Yuja Wang partner.
Some Facts About the Chinese Pianist
Yuja was born on February 10, 1987, in an artistic family in Beijing, China. Her father, Wang Jianguo, is a percussionist, and his mother, Zhai Jieming, is a dancer based in China. Both of her parents are living in Beijing, the capital city of China.
Wang began her piano training at the age of six and went on to attend Central Conservatory of Music in Beijing at the age of seven. Similarly, she became the youngest student to enter the Morningside Music Bridge International Music Festival at eleven.
The Chinese pianist graduated from the Curtis Institute of Music in Philadelphia in 2008, where she studied under the supervision of American classical pianist Gary Graffman.
Meet Pianist Yuja Wang Partner – Who is He?
The Amazing pianist mesmerizes the crowd with her amazing skills; however, she, herself, must have gotten mesmerized when she met her current partner, Klaus Makela. Klaus is also a musician, a conductor, and a cellist, to be precise.
Yuja sparked fans' interest when she shared a picture with Klaus to wish happy new year in 2023. The couple celebrated the happy day in Vienna with their friends and well-wishers.
Being a conductor, Klauss has performed with Yuja on multiple occasions, including Oslo, San Francisco Symphony, Royal Albert Hall, and Sala Patatuluim. Their mutual love for music must have been the catalyst to attract them towards one another.
Also, the handsome cellist seems really close with her family as well; Yuja has shared pictures with her parents in the presence of Makela on her Instagram handle. So, their relationship seems pretty serious. The couple can be seen enjoying each other's company when they are not playing music in front of the audience.
ALSO READ: 5 Sources of Footballer Jesse Lingard Net Worth: Deals, Investments, And What?
Klaus Was Born Into a Family of Musicians
Yuja Wang partner, Klaus, was born on 17 February 1996, in Helsinki, Finland, into a family of musicians. His father, Sami Makela, is a cellist, and his mother, Taru Myohanen Makela, is a pianist, like Yuja. The Helsinki native was born to be a cellist, as evidenced by his family's history of being involved in music.
Similarly, Tapio Myohanen, Klaus's paternal grandfather, is a violinist. Further, his sister, Ellen Makela, is a dancer involved with Ballets de Catalunya. The Finish conductor grew up in a musical environment, which attracted his focus towards conducting and cello at the young age of twelve.
Thus, Yuja Wang's boyfriend attended the Sibelius Academy and began his training with Jorma Panula, Marko Yionen, Timo Hanhinen, and Hannu Kiiski. Also, he has appeared in Finnish Music festivals such as the Naantali Music Festival and the Kunho Chamber Music Festival as a cellist and conductor.
A promising talent from a young age, the Finnish national has conducted some famous orchestras, such as the Oslo Philharmonic, Orchestre de Paris, and Royal Concertgebouw Orchestra. He is one of the youngest conductors ever to conduct Oslo.
Similarly, you might be interested in Taylor Zakhar Perez Girlfriend.
Exclusive Contract With Decca – Only The Third Conductor in Label's History to Do so
Yuja Wang partner, Klaus Makela, made history when he signed an exclusive recording contract with Decca Classics, a Record label company. By doing so, he became the third person in the company's history to do so. This record signing is a testament to the conducting prowess of this Finnish citizen.
Similarly, Makela's first Decca release was a collection of all the Sibelius symphonies performed by the Oslo Philharmonic Orchestra. Similarly, he has a long list of upcoming performances as a Decca member, starting on 18 October 2023 at the Metropolitan Theatre in Tokyo.
In conclusion, we wish Yuja Wang's boyfriend all the best in his upcoming musical sessions and hope that his personal life with Yuja becomes as successful as his professional career.
FAQs
Q: What is Yuja Wang's nationality?
A: Yuja Wang is Chinese.
Q: Is Yuja Wang Married?
A: No, Yuja Wang is not married.
Q: Does Yuja Wang have a boyfriend?
A: Yes, Yuja is in a relationship with Finnish Cellist and Conductor Klaus Makela.
Q: What instrument does Yuja Wang play?
A: Yuja is a Pianist.
Q: Who is Yuja Wang's teacher?
A: Yuja's teacher is the famous American pianist Gary Graffman.
Q: Where does Yuja Wang Live?
A: Yuja Wang currently lives in New York.
Q: When was Yuja Wang born?
A: Yuja was born on February 10, 1987.
Q: What is Yuja Wang's age?
A: Yuja is 36 years old as of October 2023.
Did you notice an error ?
Please help us make corrections by submitting a suggestion. Your help is greatly appreciated!