Top Lists
What Jimmy Carter Grandson Hugo James Wentzel Is Upto? Glimpse Into His Life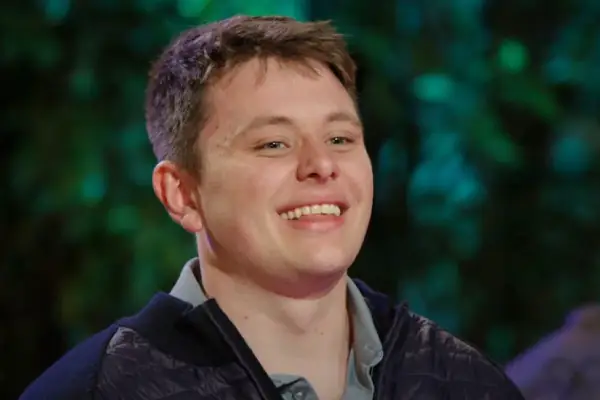 Jimmy Carter Grandson Hugo James Wentzel. Image Credit: Social Media.
ABC's reality competition series, Claim to Fame, received praise from fans upon its release. The show revolves around 12 contestants who are actually relatives of famous personalities. In season 2 of the show, one contestant, Hugo James Wentzel, stole the spotlight.
Neither the viewers nor fellow contestants knew Jimmy Carter grandson Hugo James Wentzel, was one of the participants of the show. After the show, Hugo has been busy with his own personal endeavors. But the reality star was cooking something else in the show as well. You might wonder, what is that? Read further to find out.
Born to a Prestigious Family: Has the Commanding Connection
Hugo James Wentzel was born on July 29, 1999, to parents Amy Lynn Carter and James Gregory Wentzel.
Hugo is the grandson of former U.S. president Jimmy Carter and First Lady Rosalynn Smith Carter.
Since the beginning, Hugo's parents maintained a low profile, but Hugo has attended a few public ceremonies with the 39th U.S. President.
The celebrity grandson frequently accompanies his grandparents and often gives updates on their health.
Hugo is one of the esteemed members among the 22 grandkids and great-grandkids of Jimmy and Rosalynn Carter. The extended Carter family is close-knit and supportive of each other.
Get To Know More About Hugo Wentzel's Parents
Hugo Wentzel's mother, Amy Carter, is the youngest and only daughter of Jimmy and Rosalynn Carter. She grew up with her three brothers, Jack, James, and Jeff Carter. Amy was 9 when her father entered the president's office. Meanwhile, Amy received much media attention as she spent her childhood in the White House from 1977-1981.
After meeting at Tulane University as students, Hugo Wentzel's parents tied their wedding knot in September 1996. They later moved to Atlanta, where Hugo's father, James, managed an Atlanta-based bookstore called Chapter Eleven. Unfortunately, the couple divorced in 2005 after nine years of marriage.
| | |
| --- | --- |
| Hugo Wentzel's Relation | People |
| Mother | Amy Carter |
| Father | James Gregory Wentzel |
| Stepfather | John Joseph Kelly |
| Grandparents (Maternal) | Jimmy Carter and Rosalynn Carter |
In her later years, Hugo's mother became active in political activisms, having participated in the 80s and 90s protests to change the U.S. Foreign Policy. Amy has a stepson with her current husband, John Joseph Kelly, whom she married in 2007. At the moment, she keeps a low profile.
ALSO READ: Everything About Jimmy Carter Grandson John Chuldenko: What Does He Do?
What is Jimmy Carter's Grandson's Profession?
In October 2023, Jimmy Carter became the longest-living president after turning 99. While his grandkids have ensured that his legacy will live on, it is important to know what profession they follow.
Currently, Hugo Wentzel is basking on his fame as a reality star, but the young man is also a fitness enthusiast. It's a difficult task for Carter's grandkids to keep up with him in the political field as he is one of the most successful ex-presidents in American history.
On the other hand, Hugo is fond of his grandfather, who shares the important aspects of life. The reality actor is also helpful in updating his grandparents' health condition to the public.
In an interview for Entertainment Weekly in August 2023, Jimmy Carter's grandson, Josh Carter, also shared that the 39th president has been extremely sick, but he is keeping his mind busy with audiobooks while in home hospice care.
Meanwhile, the Carter Center announced on May 30, 2023, that Rosalynn Carter had been diagnosed with dementia. The family continues to live in hospice care, enjoying spring and visits with loved ones.
Becoming a Familiar Face After 'Claim to Fame'
The second season of ABC's reality competition show, Claim to Fame, introduced a new group of celebrity relatives. With Kevin and Frankie Jonas as co-hosts, the series saw 12 contestants fighting against each other to learn the identity of their ancestors.
Among the 12 contestants stood Hugo Wentzel, who was eliminated in the seventh week. During the elimination, the Claim to Fame cast was brought to tears when Wentzel was revealed as Jimmy Carter's grandson.
The emotional praise of his grandpa (whom he loving calls papa as well) and his contributions to American history got his fellow contestants teary-eyed. Meanwhile, the second season of Claim to Fame ended in August 2023, with Nick Cannon's younger brother, Gabriel Cannon, as the show's winner.
This might interest you: Is Artist Sarah Chuldenko Related To Jimmy Carter?
Is Jimmy Carter Grandson Hugo James Wentzel Dating his Fellow Contestant?
Yes, indeed, the celebrity grandson Hugo Wentzel is dating Olivia Aquilina, a fellow Claim to Fame participant. A tattoo artist by profession, Olivia is the niece of actress/model Jenny McCarthy.
Hugo Wentzel's girlfriend, Olivia Aquilina, uses they/she pronouns. The Los Angeles-based tattooist is also an aspiring cinematographer. The couple is active on Instagram, where they share funny videos and their romantic moments.
Fans are excited that Jimmy Carter's grandson is dating Jenny McCarthy's niece.
View this post on Instagram
Further, the lovebirds have joined a lengthy list of candidates with top-level famous relatives. Hugo and Olivia became close friends after meeting for the first time in the reality show.
Likewise, Hugo revealed that they had a lot in common, and they connected off-screen as well. After the show, they reconnected and became a proper boyfriend-girlfriend.
FAQs
Q: What does Jimmy Carter grandson Hugo James Wentzel, do for a living?
A: Jimmy Carter grandson Hugo James Wentzel, is a reality star. Also, he is a fitness geek.
Q: What is Hugo Wentzel's birthdate?
A: Hugo Wentzel's age is mid-20s as he was born in July 1999.
Q: When did Hugo Wentzel appear in Claim to Fame?
A: Wentzel appeared in the second season of Claim to Fame.
Q: Is Hugo Wentzel and Olivia Aquilina dating?
A: At the moment, Hugo Wentzel and Olivia Aquilina are dating each other.
Did you notice an error ?
Please help us make corrections by submitting a suggestion. Your help is greatly appreciated!