Top Lists
Top 5 Unmissable Aspects of Savannah LaBrant Husband: Both First and Second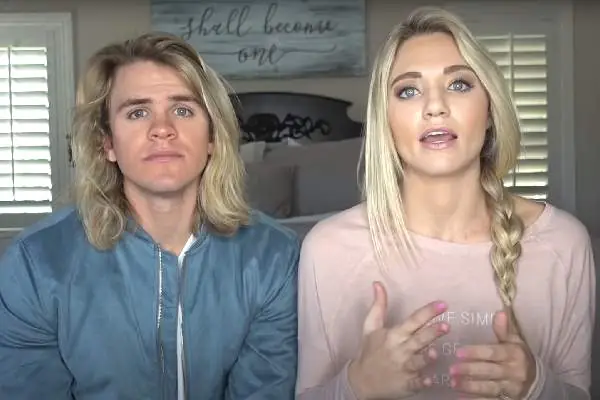 Savannah LaBrant husband. Image Credit: Social Media.
Savannah LaBrant, a widely recognized social media influencer and popular YouTuber, has won over her followers with her captivating charm and compelling content. Alongside her successful career, Savannah's spouse has also made his mark in the online sphere.
In this article, we will explore the notable aspects of Savannah LaBrant husband that should not be overlooked. We'll highlight essential qualities and memorable moments from both her previous and current marriages. Let us delve into the intriguing details of the person who holds a significant place in Savannah's life.
5. First Marriage: Tommy Smith
Fans of the LaBrant Fam YouTube channel are familiar with Savannah LaBrant's marriage to her husband Cole. However, some may be curious about Savannah's previous relationship with Thomas Walter "Tommy" Smith. In her candid videos on the channel, Savannah has openly discussed her past and the turbulent journey she experienced before finding happiness with Cole.
Prior to gaining popularity on the internet and meeting fellow influencer Cole, Savannah became pregnant at the young age of 19 while she was still in college. She made the difficult decision to drop out and raise her baby, Everleigh Rose, along with then-boyfriend Tommy Smith.
Reflecting upon this period in her life during a video titled "The truth about Savannah's past…", Savannah admitted that she had been involved in an unhealthy relationship with Everleigh's father. The young mother described their dynamic as toxic, filled with constant conflicts and chaos.
In an excerpt from their memoir, titled "Cole & Sav: Our Surprising Love Story," Savannah opened up about the difficulties she faced in her previous relationship. She candidly shared that Tommy was unfaithful to her multiple times, both during and after her pregnancy with Everleigh.
It wasn't until Everleigh turned three years old that Savannah ultimately decided it was time to move forward because she realized what she deserved in a partner.
4. Second Marriage: Cole LaBrant
After having her first child, Savannah temporarily paused her education but later returned to college and successfully completed her undergraduate degree. In 2016, she began a relationship with Cole LaBrant, a notable figure on Vine famous for his channel "Dem White Boyz."
Having met through the platform Musical.ly (now known as TikTok), Savannah and Cole instantly connected after he reached out to request assistance from Savannah. Their communication led to a blossoming romance that ultimately culminated in marriage.
On their wedding day, Cole expressed heartfelt vows not only to Savannah but also to her daughter from a previous relationship. Following their marriage, the couple joyously welcomed their first child together, Posie Rayne LaBrant, in 2018.
Later in 2020, they celebrated the birth of their son, Zealand Cole LaBrant, followed by their daughter, Sunday Savannah LaBrant, in 2022 – completing their beautiful family journey.
ALSO READ: Revealing 5 Shocking Facts About Noah Kahan Girlfriend: Wedding Bells Soon?
3. Death of Savannah LaBrant Husband
Following a period of what appeared to be an amicable co-parenting arrangement between Tommy and Savannah, their relationship abruptly came to a halt when news broke that Tommy Smith had passed away unexpectedly on September 13, 2022.
Tommy's sister, Amber Smith, announced the tragic news in a Facebook post. Notably active on Instagram with over 103k followers, Smith regularly shared glimpses into his day-to-day experiences and moments spent co-parenting his daughter Everleigh.
It is apparent from his social media activity that Smith deeply cherished outdoor activities and maintained a consistent presence in his daughter's life. Savannah LaBrant husband, Cole, also mentioned that Smith had been wonderful with Everleigh.
According to the Orange County Sheriff-Coroner, Smith's passing was attributed to an unintended overdose caused by acute fentanyl intoxication.
Similarly, you might want to read about Joey Klaasen's Dating History.
2. Creative Collaborations
Savannah and Cole embarked on a joint venture in the form of their YouTube channel, which they aptly named Cole&Sav. Their heartfelt portrayal of their imperfect yet close-knit family instantly resonated with thousands of viewers, leading to an impressive subscriber base.
As the couple welcomed children into their lives, they decided to rebrand the channel as "The LaBrant Fam," showcasing even more content centered around their entire household.
The LaBrant Fam is known for its influence on family content. With an impressive subscriber count of over 13 million, their videos consistently accumulate views ranging from 40 million to well above 100 million. As time has passed, The LaBrant Fam has experienced growth not only in terms of audience size but also in public attention surrounding certain controversies.
So what are the controversies the family is involved in, you might ask. Keep reading to find out.
1. It's Not All Sunshine and Roses
When you are famous, there are always people who want nothing more than to see you fail. The LaBrant family has been the victim of similar incidents. People are always looking for dirt on them to tarnish their reputations. Let's see what the haters had to say about them.
Exploiting Their Children for Profit
Family influencers on social media are a topic of much debate due to the nature of their content. The LaBrant Fam have chosen to share nearly every aspect of their lives with millions of followers across multiple platforms.
From documenting births and the first day of school moments to showcasing morning routines, home activities, and even theme park adventures – it seems like there is no event or experience that goes unrecorded by this family.
While many fans enjoy seeing the family, some viewers have claimed that the parents, Savannah and Cole, are using their children to earn money. I guess there is no pleasing some people.
Accused of Faking a Fire Evacuation
Another notable incident occurred in 2018 when they were accused of misrepresenting a fire evacuation. This accusation came at a time when California was facing devastating wildfires.
The family had posted a video titled "WE LEFT OUR HOUSE BECAUSE OF FIRES IN CALIFORNIA," with an attention-grabbing thumbnail featuring Cole, Savannah, and Everleigh appearing frightened against the backdrop of an edited fiery mountainside.
Critics deemed their actions insensitive as it appeared they were making light of the situation and implying that they, too, had undergone evacuation orders for their home. Upon watching the video, however, it became evident that the family did not actually evacuate due to external factors but rather because Everleigh possessed a fear of fires.
As a result, some of the nearly five million viewers expressed disappointment and frustration over feeling deceived by the content presented in the video.
Using Cancer as Clickbait
One of the controversial videos from The LaBrant Fam is their "documentary" titled "She Got Diagnosed with Cancer," which was posted on Aug. 28, 2021.
Initially, the thumbnail featured Savannah LaBrant husband, Cole, and his family holding hands in their backyard. However, it has since been changed to show Cole on the sickbed of a child who had cancer.
The video created concern among viewers as it implied that one of their daughters had been diagnosed with cancer. In reality, the video focused on Cole and Savannah's worries about the possibility of Posie having cancer.
Comparing Abortions to the Holocaust
In April 2022, The LaBrant Fam faced a significant controversy with the release of another documentary on abortion.
This video, titled "Abortion," drew attention for its comparison between the number of abortions in America and historical tragedies like the Holocaust, suggesting that abortion rates in the U.S. are among the highest worldwide.
Critics expressed their disapproval towards The LaBrant Fam, known for openly embracing their Christian beliefs and for sharing their personal views with a predominantly young audience.
References
Did you notice an error ?
Please help us make corrections by submitting a suggestion. Your help is greatly appreciated!