Top Lists
Who is Soccer Star Taylor Kornieck Boyfriend? Is He A Footaballer Too?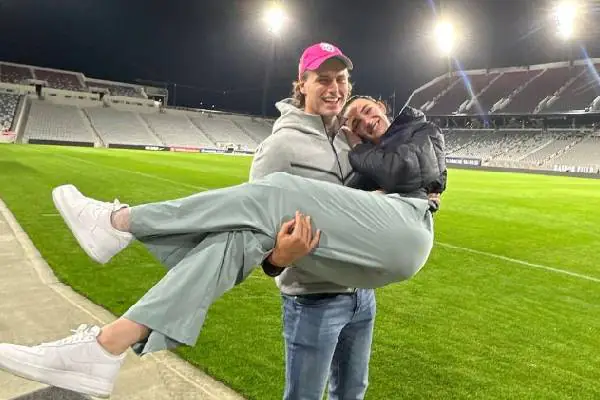 Taylor Kornieck Boyfriend. Image Credit: Instagram.
The world of women's soccer has massively grown over the years, and the popularity of women's soccer players has become par with that of men's. Taylor Kornieck is one such football player who has managed to become one of the most promising young footballers in the United States. She has represented her country multiple times in International formats, and domestically, she plays for the San Deigo Wave FC.
Today, we will look at the personal life of this young soccer player and find out if she has found success in her relationship or not. Therefore, please keep reading until the end, as we are going to divulge some interesting things about Taylor Kornieck boyfriend. First, let's get to know her a little.
Brief Overview of the American Soccer Player
Taylor was born Taylor Jacklyn Kornieck on November 22, 1998, in Troy, Michigan, United States of America, to her father and mother, Kristin Kornieck. She has an older brother named Nick Kornieck, who played college-level basketball for Doane Tigers and CSU Dominquez Hills Toroz.
Kornieck's mother, Kristin, was a professional volleyball in Europe. So, the football player got her athlete genes from her mom. Growing up in Henderson, Nevada, she attended Coronado High School and captained the school's football team.
Orlando Pride traded up during the selection to select Kornieck with the third overall pick in the 2020 NWSL College selection on January 16, 2020.
Meet Taylor Kornieck Boyfriend – Who is He?
With an impressive career ahead of her, Taylor Kornieck's future as a United States soccer player is looking bright. However, what about her personal life? Is she complete in her relationships as well? Keep reading to find out more.
The American soccer genius is dating another athlete named Bailey Flint. The couple has kept details regarding their first meet-up secret from the public, but they went Instagram official on March 2023, when Bailey shared a picture with Taylor on his Instagram.
Similarly, Taylor shared her first picture with her boyfriend in May 2023, when they went on a date at a Japanese restaurant in San Diego called Lumi. Also, the lovely pair's Instagram photos are proof that they are enjoying their time as boyfriend and girlfriend.
ALSO READ: 5 Things To Know About Liam Broady Girlfriend: What Caught Broady's Attention?
Kornieck's Partner is From Australia
Taylor Kornieck boyfriend, Bailey, was born on September 5, 1996, in Melbourne, Victoria, to Douglas Flint and Rachel Perry. He has three siblings: one brother and two sisters.
The Australian national attended his high school at Layton Christian Academy and obtained a diploma in 2015. Similarly, he graduated with a Bachelor of Arts from one of the most prestigious colleges in Australia, Victoria University, in 2017. He then got a Double Bachelor's degree in Media Communications and Theatre from the University of Toledo in Ohio.
Further, Bailey went to Moscow, Russia, in order to take part in an intense summer program in Drama from Moscow Art Theatre School in 2019. Finally, in 2022, Taylor Kornieck's partner completed his Masters from Toledo in Liberal Arts and Sciences in 2022.
Flint was the first member of his family to earn a high school diploma. Similarly, he also developed a sizable social media following while attending Toledo. Taylor Kornieck boyfriend had more than 160,000 TikTok followers, more than any other Toledo student.
Similarly, you might be interested in Eugenio Mastrandrea Girlfriend.
Flint is a Professional Gridiron Footballer
Bailey Flint is a professional gridiron football player from Australia. He is currently signed with Hamilton Tiger-Cats of the Canadian Football League. Gridiron is commonly known as North American Football. So, in a sense, Taylor's partner is also a football player.
The Australian punter began his football journey in 2015 and got the opportunity to play with the Australian Team in the Down Under Bowl just a few months after joining a local club. Since then, he has not looked back and kept on polishing his skills.
Taylor Kornieck's boyfriend played college-level football for Toledo Rockets, representing his alma mater, the University of Toledo. He got picked at the 2022 CFL Global Draft by the Hamilton Tiger-Cats, but he did not sign the deal until May 2023.
Bailey and Flint are both professional athletes, but they make time for each other whenever they can. We wish the couple all the best in their relationship and hope to see them shine in and out of their respective football fields.
FAQs
Q: Who is Taylor Kornieck?
A: Taylor Kornieck is a professional football player.
Q: What is Taylor Kornieck's nationality?
A: Taylor Kornieck is an American.
Q: What is Taylor Kornieck's height?
A: Taylor is 6 feet 1 inches tall.
Q: What position does Taylor Kornieck play?
A: Taylor is a midfielder.
Q: Who is Taylor Kornieck's boyfriend?
A: Taylor Kornieck's boyfriend is Bailey Flint.
Q: Where did Taylor Kornieck go to college?
A: Taylor went to Coronado High School and the University of Colorado Boulder.
Q: What is Taylor Kornieck's current club?
A: Taylor currently plays for San Deigo Wave FC.
Q: Does Taylor Kornieck belong to a sports family?
A: Yes, Taylor's mother was a volleyball player, and her brother also played basketball in college.
Q: What is Taylor Kornieck's full name?
A: Taylor's full name is Taylor Jaklyn Kornieck.
Q: When was Taylor Kornieck born?
A: Taylor was born on November 22, 1998.
Did you notice an error ?
Please help us make corrections by submitting a suggestion. Your help is greatly appreciated!