Top Lists
5 Shocking Facts About 2024 Presidential Candidate Vivek Ramaswamy Parents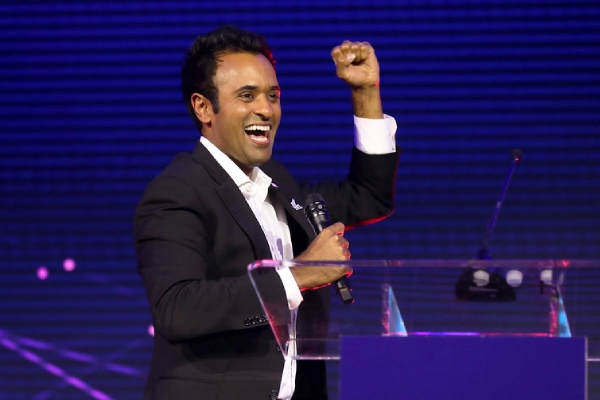 Vivek Ramaswamy Parents. Image Credit: Flickr.
For those who wonder why Vivek Ramaswamy is so rich, the answer can be traced back to his family roots. As a kid trying to fit into the Western world, Vivek not only managed to make a lavish fortune, but he went on to become one of the Republican Party candidates in the 2024 United States Presidential Election.
Vivek Ramaswamy parents raised him in Cincinnati, Ohio, after they came to the United States from Kerala, India. The Ramaswamy, with their diverse cultural background and heritages, raised their son to be a future leader.
In this article, we'll explore the life and achievements of Vivek Ramaswamy, who transformed biotech innovation and healthcare access. His name is synonymous with entrepreneurship, and he has made positive changes with his remarkable journey.
5. From Kerala, India To Ohio, United States
Named after his father, Vivek was born on August 9, 1985, in Cincinnati, Ohio. His Indian Hindu immigrant parents are Tamil-speaking Brahmins from Kerala. Ramaswamy's parents came to the United States legally and brought with them a unique blend of cultural diversifications.
Vivek's father, V. Ganapathy Ramaswamy, graduated from the National Institute of Technology, Calicut, India. He worked as an engineer and patent attorney for General Electric. Meanwhile, his mother, Geetha Ramaswamy, graduated from the Mysore Medical College & Research Institute. Afterward, she worked as a geriatric psychiatrist, a special field of study involving old age people.
Ramaswamy's parents immigrated from Palakkad district in Kerala, where their family had an ancestral home in the traditional town of Vadakkencherry. Ramaswamy was raised in Ohio, and growing up, he often attended the local Hindu temple in Dayton with his family.
ALSO READ: Catherine Cortez Masto Biography: Journey To Becoming A First Woman Senate of Nevada.
4. Vivek Ramaswamy's Parents Citizenship: Know The Truth
The story of Vivek Ramaswamy parents has played a key role in promoting two controversial policy ideas: stripping citizenship from and deporting people born in the U.S to undocumented immigrant parents.
Ramaswamy gained citizenship through birthright as his mother took the test to get U.S. citizenship before he was born. Likewise, he noted that his parents immigrated to the country legally. Since his campaign started back in February 2023, Ramaswamy has been mixing the lines he uses on the campaign trail about his parents' experience in the U.S.
View this post on Instagram
While his father didn't take the test, Ramaswamy's mother took the test to get U.S citizenship. Likewise, he said in his campaign that every immigrant has to pass in order to become a citizen of this country. Touting his ideas for the 2024 Presidential campaign, Vivek's comments about his family raised eyebrows.
Ramaswamy noted that his father is not a U.S. citizen, and he never took the test because of familial reasons. He often boasts his family's immigration and naturalization story on the campaign trail.
3. Pillars of Encouragement Since the Beginning
Ramaswamy's parents, VG Ramaswamy and Geetha Ramaswamy, have stood strong as pillars of encouragement throughout their son's path. In one of the interviews, Geetha reflected that her son would always talk about becoming president since the second grade. Likewise, his father said in an interview that Vivek has always been an ambitious boy since his childhood.
Vivek says the first foundational figure is his father enrolled in law school across the river at Northern Kentucky University to become a patent attorney in hopes of securing his position at the company.
Ramaswamy would often join his father on his way to class. Later, he would graduate from Yale Law School, where he simultaneously worked at a hedge fund called QVT Financial LP.
On the way back from his dad's law school classes, a young and precocious Ramaswamy often got into political arguments with his progressive father. His parents say Vivek developed leadership qualities from an early age, and he was always ambitious.
2. Came with No Money: Today Their Child is a Billionaire
Although the Ramaswamys came with no wealth in the United States, they established a stock portfolio for him that was bringing in hundreds of dollars in dividends before he graduated high school and thousands by the time he attended Harvard, according to his 2002-2004 tax returns, which he released in June.
Vivek Ramaswamy's entrepreneurial journey began with the disciplinary values of his parents. He is the founder of Roivant Sciences, a biopharmaceutical company that has taken the industry by storm. Roivant Sciences is dedicated to identifying and developing promising drug candidates, and under Ramaswamy's leadership, it has achieved remarkable success.
Through Roivant, Ramaswamy made a staggering fortune, and his wealth from this venture alone stands at $887 million. This company not only highlights his entrepreneurial prowess but also underscores his commitment to improving healthcare worldwide.
For information, Vivek became a billionaire in mid-2023 when the Roivant's stock was at its peak. Since its shares dipped a little bit, Vivek Ramaswamy still boasts a very impressive net worth of $950 million.
1. Role of Vivek Ramaswamy Parents
With his family, Ramaswamy spent many summer vacations traveling to India. There is no doubt his parents have helped him throughout his years. Vivek Ramaswamy's wife, Apoorva, immigrated to the U.S. from India when she was 4 years old. Her parents took the citizenship test after they immigrated to the country.
For the 2024 presidential candidacy, Vivek is one of the Republican priorities alongside Donald Trump, Larry Elder, Nikki Haley, Will Hurd, etc. Whether he wins or loses, Ramaswamy has already emerged as the leader in the eye of the public.
In conclusion, Vivek Ramaswamy parents shaped their son's journey from a driven scientist to a trailblazing entrepreneur. His impact on pharmaceuticals, access to healthcare, and leadership is undeniable.
Did you notice an error ?
Please help us make corrections by submitting a suggestion. Your help is greatly appreciated!