Sports
Aubrey Kingsbury Biography: An Exceptional Goalkeeper of USWNT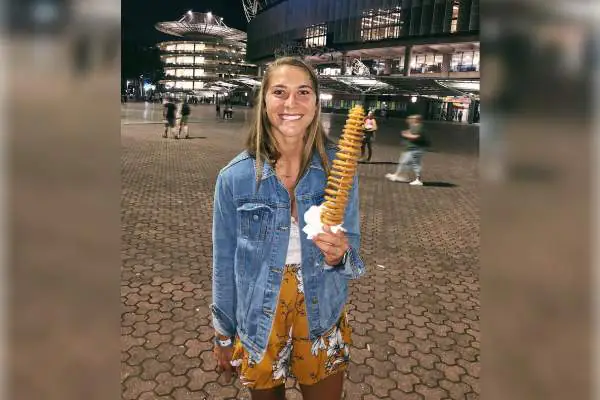 Aubrey Kingsbury Biography. Image Source: Instagram.
Full Name

Aubrey Renee Kingsbury

Age

32 yrs

Birth Date

November 20, 1991

Country

America

Relationship Status

Married

Spouse

Matt Kingsbury

Nationality

American

Ethnicity

White

Profession

Goalkeeper

Education

Wake Forest University

Height

5 feet 9 inches
In the glory of soccer, where battles are fought in the open field, there exist true warriors known as goalkeepers. These fearless protectors stand tall between the posts, their eyes fixed on the ball, ready to defy gravity and deny opponents with awe-inspiring agility.
Among these guardians, one name shines with an unwavering spirit and an indomitable will – Aubrey Kingsbury, the exceptional goalkeeper of the United States Women's National Team (USWNT). With every dive, every fingertip save, and every airborne acrobatic display, Kingsbury embodies the essence of a true goalkeeper.
Kingsbury's reflexes are lightning-quick, as if she possesses an unspoken connection with the ball itself. In this blog, we embark on a journey of Aubrey Kingsbury biography, the unyielding guardian of the goal. Together, we will witness the defining moments, celebrate the extraordinary achievements, and uncover the untold stories that have shaped the trajectory of this remarkable athlete.
From Cincinnati Roots to College Stardom: An Exceptional Goalkeeper of the USWNT
In Cincinnati, Ohio, Aubrey Kingsbury was born to proud parents Paul Bledsoe and Char Bledsoe. Her journey to becoming an exceptional goalkeeper for the USWNT began in her formative years when she attended Merwin Elementary and Amelia Middle School.
It was during her time at St. Ursula Academy that her talent on the soccer field started to shine, as she played a pivotal role in the school's state championship victories in 2007 and 2008.
After graduating from St. Ursula Academy, Kingsbury set her sights on higher education and enrolled at Wake Forest University. There, she pursued a degree in health and exercise science while also minoring in chemistry and biology.
Throughout her four seasons with the Wake Forest Demon Deacons, Kingsbury established herself as a force to be reckoned with. Starting in every game, she displayed unwavering commitment and skill, earning the honor of being named co-captain during her senior year.
Kingsbury's impact on the Wake Forest soccer program was profound, as she etched her name in the school's record books. She holds several impressive records, including the career record for 33 shutouts, 0.91 goals against average, 94 games played so far, and 8,692 minutes played in goal.
The goalkeeper's exceptional performances on the field did not go unnoticed, as she became one of only three Demon Deacons to receive All-American honors three times.
The National Soccer Coaches Association of America (NSCAA) recognized her talents with third-team honors in 2011 and 2012 and second-team honors in 2013.
Following her collegiate success, Kingsbury embarked on her professional career in 2014, joining the top-flight Norwegian club IK Grand Bodo. A year later, she made her return to the United States and entered the National Women's Soccer League (NWSL), signing with Sky Blue FC.
In 2016, she was selected by the Orlando Pride in the NWSL Expansion Draft, further establishing herself as a formidable presence in professional soccer.
During her time at Wake Forest, Kingsbury not only excelled on the field but also pursued academic excellence with a degree in health and exercise science and minors in chemistry and biology.
Club Journey: Aubrey Kingsbury's Global Soccer Ventures
Aubrey Kingsbury biography is like a blank sheet of paper club without mentioning her career that has seen her traverse multiple continents, showcasing her talent and versatility in various leagues around the world. From her early beginnings in the USL W-League to her current stint with the Washington Spirit, Kingsbury's journey has been one of growth and success.
Los Angeles Blues (2014)
In January 2014, Kingsbury signed with the Los Angeles Blues (previously known as "Pali Blues") in preparation for exploring opportunities in Europe. This move allowed her to gain valuable experience before embarking on her international club career.
IK Grand Bodø (2014)
Following her time with the Los Angeles Blues, Kingsbury secured a move to Norway to play for Toppserien club IK Grand Bodø. During her stint with the club, she made 11 appearances, showcasing her skills on the European stage.
Sky Blue (2015)
In October 2014, Kingsbury signed with Sky Blue FC in the National Women's Soccer League (NWSL) as a discovery player. During the 2015 season, she served as the backup goalkeeper to Brittany Cameron, limiting her playing time to a single appearance for Sky Blue.
Fortuna Hjørring (2015-2016)
After the 2015 season, Kingsbury embarked on an off-season loan to Danish club Fortuna Hjørring, competing in the Elitedivisionen. She also had the opportunity to showcase her abilities in the UEFA Women's Champions League, making four appearances and earning two clean sheets.
Orlando Pride (2016-2017)
In November 2015, Kingsbury was selected by the Orlando Pride as the 10th pick in the NWSL expansion draft. Initially serving as a backup to Ashlyn Harris, Kingsbury made a single appearance during the 2016 season. In the 2017 season, when Harris suffered an injury, Kingsbury stepped up as the starting goalkeeper, making 11 appearances, securing five wins, and earning two clean sheets.
Sydney FC (loan)
In November 2017, Kingsbury joined Sydney FC on loan for the remainder of the 2017-18 W-League season. She played a crucial role in helping the team reach the Grand Final and ultimately emerged as the 2018-19 W-League Goalkeeper of the Year. Kingsbury's contributions were instrumental in Sydney FC's success in clinching the championship.
Washington Spirit (2018-present)
In January 2018, Kingsbury was traded to the Washington Spirit from the Orlando Pride, along with a first-round draft pick. Her arrival at the Spirit marked a turning point in her club career, as she established herself as the team's starting goalkeeper.
The star goalkeeper's outstanding performances led to her being named the NWSL Goalkeeper of the Year in 2019 and again in 2021. Additionally, she played a pivotal role in helping the Washington Spirit secure their first-ever NWSL Championship in 2021, where she was also named the MVP of the Championship Game.
Throughout her club career, Kingsbury has consistently displayed her skill, determination, and ability to adapt to different playing styles and environments. Her international experiences have further enriched her development as a goalkeeper, and she continues to make a significant impact both domestically and abroad.
ALSO READ: Get to Know Alyssa Thompson's Biography.
Individual Accolades and Impact
Throughout Aubrey Kingsbury's club and international career, she has garnered individual accolades and made a significant impact on the teams she has represented. Her performances have not only contributed to team success but have also earned her recognition and praise within the soccer community.
W-League Goalkeeper of the Year (2018-19)
During her loan spell with Sydney FC in the W-League, Kingsbury's performances stood out as she helped the team reach the Grand Final. Her impressive displays between the posts earned her the W-League Goalkeeper of the Year award for the 2018-19 season. This recognition further solidified her reputation as an exceptional goalkeeper and showcased her ability to make an impact in different leagues across the globe.
NWSL Goalkeeper of the Year (2019, 2021)
Kingsbury's outstanding performances for the Washington Spirit in the NWSL earned her the prestigious NWSL Goalkeeper of the Year award in both 2019 and 2021. These accolades highlight her exceptional skills, shot-stopping abilities, and overall impact on the field. Winning the Goalkeeper of the Year award twice demonstrates her consistency and reputation as one of the top goalkeepers in the league.
NWSL Championship MVP (2021)
In 2021, Kingsbury played a pivotal role in helping the Washington Spirit secure their first-ever NWSL Championship. Her exceptional performances throughout the playoffs, including the Championship Game, earned her the Most Valuable Player (MVP) award for the final. Kingsbury's commanding presence, crucial saves, and leadership on the field were instrumental in the team's success, solidifying her status as a key player in the championship-winning campaign.
Record-Breaking Performances
Record-breaking achievements have also marked Kingsbury's career. She broke the NWSL league-leading save record, surpassing the previous record held by Alyssa Naeher. This accomplishment highlights her shot-stopping prowess and ability to make crucial saves for her team.
Overall, Aubrey Kingsbury's individual accolades and impact on the field underline her immense talent and contributions to her teams. Her consistent performances, leadership qualities, and ability to rise to the occasion in high-pressure situations have solidified her position as one of the top goalkeepers in women's soccer.
Inspiring the Next Generation: Influence as an Exceptional Goalkeeper
Aubrey Kingsbury's exceptional goalkeeping for the USWNT has made her an inspiring role model for aspiring young athletes. Her high standard of excellence, mental resilience, and advocacy for gender equality have captivated fans and motivated future goalkeepers.
The athlete's engagement with the community, mentorship, and emphasis on diversity and inclusion further amplify her impact. As a beacon of success, she encourages the next generation to pursue their dreams with passion and determination, reminding them that extraordinary achievements are attainable through hard work and a commitment to making a positive impact both on and off the field.
Balancing Life On and Off the Field: Personal Journey and Relationship
Aubrey Kingsbury's personal journey and relationships have played a significant role in balancing her life on and off the field. She is a devout Christian, drawing strength from her faith as she navigates the demands of her career. She shares a special bond with her twin sister, Amber Bledsoe, who is also a goalkeeper and attended Brown University. Aubrey Kingsbury's brothers, Micah Bledsoe and Bret Bledsoe complete her close-knit family.
Aubrey Kingsbury's husband is Matt Kingsbury. The couple got married in In December 2021. Subsequently, she began playing under her married name at the start of 2022. This union reflects her commitment to maintaining a balance between her soccer career and her personal relationships.
During her time at Wake Forest, Kingsbury pursued her academic interests alongside her athletic pursuits. She majored in health and exercise science and held minors in chemistry and biology. Her dedication to both her studies and soccer was evident as she earned three-time All-American honors and contributed to Wake Forest's first-ever College Cup appearance.
Through her personal journey and relationships, Aubrey Kingsbury showcases the importance of finding harmony between her professional and personal life. Her faith, family connections, and commitment to education exemplify her holistic approach to living a fulfilling and balanced life on and off the field.
As Aubrey Kingsbury's career and personal life progress, it is certain that her influence will only grow stronger. Her ongoing achievements, contributions to the community, and the values she represents will undoubtedly make her career worth following and continue to inspire future generations. By embracing the values of determination, resilience, and advocacy for equality, readers will find themselves compelled to revisit her story, eagerly anticipating the next chapter in Aubrey Kingsbury biography.
References
Did you notice an error ?
Please help us make corrections by submitting a suggestion. Your help is greatly appreciated!