Sports
Emily Sonnett Biography: The Star Defender of Women's Soccer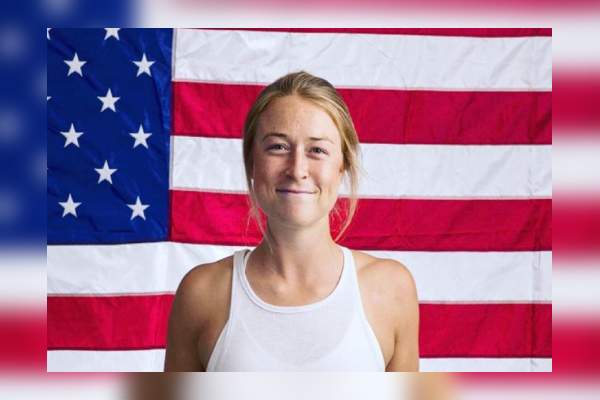 Emily Sonnett Biography. Image Source: Instagram
Full Name

Emily Ann Sonnett

Age

30 yrs

Birth Date

November 25, 1993

Country

America

Relationship Status

Not Confirmed

Nationality

American

Ethnicity

White

Profession

Professional Soccer Player

Awards and honors

2022 Budweiser Woman of the Match

Education

Bachelor's in Sociology, University of Virginia

Height

5 feet 7 inch
In the world of Women's soccer, Emily Sonnett is a versatile defender who plays for the National Women's Soccer League (NWSL) Club Ol Reign and the U.S women's national team (USWNT).
The Hermann Trophy nominee has been a vital part of her team, appearing in tournamnets, including the 2019 FIFA Women's World Cup and the 2020 Summer Olympics in Japan. Further, this article is going to be interesting as our piece of commentary aims to explore Emily Sonnett biography.
So without any further ado, let us know more about the star defender who has established herself as a force to reckon with in women's soccer.
Early Life and Background
Emily Ann Sonnett was born on November 25, 1993, in Marietta, Georgia, USA, to parents Bill Sonnett (father) and Jane Sonnett (mother). Emily, along with her twin sister, Emma Sonnett, was raised in a supportive family. From a young age, the sisters displayed natural talent and love for soccer. Additionally, their parents encouraged their children's passion for the sport.
Together, the Sonnett sisters played for North Atlanta Soccer Association (NASA) in 2003. They earned Georgia State Cup Championship titles in 2007 and 2008, respectively. In 2013, Emily, as a midfielder, earned the Golden Ball award as the best player at the U.S Youth Soccer National Championship.
Emily graduated from Fellowship Christian School in 2012 in Georgia. As a captain, she helped her school's team reach the 2012 Georgia State Championship game. In addition, she became the first-ever athlete from Fellowship to win the Gatorade Georgia Girls Soccer Player of the Year in 2012.
She ended her career as the school's leading scorer with 113 goals. Likewise, Sonnett was also named the ESPN Rise 1st team All-American in 2011 and 2012. After school, Emily played soccer for the University of Virginia, while Emma played soccer for the University of Georgia.
Sonnett's Career At The University of Virginia
In the fall of 2012, Emily Sonnett attended the University of Virginia on an athletic scholarship. There she played for the Virginia Cavaliers and quickly emerged as a standout player due to her exceptional defensive skills, vision, and ability to control the game from the backline.
In her first season, Emily appeared in 24 games, and in her second season, she received the ACC Player of the Week award. Sonnett's versatility allowed her to adapt to different positions within the defense, showcasing her adaptability and versatility on the field. In the 2014 season, Emily became the Most Outstanding Defensive Player and was named NSCAA All-American. Likewise, she scored her first goal at the NCAA tournament.
During her college career at UVA, Emily received numerous accolades and awards, including two-time All-American. Her performance solidified her reputation as one of the top prospects in women's college soccer. After college, the Portland Thorns of the National Women's Soccer League (NWSL) selected Emily as their first overall pick in the 2016 NWSL College Draft.
ALSO READ: The inspiring story of a Zimbabwean fighter, Themba Gorimbo Biography
NWSL and USWNT Career
After joining the Portland Thorns, Emily quickly became integral to the team's defense. From 2016-2019, she appeared in 78 games scoring 8 goals. Sonnett's contributions to the Thorns led to the team's success in the NWSL, and her performances did not go unnoticed. In 2018, Sonnett became one of four Portland Thorns members as a finalist for Defender of the Year to the NWSL Best XI.
In December 2020, Sonnett was traded to Washington Spirit after being traded to Orlando Pride. With Spirit, Emily appeared in 18 regular seasons in 2021 and helped the team win their first NWSL Championship in a 2-1 victory against Chicago Red Stars.
Since January 2023, Sonnett has been playing for the OL Reign in the NWSL after Washington Spirits traded her at the 2023 NWSL Draft. Emily's talent and dedication earned her a spot in the US women's national team. She continued to represent her country in various international competitions, showcasing her skills on the global stage.
In February 2016, the star defender was named to the USWNT roster for the 2016 CONCACAF Olympic Qualifying tournament. Likewise., she was named an alternate for the national team along with Ashlyn Harris, Sam Mewis, and Heather O'Reilly at the 2016 Rio Olympics Games.
Winning the 2019 World Cup and Taking Home the Olympic Bronze Medal
Sonnett's versatility as a defender made her a valuable asset to the USWNT, as she could play a center-back or full-back effortlessly. She has been the national's team crucial member due to her ability to maintain composure under pressure, initiate attacks from the defensive third, and contribute to set pieces.
Sonnett appeared in three matches for the 2018 CONCACAF Women's Championship and became qualified for the 2019 FIFA Women's World Cup. She became a member of the 23-player roster that represented the United Nations at the 2019 world cup. The USWNT eventually won the 2019 FIFA Women's World Cup defeating the Netherlands in a 2-0 victory, where Megan Rapinoe and Rose Lavelle scored the goals.
On July 24, 2021, Sonnett debuted in the Summer Olympics in Tokyo, Japan, in a group stage match against New Zealand. Similarly, the USWNT earned its first Olympic bronze medal after defeating the Australian team Matildas in a victory of 4-3.
In the 2022 CONCACAF Women's Championships, Emily Sonnett scored her first goal for the USA Womens National Team in a 3-0 semi-final win against Costa Rica, and she was voted as the Budweiser Women of the Match.
Sonnett returned to the USWNT for her second World Cup at the 2023 FIFA Women's World Cup and performed a crucial defensive role. Unfortunately, the USWNT, a two-time defending champion, lost their opportunity to win the title once again after Sweden won the match in a 5-4 penalty shootout. With the loss, the USWNT was eliminated in the round of 16, while Sweden went through the quarterfinals.
Does Emily Sonnett Have a Boyfriend? Is She Married?
The topic of Emily Sonnett's boyfriend sparks a debate among her fans on social media. A few people label her sexual orientation as lesbian, while her fans support her privacy. Also, the 29-year-old star soccer player is currently not engaged in a romantic affair. So, Emily Sonnett's partner might be somewhere in the lost realm, and in the future, we hope to see her engaged in a romantic relationship.
It is a fact that most female soccer players enjoy their same-sex relationships. For example, some of Sonnett's teammates, Ashlyn Harris and Ali Krieger, Megan Rapinoe and Sue Bird, Sam Kerr, and Kristie Mewis, etc., are openly proud lesbian couples. While Emily has not publicly announced any relationships, she also hasn't announced anything about her sexuality. Well, she is focused on her career and is enjoying her time as a professional soccer player.
Sonnett is very close to her family and friends, and they are a very important part of her life. For the information, Sonnett, along with her former Thorns teammate Caitlin Foord has matching tattoos. In the coming future, the national team member might soon get married, and we will be the first to notify you of the message.
Emily Sonnett's Net Worth
Emily Sonnett's net worth is still undisclosed as she plays with OL Reign under contract. At NWSL, the club pays players' salaries, while for the USWNT, the U.S soccer federation pays the club salary. Further, the NSWL players play at the club level with minimum yearly salaries in the region of $16,538-$20,000.
It's difficult to calculate what an average USWNT player would make due to their different sponsorships, deals, and bonuses. This also comes before endorsement deals which can add hundreds of thousands of dollars.
In 2019, the USWNT team filed a lawsuit against U.S Soccer as the players reportedly earned 38% in contrast to their male counterpart's salaries. In 2019, the national team signed an agreement outside of court to settle the salary dispute, and since then, their salaries have risen to a maximum of $46,200.
As per sources like Money, top players such as Alex Morgan's net worth is estimated at $3 million, but Ronaldo and Messi make a lot more than she does. Despite the national women's team having achieved so much (winning four world cup titles and four Olympic gold medals), the players still make a fraction of what their male peers make.
In conclusion, this article about Emily Sonnett biography is an inspiration to young girls and women. Beyond her work ethic and dedication to her craft, Sonnett's engaging personality and willingness to connect with fans make her a respected figure both within the soccer community and beyond. We hope she will shine on the international as well as national stages for years to come.
References
Evans, J. (2023, January 13). OL Reign wheel and deal at NWSL draft, land USWNT member Emily Sonnett. The Seattle Times.
Brockway, E. (2023, January 13). Spirit trades USWNT defender Emily Sonnett for picks at NWSL draft. Washington Post.
Emily Sonnett. (2020, July 2). Virginia Cavaliers Official Athletic Site.
Mail, D., & By. (2019b, July 7). Couple goals! Meet the boyfriends, girlfriends, and spouses of the US Women's Soccer Team stars. Mail Online.
Fans react on social media to USA's shocking elimination from Women's World Cup. (2023, August 6). FOX Sports.
Did you notice an error ?
Please help us make corrections by submitting a suggestion. Your help is greatly appreciated!