Sports
Henrik Norlander Biography: A Golfer's Life Beyond The Fairways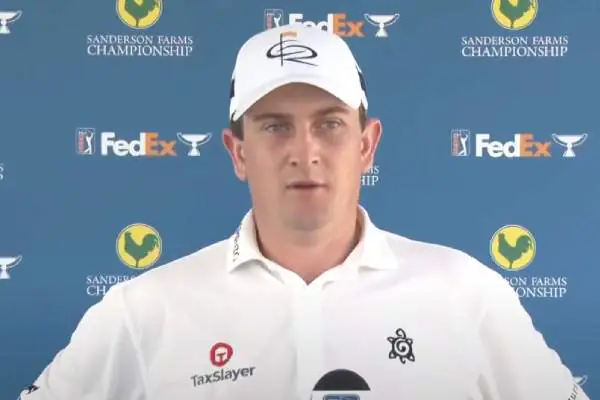 Henrik Norlander Biography. Image Credit: YouTube.
Full Name

Henrik Anders Norlander

Age

36 yrs

Birth Date

March 25, 1987

Country

Sweden

Relationship Status

Married

Spouse

Julie Anderson Norlander

Nationality

Swedish

Profession

Golfer

Children

William Norlander

Awards and honors

2022 SGF Elite Badge

Education

Augusta University (2011, Business Marketing)

Net Worth

$4.5 million

Height

6 feet 4 inch
Did you know in Sweden, sport is considered a national hobby, and golf is one of the sports that has the most participants with the largest number of television spectators? Swinging across the fairways, Swedish golfer Henrik Norlander has been making strikes in the national as well as international golf sport.
In his professional career, Henrik has represented Sweden in the Olympic Games and owns numerous top-5 and top-10 finishes in PGA Tours. Besides being a well-playing golfer, the former Augusta alumni is a dedicated family man.
The PGA Tour golfer has competed on both the PGA and the Korn Ferry Tour. Today, this article on Henrik Norlander biography navigates through his journey not only in the greens but in the course of his personal and professional life. So, we suggest you stay with us till the end as more interesting facts are coming your way.
Family, Education, And Early Years Interest For 'Rich People Sport'
Born as Henrik Anders Norlander on March 25, 1987, he grew up in Danderyd, one of the smallest but wealthiest municipalities outside Stockholm, Sweden. His parents, Anders Norlander and Elisabeth Norlander came from a well-to-do family. The youngest in the family, Henrik, has two older sisters named Ebba and Charlotte Norlander.
Growing up, Norlander played both tennis and golf but eventually preferred playing the rich-people sport. He attended Danderyds Gymnasium High School and started playing competitive golf at Fagelbro Golf and Country Club in Sweden.
At 15, Henrik came second at the unofficial Swedish Youth Championship, Bankboken Cup. Similarly, he was part of the Swedish teams at the European Boys' Team Championship once and the European Amateur Team Championship three times. In 2008, Norlander represented his homecountry at the Eisenhower Trophy in Adelaide, Australia, and earned a bronze medal.
After high school, Norlander received a golf scholarship from Augusta State University in Augusta, Georgia, United States. As a member of the Augusta Jaguars, he helped his team win the NCAA Division I Championship in 2010 and 2011, respectively.
Further, the Swedish national earned a Bachelor's degree in June 2011 at Augusta University, majoring in Business Marketing. Soon after, he turned pro and thus began his professional golf journey.
PGA Tour: Walking Around the Greens
At Augusta, Norlander's best ranking on the world amateur golf ranking was 10th. After turning pro, he began competing on various mini-tours to gain experience and work his way up to the PGA Tour. Finally, the moment came at the 2012 PGA Tour Qualifying School, where Henrik finished T-22 and earned his PGA Tour card for 2013.
The former high school champion competed in the 2014 Web.com Tour (now Korn Ferry Tour) and a year later won his first professional tournament at the 2015 Hotel Fitness Championship.
After winning Hotel Fitness, Norlander earned a hefty amount of $180,000 in prize money.  Further, he finished third in the 2015 Web.com finals, but that couldn't get him a place on the 2016 PGA Tour.
Throughout his career, Henrik has displayed his ability to stay focused during the off-season. After a few rough seasons, he managed to win the 2019 Wichita Open on the Korn Ferry Tour and received $112,500 in prize money.
From 2019 until 2022, he managed to show his impressive feats in tournaments, including Rocket Mortgage Classic, RSM Classic, Farmers Insurance Open, etc., among others.
In November 2022, Norlander competed at the World Wide Technology Championship at Mayakoba in the PGA Tour and made $129,150. Similarly, he played at the Puerto Rico Open in March 2023 and made $59,850. For the 2023 season, Henrik competed in numerous PGA Tour events, including the Barbasol Championship, Wells Fargo Championship, RBC Canadian Open, etc.
ALSO READ: Kevin Streelman Biography: A Pro Golfer Navigating The Greens of Life.
Married Life: Husband-Wife Duo Finding Their Swing As A Force Of One
Dear readers, Henrik Norlander's love story is a tale whose essence might resonate with some of you, or shall we say, many of you. It's love at first sight and the journey of two individuals with different nationalities embarking on a shared personal life. Henrik Norlander's wife is Julie Anderson Norlander.
After dating for almost four years, Henrik Norlander married his then-girlfriend, Julie Anderson, in October 2014 at Saint Mary on the Hill Catholic Church in Augusta, Georgia. The couple's wedding ceremony took place in a fairytale wedding that celebrated the blend of Swedish customs mingled with Southern traditions that colored their day and marked it as uniquely theirs.
In March 2020, Henrik Norlander's spouse, Julie, gave birth to their first child, a son named William Norlander. While Julie prefers to stay relatively low-profile, her husband, Henrik, is active on social media and often shares pictures of their lovely son. Moreover, the family resides in their elegant, modern West Augusta home.
Similarly, you might want to look at Canadian golfer Adam Hadwin's Biography.
Love-Story: The Golfer Striking His Club To Make A Putt
Behind their first meeting and their secret to a long and successful marriage, Henrik Norlander and his partner, Julie, shared a poignant and entertaining story. Throughout their married life, Julie has been a strong supporting pillar for her husband's career, providing him with emotional support and care.
Their story dates back to late 2009 and early 2010 when both were studying at August State University. Also, Henrik was a member of the college's golf team and was somewhat of a celebrity sportsperson.
During the 2010 Masters tournaments week, Norlander's path crossed for the first time with Julie, who was born and raised in Augusta. The two first met while going out with friends, and thus, their friendship started and later blossomed into a relationship.
After their first meeting, the pair went their separate ways. Julie returned to Augusta, Georgia, to graduate. It wasn't until after Henrik graduated from ASU that Julie invited him to a baseball game with friends. Soon thereafter, the couple had their first official date.
At the time, Julie had just graduated, and Henrik was traveling back and forth from the U.S to Sweden. As a result, the lovebirds had to maintain a long-distance relationship for a few years.
Living in different countries and on separate continents did not discourage the couple from pursuing their relationship. When Henrik returned to Augusta for the championship ring ceremony, the two met during his five weeks in the U.S. before he returned to Sweden.
On December 14, 2013, Henrik proposed to Julie at the Dallas, Texas, home of his close friend and former ASU golf coach Josh Gregory. Further, the news of their engagement was published in the Swedish newspaper as well. The couple chose the month of October for their marriage ceremony, and thus, the preparation began for their big day.
Net Worth And Career Earnings: Sometimes Green, Sometimes Hazards
They say golf is the game of the richest, but you also have to mark your victory by winning the tournaments and earning prize money as well. Having said that, let us know Henrik Norlander's net worth, the figures of the Swedish golfer who has been playing the sport since 2011.
Take a look at Henrik Norlander's earnings from 2020 until 2023 in the table below. Meanwhile, we must not forget the contributions of his sponsors, including companies like PXG clubs.
| | |
| --- | --- |
| Year | Earnings from the PGA Tour |
| 2020 | $1,285,431 |
| 2021 | $1,377,085 |
| 2022 | $613,966 |
| 2023 | $564,355 |
Table Source: Spotrac
Norlander is earning quite a significant amount now, but looking back, his first paycheck of $25,000 came at the 2012 PGA qualifying tour. Soon after, his fortune was about to change as he would win huge prize money. Below are the details of Henrik Norlander's earnings from earlier years.
| | |
| --- | --- |
| Year | Earnings |
| 2012 | $25,000 |
| 2013 | $401,958 |
| 2016 | $290,889 |
| 2017 | $498,914 |
Table Source: ESPN
All these victories boosted Henrik Norlander's net worth, which is reported at $4.5 million. As per the official PGA Tour website, Henrik Norlander's wealth (only prize money) is $5,977,465, including his prize money at the Korn Ferry Tour.
Just like a tee supports and elevates a stationary golf ball before striking with a club, the PGA golfer's passion has elevated his name in the sports world.
In conclusion, analyzing Henrik Norlander biography, we came to know that not only is he a talented sportsperson, but he is a man of focus and sheer dedication. We wish him all the best in his future endeavors, and may he join the ranks of the world's elite golfers in the coming days.
References
Did you notice an error ?
Please help us make corrections by submitting a suggestion. Your help is greatly appreciated!