Celebrities
Sam Hazeldine Biography: A Glimpse into His Life Beyond The Spotlight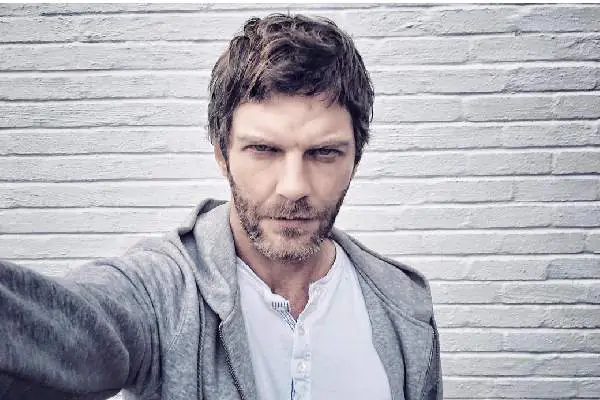 Sam Hazeldine biography. Image Credit: Instagram.
Full Name

Samuel Hazeldine

Age

51 yrs

Birth Date

March 29, 1972

Country

England

Relationship Status

Not Confirmed

Nationality

English

Profession

Actor

Education

Royal Academy of Dramatic Art

Height

5 feet 11 inches
In the vast and diverse world of entertainment, certain individuals possess a unique ability to captivate audiences on multiple platforms. One such individual is an English actor, Samuel Hazeldine, whose talent transcends the boundaries of film, television, and theatre. With his compelling performances and versatile range, this actor has left an indelible mark on the industry, becoming a beloved figure in the hearts of audiences worldwide.
Sam Hazeldine biography delves into the extraordinary life and career of this English actor, exploring his early beginnings, his notable roles across various mediums, and the profound impact he has made on the world of entertainment.
Join us as we embark on a journey through the life of this remarkable talent, unraveling the layers that have shaped them into the iconic figure he is today.
Early Life and Passion for Acting
Sam Hazeldine (born 29 March 1972) developed a deep love for acting during his formative years in the United Kingdom. His fascination with storytelling led him to immerse himself in both theater and film.
Sam was born in Hammersmith, London. He hails from a family with deep roots in the acting industry, as both his parents are established actors – James Hazeldine and Rebecca Moore.
With a passion for artistic expression, Sam embarked on his creative journey by enrolling at the prestigious Royal Academy of Dramatic Art, where he honed his skills over two fruitful years.
Intrigued by other forms of self-expression, Sam later explored music and joined forces with the band Mover to further broaden his creative horizons.
Through these early experiences, Hazeldine cultivated his talent and passion for acting, which would become the bedrock of his future career endeavors.
Similarly, you might want to read about Fred Hechinger's Biography and his rise from Eight Grade debut to Hollywood stardom.
Breakthrough Roles and Versatility
Sam Hazeldine has proven himself to be a versatile and talented actor, showcasing his breakthrough roles that exhibit his range. His portrayal in the psychological thriller "The Raven" was particularly intense, while he delivered a captivating performance in the historical drama series "Peaky Blinders" (2013-2019) alongside Cillian Murphy and Tom Hardy.
Some other small screen roles of Sam are listed below:
| | | |
| --- | --- | --- |
| Title | Credit | Year |
| The Innocents | John McDaniel (Character) | 2018 |
| Requiem | Sean Howell (Character) | 2018 |
| The Dovekeepers | Flavius Silva (Character) | 2015 |
| Resurrection | Caleb Richards (Character) | 2014-2015 |
| Ripper Street | Unknown (Guest Star) | 2013 |
Table Source: Rotten Tomatoes
Hazeldine effortlessly transitions between genres and characters, bringing depth and authenticity to each role he takes on. Hazeldine's filmography is filled with impressive projects that highlight his talent. He collaborated with renowned director Patrick Hughes in "The Hitman's Bodyguard," demonstrating his ability to work alongside esteemed filmmakers and actors like Ryan Reynolds, Salma Hayek, and Samuel L. Jackson.
| | | |
| --- | --- | --- |
| Title | Box Office Collection | Year |
| The Hitman's Bodyguard | $75.4M | 2017 |
| Mechanic: Resurrection | $21.2M | 2016 |
| The Huntsman: Winter's War | $48.0M | 2016 |
| The Monuments Men | $78.0M | 2014 |
Table Source: Rotten Tomatoes
Additionally, Hazeldine's role in the gripping war film "The War Below" showcased yet another compelling performance garnering critical acclaim for the actor. Through these various accomplishments, Sam Hazeldine has solidified himself as an accomplished actor deserving of respect within the industry.
In the upcoming 2024 second season of The Lord of the Rings: The Rings of Power, actor Hazeldine is set to take over the role of Adar, replacing Joseph Mawle.
Life Beyond the Spotlight
In addition to a successful acting career, Sam Hazeldine finds joy and fulfillment in various aspects of life beyond the glitz and glamour. He embraces the opportunity to immerse himself in different cultures and surroundings through his passion for traveling, which not only broadens his horizons but also allows him to discover new sources of inspiration and personal development.
Hazeldine's deep appreciation for nature leads him to actively engage in outdoor pursuits like hiking and other exhilarating activities that serve as a much-needed counterbalance to the demands of his profession.
In addition, Sam is a passionate photographer who often carries his reliable camera to capture the beauty of his surroundings. His Instagram feed showcases various scenic shots and the places he has had the opportunity to explore. It can be inferred that photography is one of several hobbies enjoyed by this actor.
ALSO READ: Yasen Atour Biography: Meet The Coen of The Witcher
A Look Into His Personal Life
After one stellar performance after the next, Samuel Hazeldine has gathered a significant fan following that is always eager to know about the actor. His love life and finances are some of the most searched-for topics about him.
Well, according to various websites, the actor is currently single and is instead focusing on building his acting career over his love life. Maybe he is waiting for someone to take his breath away.
Talking about Sam Hazeldine's net worth, there is no estimation of his finances, but as he has been a part of successful movies like The Hitman's Bodyguard and The Monuments Men, which have both earned more than $75 million at the box office, we can presume he is financially well off.
In the coming days, we will hopefully have more news about Sam Hazeldine's partner and his wealth. Sam's journey in the entertainment industry has been marked by remarkable performances and a commitment to his craft.
Beyond the spotlight, Hazeldine leads a multifaceted life, finding fulfillment in his personal pursuits. His talent, versatility, and dedication to personal growth have earned him recognition and respect in the industry.
Sam Hazeldine biography serves as a reminder that there is more to actors than their on-screen personas, and their lives are shaped by a rich tapestry of experiences, passions, and aspirations.
Trivia and Facts
Sam is related to both Stephen Moore, an actor, and Mark Moore, the founder of the 80's group S'Express.
The actor is related to Charlotte Moore, Robyn Moore, Guy Moore, Hedda Moore, and Angela Hazeldine as their cousin.
He attended the Royal Academy of Dramatic Art alongside Andrew Lincoln, Shaun Parkes, Stephen Mangan, Jonathan Slinger, and Stephen Beresford for his training.
Did you notice an error ?
Please help us make corrections by submitting a suggestion. Your help is greatly appreciated!