Sports
Irina Alekseeva Biography: Meet The Russian Ronda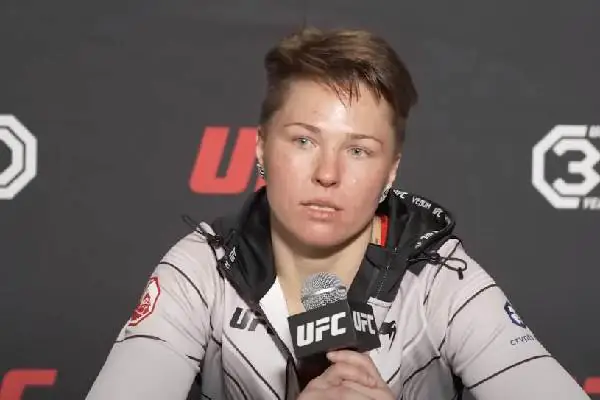 Irina Alekseeva Biography. Image Credit: Social media.
Full Name

Irina Alekseeva

Age

33 yrs

Birth Date

June 27, 1990

Country

Russia

Relationship Status

Not Confirmed

Nationality

Russian

Profession

MMA Fighter

Height

5 feet 3 inch
Meet Irina Alekseeva, a Russian judoka, sambo fighter, and mixed martial artist best known as Russian Ronda. A woman whose punch is lethal as a weapon and whose stare is cold as ice. Further, the rising athlete in the world of brutal fights has appeared in RCC Intro 3, WTKF: Universal Soldier, ProFC, and Bellator 269.
Dear readers, join us today as we will be learning more about the former Bellator fighter. This article on Irina Alekseeva biography is about a combat expert who also made a fruitful career in judo. Throughout her career, Alekseeva has maintained her ability to choke down her opponents in the field.
In early 2023, the UFC announced the Russian Ronda would make her debut in the octagon field. However, Irina Alekseeva didn't appear in Dana White's contender series. Later, Irina recorded another win at her UFC debut in April 2023. So, without any delay, let's jump right into the piece of commentary.
Early Years: Life in Russia and Pursuing a Judo Career
Irina Alekseeva was born on June 27, 1990, in Russia. She started judo at 14, and she won Sambo national and world championships, then moved to hand-to-hand combat and started MMA in 2018. She is a Sambo world champion, three-time hand-to-hand combat national champion, two-time Sambo European champion, and international-level master of sports.
The Russian judoka and Flyweight Irina Alekseeva, also known as Russian Ronda, signed a multi-fight deal with Bellator. The former judoka, who took a bronze medal at the Russian Senior Championships fighting U78kg in 2012, also had a career in Sambo, where she was a Russian and European gold medallist at Sambo Worlds.
As a young judoka, she was a three-time silver medallist at the Russian Judo Championships. Alekseeva had won three straight fights, which included one victory by submission. Similarly, in May 2014, she appeared in the European Cup Orenburg, appeared in four other games, and won two games.
ALSO READ: Mariya Agapova Biography: First Kazakh in UFC.
ProFC, Bellator, and Journey to UFC
While pursuing a judo career, Alekseeva also won gold in the Russian and European Sambo Championships. Despite her competing at flyweight, featherweight, and catchweight during her professional bouts, the Russian Ronda didn't compete in Dana White's Contender Series as previously expected and instead made her full UFC debut at strawweight.
On March 9, 2019, Irina won the game against Gulnara Garaeva after the latter refused to fight at RCC Intro 3. Just after 12 days, she won another match against Shokhida Rakhnimova in a unanimous decision at WTKF: Universal Soldier. On May 4, 2019, she won another match against Zlata Sheftor at RCC 6.
Alekseeva was supposed to appear in a fight against Milana Dudievea, but the fight was canceled on December 22, 2019. However, on the same day, she lost the game against Liliya Kazak in a unanimous decision at ProFC 66: Shabliy vs. Cidade. On October 23, 2021, Irina won a game against Stephanie Page in a unanimous decision at Bellator 269.
Similarly, you might want to look at the interesting story titled Themba Gorimbo Biography.
UFC Debut and Future Aspects
The UFC signed former Bellator fighter Irina Alekseeva as a women's flyweight contender. The Russian Ronda holds a professional MMA record of five wins and one loss. She made her octagon debut on April 29, 2023, and faced Stephanie Egger. Despite her striking weakness, Alekseeva made a remarkable improvement and won the bout via kneebar submission at UFC Fight Night.
View this post on Instagram
Irina made her UFC debut at strawweight, a weight division with a current limit of 115lbs. So that you know, Alekseeva is a physical education coach degree holder. She was working as a taxi driver and courier when she could not gain money from sports.
The UFC announced the news of Alekseeva joining the league back in August 2023. Her career as a flyweight contender was more impressive in judo, and she is nicknamed Russian Ronda, most likely due to her accomplishments in the competitive judo scene. Besides, Irina considers Rousey her idol, besides Cristiano Ronaldo and Conor McGregor.
Net Worth and Personal Life
For many years, the amount UFC fighter earns has been a divisive issue, and the obvious discrepancy between the company's overall value and income gained relative to the fighters' pay has become clearer. Unfortunately, Irina Alekseeva's net worth is undisclosed, as she has just made her UFC debut back in April 2023.
It is known that the UFC debutants signed a $12,000/$12,000 contract, which means they will get $12,000 guaranteed if they appear for a year. Likewise, they will receive double their signing amount, which is $24,000.
Talking about her personal life, Irina Alekseeva's partner is a topic of mystery that is still uncovered. Russian Ronda is a mysterious personality, and she prefers not to share her personal details. Additionally, Alekseeva has neither said anything about her relationship status.
In conclusion, Irina Alekseeva biography might have given you some information about the former Russian Juduko and Bellator champion. The UFC aspirant sure has a bright future ahead, so we wish her all the best for future endeavors.
References
Did you notice an error ?
Please help us make corrections by submitting a suggestion. Your help is greatly appreciated!