Sports
Mariya Agapova Biography: First Kazakh in UFC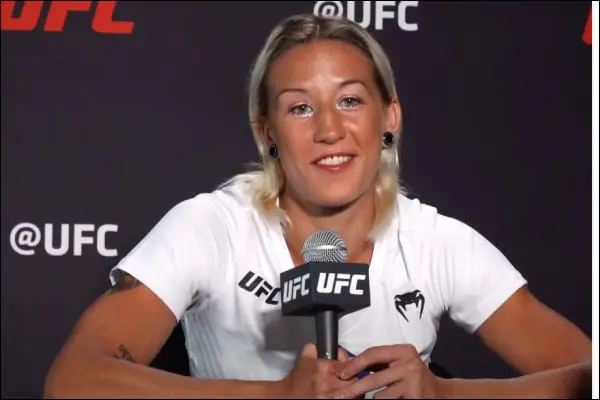 Mariya Agapova Biography. Image Credit: Social Media.
Full Name

Mariya Agapova

Age

26 yrs

Birth Date

April 7, 1997

Country

Kazakhstan

Relationship Status

Not Confirmed

Nationality

Kazakhstani

Profession

MMA Fighter

Awards and honors

Performance of the Night award (2019, 2020, 2021)

Height

5 feet 6 inch
Among the brave and brutal spectacles, Mariya Agapova has proven her stature as one of the best female fighters in the Ultimate Fighting Championships (UFC). She currently competes in the flyweight division, a weight class below 57 kg in the combat division of the UFC.
For UFC fighters, the confined hectagon space is no less than a battlefield. Today, let us connect through Mariya Agapova biography and watch an extravagant display of the first Kazakhstani fighter who rose through the ranks of UFC.
Within the field, Agapova shows her artistic combat, where her fists exert force, and her legs become weapons. These modern-day gladiators put on a breathtaking show, a ballet of brutality where the roar of the crowds amplifies the intensity.
Learned Boxing to Avoid Getting Bullied: Rebellious Since Childhood
Mariya Agapova was born on April 7, 1997, in Pavlodar, Kazakhstan. Born in a landlocked country with a small part of Eastern Europe, Mariya had a desire to see the world outside of her hometown. She was unhappy living in a confined space, and typical girl things didn't impress her much. So, at the age of six, she told her parents to enroll her in a karate class.
A rebellious girl since her childhood, Agapova started training at 8 and kickboxing at 9. Similarly, she loved watching action movies such as Resident Evil and 13th District. She was impressed by those female characters who could defend themselves well. Likewise, Mariya started training because she wanted to defend herself. Well, learning to fight came in handy because she was bullied in the neighborhood and school.
Mariya's parents were always in distress because their daughter hadn't learned to control aggression. However, after her father died when she was 11, Agapova went into depression for a year. She started boxing again, and after two years, money started to flow in. At 16, Mariya was earning decent money, but she wanted more. Talking about her education, Mariya graduated from college specializing in physical education for kids.
ALSO READ: 5 Interesting Things To Know About MMA's Valentina Shevchenko's Husband
From Boxing to MMA: Setting Records Globally
Despite a few MMA fighters in her city, Mariya Agapova showed her ability to dominate world-class fighters. Since turning professional fighter in 2015, Agapova has won a few titles, such as the two-time boxing champion of Kazakhstan in 2015 and 2016. However, the corrupt system in boxing wouldn't give her much opportunity. So, Mariya decided to transition into Mixed Martial Arts (MMA) after seven years of boxing career.
In 2017, the Brave 6: Kazakhstan MMA event held the first-ever Women's MMA fight between Mariya Agapova and Yulia Litvinceva in the Flyweight division. Mariya became the 2017 WMMA champion after winning with a 3-0 TKO record.
| | | | |
| --- | --- | --- | --- |
| Year | Opponent | Record | Method |
| 2015 | Yuliya Ivanova | 1-0 | Decision (unanimous) |
| 2016 | Dariya Kutuzova | 2-0 | Submission (rear-naked choke) |
| 2017 | Yulia Litvinceva | 3-0 | TKO (punches) |
Table Source: ESPN
Besides her country, Mariya also had success at Fight Nights Global tournaments held in Russia, where she won the match against Yulia Kutsenko and Liliya Kazak. In 2018, she won the Heroine FC 2 tournament held in China and won against Na Liang by TKO.
It was almost destined for Agapova to reach a higher platform. The moment came when UFC's CEO and President, Dana White, saw the young champion. She reminded him of Polish former MMA fighter Joanna Jedrzejczyk. Fortunately, Mariya got selected to appear at Contender Series 22, an MMA promotion series.
Mariya Agapova fought Tracy Cortez on July 30, 2019, but lost the fight via unanimous decision. The match was held in Las Vegas, United States, so Agapova permanently moved to Miami, Florida, before appearing on the Contender series.
Similarly, you might want to look at Joshua Clottey's Biography.
Invicta Fighting Championships
Two months after her loss to Tracy Cortez, Mariya made her Invicta Fighting Championships debut on September 6, 2019, held in Kansas City. She won the fight via submission in round one against Alexa Conners at Invicta FC: Phoenix Series 2.
A month later, Agapova faced Marilia Santos on October 6, 2019, at Invicta FC 37: Gonzalez vs. Sanchez. She won the fight via technical knockout in round one. Moreover, this win earned Mariya the Performance of the Night award.
In February 2020, Agapova was scheduled to fight Daiana Torquato at Invicta FC 39: Frey vs. Cummins II. However, she had to withdraw from the bout after suffering injuries in an auto-pedestrian accident in South Florida.
Ultimate Fighting: From Hot Girl to DemonSlayer
Mariya Agapova's accident gave the fighter a little time to rethink life. It was at the hospital that Agapova decided to change her ring name from Hot Girl Mashka to Demon Slayer. In an Instagram post, she mentioned that she chose the name from the ancient Sanskrit language, where its original word is 'Madhusudan.'
Agapova signed with the UFC in February 2020, and she made her debut against Hannah Cifers on June 13, 2020, at UFC on ESPN: Eye vs. Calvillo. Agapova won the fight after a rear-naked choke forced Hannah to submit, and she also won the Performance of the Night award. On August 22, 2020, Mariya faced Shana Dobson at UFC on ESPN 15. However, she lost the fight via second-round TKO, coming on the receiving end of the largest betting odds upset in UFC women's history (tied with Holly Holm's upset victory over Ronda Rousey at UFC 193).
On October 9, 2021, Mariya faced Sabina Mazo at UFC Fight Night: Dern vs. Rodriguez. Further, she won the fight via rear-naked choke after knocking Mazo down in round three. This fight earned her the Performance of the Night award. On March 5, 2022, she faced Maryna Moroz at UFC 272 but lost the fight via submission in round two.
Agapova was scheduled to face Ji Yeon Kim at UFC 277 on July 9, 2022. However, she was forced out of the fight due to a knee injury, and she was replaced by Joselyne Edwards. On September 17, 2022, Mariya faced Gillian Robertson, replacing Melissa Gatto, on September 17, 2022 at UFC Fight Night: Sandhagen vs. Song. She lost the fight via rear-naked choke.
Mariya Agapova Net Worth and Earnings: How Rewarding is Her UFC Career?
In 2020, Mariya Agapova's net worth was said to be around $80,000. During the start of her UFC career, Agapova's lone fight against Hannah Cifers brought her $70,000 in earnings. The amount included $10,000 for showing, $10,000 for winning, and $50,000 for Performance of the Night. Did you know? Mariya also sells her NFTs for a decent price.
View this post on Instagram
For information, the contender series fighters start with a $12,000 deal with UFC. In 2022, Mariya failed to meet her deep entrance into the five figures. The same year, news appeared that Mariya couldn't even afford to pay for her surgery.
Similarly, Mariya was working as a bouncer to earn additional income. Had she won the fight against Gillian Robertson, Mariya would have received double the amount of her contract. Meanwhile, in her four UFC fights, Mariya earned a $50,000 performance of the night bonus and made around $74,000 before tax.
While Agapova is one of the most exciting fighters out there, her UFC career might take a turn higher in the coming days. From boxing to MMA, Mariya Agapova biography is a story about a rebellious woman who proved that dream can indeed be a reality.
References
Did you notice an error ?
Please help us make corrections by submitting a suggestion. Your help is greatly appreciated!