Sports
Maro Itoje Biography: The Rugby Phenom From North London to Global Stardom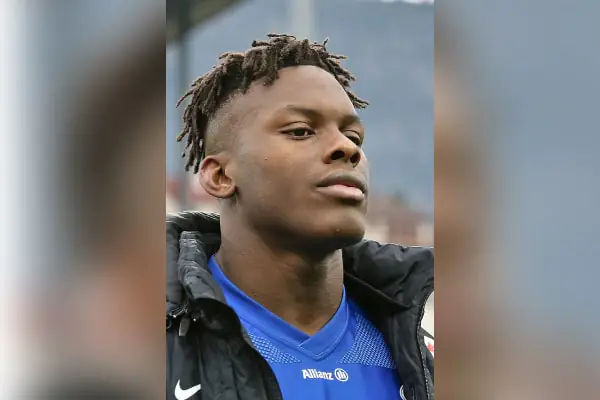 Maro Itoje Biography. Image Credit: Clément Bucco-Lechat.
Full Name

Oghenemaro Miles Itoje

Age

29 yrs

Birth Date

October 28, 1994

Country

England

Relationship Status

Single

Nationality

English

Ethnicity

Nigerian

Profession

Rugby Union Player

Awards and honors

England squad – 2023 Rugby World Cup third place

Education

SOAS University of London

Height

6 feet 5 inches
Maro Itoje, a true force of nature on the rugby field, captivates audiences worldwide with his extraordinary talent and magnetic presence. Originating from the vibrant streets of North London, Itoje's awe-inspiring ascent from an ambitious young athlete to a revered international sensation is an awe-inspiring narrative that defies all expectations.
In Maro Itoje biography, we embark on an immersive exploration into every facet of the rugby superstar's life and illustrious career, unearthing profound insights about his humble origins that paved the way for him to ascend as an indomitable global rugby icon, leading to a third-place finish at the world cup.
Early Life and Introduction to Rugby
Oghenemaro Miles Itoje, a talented athlete with Nigerian heritage, was raised in Camden, North London. His educational journey took him from Salcombe Preparatory School in Southgate to the prestigious St George's School in Harpenden, where he discovered his passion for rugby at the age of eleven. The pursuit of excellence led him to earn a scholarship at Harrow School, a renowned private institution located in London.
During his school years, Itoje showcased exceptional skills not only in rugby but also across various sports like basketball, football, and athletics. Notably, he even represented England as a U17 athlete specializing in shot put. As he embarked on higher education at the esteemed School of Oriental and African Studies situated near Bloomsbury, London, Maro simultaneously began his promising rugby career while studying politics.
Rise Through the Ranks
It was at Harrow School, renowned for its rich rugby traditions, where Itoje truly honed his skills. As a core member of their esteemed rugby team, he not only displayed exceptional leadership but also showcased himself as an unstoppable force on the field.
In 2012, Maro Itoje embarked on a transformative journey as he joined the Saracens Academy. With unwavering determination and skillful prowess, Itoje made his grand entrance onto the senior stage during the momentous 2013-2014 season when he donned the Saracens jersey against Cardiff Blues in an exhilarating clash within the Anglo-Welsh Cup.
Before achieving remarkable milestones at Saracens, Itoje's passion for rugby took root at an early age. He honed his skills playing junior-level rugby at Harpenden RFC from 2005 to 2011 before transitioning seamlessly into representing Old Albanian RFC's first team.
The legacy that Itoje has woven with Saracens speaks volumes about not only his indomitable spirit but also their collective success as champions. Throughout his tenure at Saracens, Itoje has achieved remarkable success. He was part of the team that secured five Premiership titles in 2015, 2016, 2018, 2019 and again in 2023.
Thanks to all @EnglandRugby travelling fans! You brought the energy today 🏟️💫

Look forward to the opportunity that next week presents 🙏🏾🙏🏾 pic.twitter.com/COHp1jvEWM

— Maro Itoje (@maroitoje) October 15, 2023
Additionally, Maro played a crucial role in Saracens' victories in the European Champions Cup during the years 2016, 2017, and once more in 2019. Notably, Itoje's exceptional performance earned him the prestigious title of European Player of the Year during that same season.
Decorated at the International Level
Maro Itoje has enjoyed an exceptional international career since his debut for England in 2016. He participated in two Rugby World Cups (2019 and 2023), earning a bronze medal in the latter event. Additionally, he took part in Six Nations Championships (2017, 2018, 2019, 2020, 2022, and 2023), victorious three times – in 2017, 19,' and '23.
Itoje plays a pivotal role for England, both offensively and defensively. His dominance is particularly evident during lineouts, where he excels, as well as when carrying the ball strongly or delivering powerful tackles. Moreover, he demonstrates leadership qualities on and off-field.
View this post on Instagram
Nominated thrice to be crowned World Rugby Men's Player of the Year ('16, '17, and '21, respectively), Itoje garnered recognition by being named British & Irish Lions Player of the Series in 2021.
Itoje's remarkable achievements have solidified his status as one of the most esteemed rugby players in English history. His immense talent and dedication make him a true icon for aspiring athletes, influencing countless individuals across the globe with his inspiring journey.
ALSO READ: Ellis Genge Biography: Meet England's Prop and Rugby Powerhouse
Get Familiar With Itoje's Style of Play
Itoje is widely regarded as an exceptional player known for his unwavering dedication and ability to lead a team. Many writers have hailed him as a true star in the sport.
What sets Itoje apart is not just his physical prowess but also his remarkable agility and mobility for someone playing in the lock-forward position. He possesses the rare capability of traversing wide channels on the field, often surprising opponents with bursts of speed that enable him to break through their defenses.
Additionally, Itoje's proficiency at securing turnovers during rucks further contributes to his invaluable contributions on the pitch. Remarkably versatile, he consistently displays outstanding aerial skills both in lineouts and open-play situations.
While some critics contend that Maro occasionally concedes too many penalties during breakdowns, it remains undeniable that Itoje exhibits few discernible weaknesses throughout his rugby career. But as they say, Even the moon has a few spots," the benefits of him being on the team cannot be overstated.
Similarly, you might want to read about the future star of England rugby, Lewis Chessum.
Personal Life and Net Worth
Itoje's personal life remains discreet, as he prefers to keep it separate from his rugby career. In the past, he was romantically involved with Jessica Portman from 2016 to 2018, though the reasons for their breakup are undisclosed. It is worth noting that Maro Itoje's ex-girlfriend, Jessica is connected to the world of rugby through her father, who serves as former England rugby player captain Chris Robshaw's agent.
On the topic of Maro Itoje's net worth, while exact figures are not publicly disclosed, sources suggest that his earnings exceed £810,784.00 annually. Maro continues to be highly regarded in the world of rugby due to his exceptional skills and consequently earns a substantial salary commensurate with his talent.
Itoje has a multifaceted personality and possesses an intriguing passion for both the world of politics and the captivating realm of art. Other than his hobbies, the English professional is also the founder of a non-profit organization called The Pearl Fund, which is changing the lives of children in Nigeria and other African countries through investments in education.
Also, going through Maro's social media handles, we can see that the talented player regularly promotes African art and tries to introduce it to a wider audience, further exemplifying his helpful nature. As he continues to make great strides in both his personal as well as professional life, we wish him nothing but the best of luck.
It is for sure that Maro Itoje biography is nowhere close to being completed, and we can't wait to see what's in store next.
Did you notice an error ?
Please help us make corrections by submitting a suggestion. Your help is greatly appreciated!