Net Worth
Revealing The Heavyweight Fighter Curtis Blaydes Net Worth And Earnings Per Fight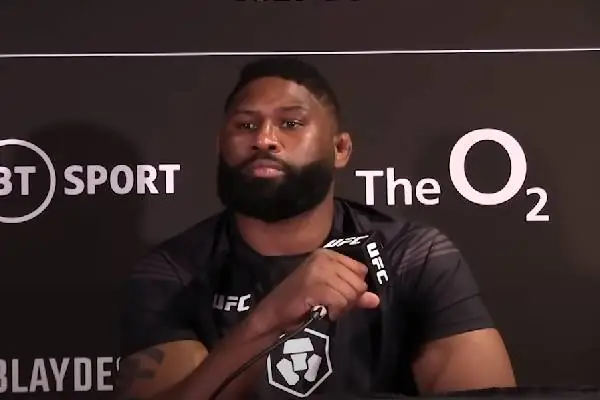 Curtis Blaydes Net Worth. Image Credit: Social Media.
Endurance, speed, flexibility, and force are essential elements for a successful run as a fighter in mixed martial arts. Curtis Blaydes is the combination of all four elements and has been a fighter ever since his teenage years. He has shown impeccable talent and resilience in his career and has managed to become one of the most promising and robust fighters in the world of professional fighting. He competes in the Ultimate Fighting Championship in the Heavyweight division.
Let's take a closer look at the professional career of this great American fighter and find out whether his earnings and worth have done justice to his huge fighter persona. Therefore, keep reading until the end to quench your enthusiasm about Curtis Blaydes net worth and his earnings. First, let's get to know him a little.
Meet the Strong And Powerful Heavyweight Fighter
Blaydes was born Curtis Lionell Blaydes on February 18, 1991, in Naperville, Illinois, United States of America. He spent his childhood near Chicago. He has not mentioned much about his parents, but he has four siblings.
Curtis began his fighting career as a wrestler for the De La Salle Institute, where he created an undefeated winning streak of 44 wins and became a state champion as a senior.
The MMA fighter did his schooling at Harper College and won the NJCAA National Championship as a sophomore. However, he left school to pursue a career in MMA.
How Much Does Curtis Earn Per Fight?
There are multiple sources that influence a fighter's earnings per fight. The same is true for this American fighter as well. He is entitled to a base salary in each fight, which differs from one match to another. Further, win bonuses and performance bonuses also play a massive role in his earnings per fight.
For instance, Curtis earned a whopping $323,000 in his fight against Chris Daukaus on March 26, 2022, at the UFC Fight Night, which is his highest earnings in one match: A record that stands even today. According to the MMA database, his base salary was $131,000; however, his bonus from winning the match, performance, and sponsorship earned him an extra $192,000.
Below is the breakdown of Curtis' fights and earnings.
| | | | |
| --- | --- | --- | --- |
| Date | Opponent | Result | Earnings |
| 2020/06/20 | Alexander Volkov | Win | $190,000 |
| 2020/01/25 | Junior Dos Santos | Win | $180,000 |
| 2019/09/07 | Shamil Abdurakhimov | Win | $165,000 |
| 2019/03/23 | Justin Willis | Win | $155,000 |
| 2018/11/24 | Francis N'Gannou | Loss | $80,000 |
| 2018/06/09 | Alistair Overeem | Win | $195,000 |
Table Source: mmasalaries
Similarly, Curtis Blaydes' earnings exceeded $300,000 in the year 2021. He fought against Jairzinho Rozenstruik and Derrick Lewis on February 20 and September 25, respectively, winning the former but losing the latter. Still, the fighter was able to collect a massive amount which must have highly influenced Curtis Blaydes net worth.
ALSO READ: Updates on Fat Joe's Daughter: Where is Azariah Cartagena Now?
Earnings From Endorsement and Merchandise – Widening His Income
Apart from salaries and match winnings, professional fighters earn a significant amount of money from sponsorships and endorsement deals. For instance, Curtis collects a minimum of $2500 from each of his fights from his sponsors.
Similarly, Blaydes' sponsors include the footwear and clothing giant Reebok, which has tucked around $17,500 into Curtis Blaydes net worth. Furthermore, from his other sponsors, the American fighter has collected over $60,000. Therefore, it is evident that the sportsperson's livelihood is secure and well-maintained.
Further, Curtis also promotes Warlord Beard Oil on his Instagram handle, influencing his overall earnings and wealth. He still has a long way to go in his career, which will surely bring more endorsements and sponsorships in his professional life.
Finally, the American Fighter also has a merchandising channel called teamblaydes.com, where different items such as Tees and Hoodies are available for purchasing. This also contributes to the fighter's income decently.
Similarly, you might want to read about the reasons behind Dweezil Zappa's Divorce.
Explore Curtis Blaydes Net Worth – How Rich is the UFC Fighter?
MMA fighters are among the richest and highest-paid athletes in the world, and some of the big names, such as Conor McGregor, Khabib Nurmagomedov, and Brock Lesnar, are worth over $25 million. So, how much is Curtis worth?
View this post on Instagram
Unfortunately, the Chicago native's net worth is yet to be revealed to the general public. Thus, his exact worth is undisclosed. However, some sources claim that the number is over $1.5 million. Further, he has collected over $1 million from his fights, pointing to Curtis being a millionaire.
In conclusion, we wish this fantastic fighter all the best in his upcoming fights and hope that he keeps winning them and enhances his personal and professional worth even higher. We will update you regarding Curtis Blaydes net worth whenever the figure is made available. Until then, stay tuned.
FAQs
Q: What is Curtis Blaydes' nationality?
A: Curtis Blaydes is an American.
Q: What is Curtis Blaydes' height?
A: Curtis is 6 feet 4 inches tall.
Q: How much does Curtis Blaydes weigh?
A: Curtis Blaydes' weight is 263 lb.
Q: What is Curtis Blaydes' nickname?
A: Curtis Blaydes' nickname is Razor.
Q: When did Curtis Blaydes turn pro?
A: Curtis turned pro in 2014.
Q: What gym does Curtis Blaydes go to?
A: Curtis Blaydes has been training at Elevation Fight Team since 2016.
Q: What is Curtis Blaydes' record in MMA?
A: Curtis Blaydes has fought in 22 fights, winning 17, losing 4, and 1 no contest.
Q: Which fighting style did Curtis Blaydes learn?
A: Curtis is a Blue belt in Brazilian Jiu-Jitsu.
Q: Who is Curtis Blaydes' girlfriend?
A: Curtis Blaydes is in a relationship with Alexandria Wright.
Q: Does Curtis Blaydes have any children?
A: Curtis has a daughter named Harlie Blaydes.
Did you notice an error ?
Please help us make corrections by submitting a suggestion. Your help is greatly appreciated!