Sports
Midge Purce Biography: Soccer Star's Journey From Harvard Crimson To USWNT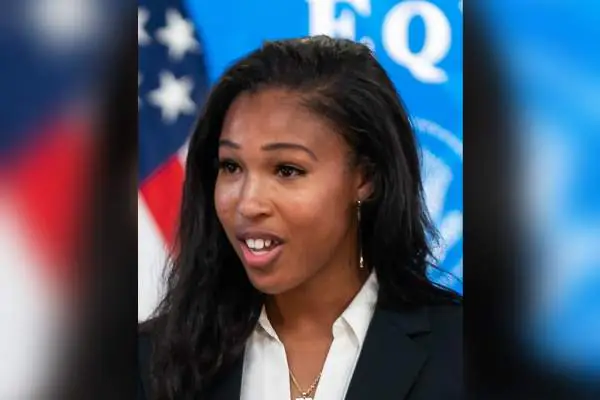 Midge Purce Biography. Image Credit: Wikimedia Commons.
Full Name

Margaret Purce

Age

28 yrs

Birth Date

September 18, 1995

Country

America

Relationship Status

In a relationship

Nationality

American

Ethnicity

African-American

Profession

American Football Player

Awards and honors

SheBelieves Cup: 2021; 2022; 2023

Education

Harvard University

Height

5 feet 5 inches
Midge Purce has emerged as a prominent figure in the realm of women's soccer, acclaimed for her exceptional speed, proficiency, and adaptability on the pitch. Her trajectory spans from her collegiate experience at Harvard to commendable displays representing the United States Women's National Team at an international level.
Midge Purce biography delves into Margaret Purce's life story, meticulously exploring each phase of her ascent from playing for Harvard Crimson to attaining recognition within the elite echelons of USWNT.
Early Life and Soccer Beginnings
Margaret Purce, who hails from Silver Spring, Maryland, was born on September 18th, 1995. Raised in a family that cherished soccer and its values, she first encountered the sport during her formative years.
Margaret "Midge" Purce, the daughter of James Purce and sister to JP Purce, developed a passion for soccer at a young age. Inspired by her brother's involvement in the sport, she embarked on her own soccer journey. Margaret went on to attend Our Lady of Good Counsel Catholic High School in Olney, Maryland – just near Silver Spring, where she grew up.
Pruce's exceptional talent in soccer earned her prestigious accolades, such as being named Maryland Gatorade Player of the Year in 2012 and receiving NSCAA All-American honors consecutively from 2010 to 2011.
With an innate aptitude for the game and an unwavering drive to succeed, Purce devoted herself wholeheartedly to developing her abilities—an unwavering commitment that paved the way for a thriving career in soccer.
Collegiate Success at Harvard
Purce's remarkable talents on the soccer field captured the interest of college scouts. Ultimately, she decided to enroll at Harvard University, where her achievements in both academics and sports continued to impress.
Joining the Harvard Crimson team, Purce made an immediate impression with her speed, agility, and ability to score goals. Her outstanding performances earned her numerous awards and recognition within the Ivy League.
During her time with the Harvard University women's soccer team, Purce demonstrated her exceptional abilities by scoring an impressive 42 goals in 69 matches. Her remarkable performances led to her being recognized as Ivy League Player of the Year on two occasions – once in 2015 and again in 2016.
Additionally, Margaret was honored as a first-team NSCAA All-American in 2016. It is worth noting that while pursuing a psychology degree at Harvard, Purce had aspirations of embarking on a future career in law.
ALSO READ: Laia Codina Biography: From Dreams to World Cup Triumph in 2023
Transitioning to the Professional Ranks
Following a successful college career, Purce set her sights on the professional soccer stage. In 2017, she was drafted as the ninth overall pick by the Boston Breakers in the National Women's Soccer League draft.
Transitioning into professional soccer presented new challenges, such as heightened competition and increased expectations. However, Purce's strong determination and dedicated work ethic allowed her to adapt and make a significant impact in the league quickly.
Purce has established herself as one of the rising stars in NWSL through her performances on the field. After leaving Boston Breakers due to their dissolution, Purce joined Portland Thorns FC in 2018, where she continued to impress both fans and coaches with her exceptional speed, technical skills, and versatility playing in both forward and wingback positions.
In 2020, Purce was traded to Sky Blue FC. Throughout the 2021 NWSL season, she played as a forward and netted nine goals, earning her the title of top scorer for the team. Her outstanding performance earned her second place in the NWSL Golden Boot competition and a well-deserved spot on the NWSL Best XI list at the 2021 NWSL Awards alongside teammates Caprice Dydasco and Kailen Sheridan.
After an incredible breakout season, Purce also became a finalist for the prestigious 2021 NWSL MVP award. Looking ahead to January 2022, Purce signed a two-year contract extension with NJ/NY Gotham FC.
Head coach Scott Parkinson describes Purce as an extremely intelligent player who brings value both defensively from upfront throughout every minute of gameplay while simultaneously posing as a constant threat when in possession of the ball.
USWNT Call-Up and International Success
Purce's impressive displays in the NWSL caught the attention of national team scouts. In November 2019, during Vlatko Andonovski's initial training camp as the new head coach of the USWNT, Purce was given another opportunity to join the team.
Despite primarily playing in an attacking role throughout her career, Purce was invited to camp with the intention of exploring her potential as a defender. Making her debut for the United States women's national team on November 10, 2019, against Costa Rica in a friendly match, Purce displayed versatility by assuming the right-back position and contributing significantly. She played all 90 minutes of that game and had a cross deflected for an own goal by Costa Rica in their resounding victory of 6-0.
Demonstrating further prowess on January 21st,2021, against Colombia, she netted her first-ever goal for the senior national team. Come November 2021, Purce received yet another call-up to represent the senior national team, but this time it was as a forward player.
Purce's adaptability and versatility as a player have allowed her to excel in multiple positions. She brings both offensive prowess and defensive strength, making her an invaluable asset to the USWNT.
Similarly, you might want to read about an aspiring astronaut that turned into a professional soccer player in Tierna Davidson's biography.
Off the Field: Leadership and Advocacy
In addition to her remarkable soccer accomplishments, Midge Purce has also established herself as a prominent advocate and leader. She actively promotes gender equality in sports and emphasizes the importance of diversity and representation.
Purce is currently serving on the Board of Overseers at Harvard University, contributing to its governance and strategic direction. She also serves as a board member for the Black Women's Players Collective, a nonprofit organization committed to advancing opportunities for black girls in sports and beyond.
On March 24, 2021, Purce joined her USWNT teammate Megan Rapinoe at the White House to raise awareness about pay equality. During her introduction of First Lady Jill Biden, Purce eloquently highlighted that just like a flower needs water to bloom, women in sports deserve equal resources and support to thrive. She emphasized the need for investments in women's empowerment before expecting significant returns.
Through her dedication to social justice and activism, Purce serves as a role model for aspiring athletes while demonstrating her commitment to using her influence for meaningful impact.
Midge Purce also gives her insight on a YouTube channel, Just Women's Sports, where she discusses everything happening in the American soccer world with her fellow teammates like Katie Nolan and Sam Mewis.
Who is Margaret Purce's Boyfriend?
Margaret is widely admired for her charming personality, loving nature, and genuine compassion. As a result of her magnetic charisma, many are intrigued to know about her romantic life.
Currently, Margaret Purce is in a relationship with Chris Evans, who is known from his Instagram profile as an accomplished Harvard investor with a penchant for travel.
With their shared interests and active involvement in the Make-A-Play Foundation, it's clear that Midge and Chris truly complement each other. Their bond shines through in the various photos she shares on social media platforms, where they can be seen enjoying quality time together at different locations.
Midge Purce biography and soccer career are still growing, and she constantly strives to achieve new objectives. Her goals include making a significant impact in the sport and further enhancing the success of the USWNT. Purce's commitment, strong work ethic, and unwavering pursuit of improvement make her an athlete worth keeping an eye on in the future.
References
Did you notice an error ?
Please help us make corrections by submitting a suggestion. Your help is greatly appreciated!