Sports
Tony Mundine Biography: A Tale of Boxing, Truimph, and Greatness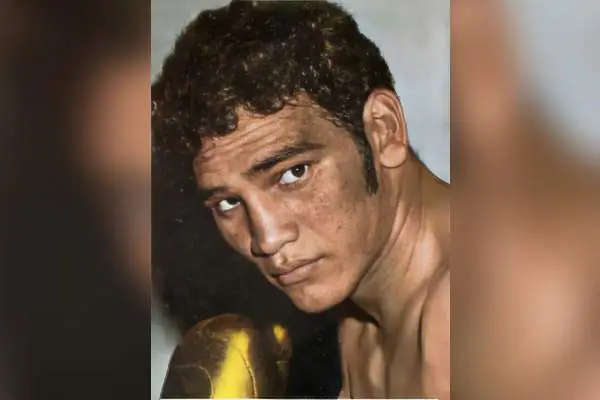 Tony Mundine Biography. Image Credit: Wikimedia Commons.
Full Name

Anthony William Mundine

Age

72 yrs

Birth Date

June 9, 1951

Country

Australia

Relationship Status

Married

Spouse

Lyn Mundine

Nationality

Australian

Ethnicity

Aboriginal

Profession

Professional Boxer

Children

Kelly Mundine and Anthony Mundine

Awards and honors

Medal of the Order of Australia

Height

5 feet 11 inches
Tony Mundine is a widely celebrated and iconic figure in the realm of boxing. Renowned for his extraordinary abilities, unwavering resolve, and groundbreaking achievements, Mundine has made an indelible impact on Australian boxing history.
Starting from humble origins to ascending as a top-tier pugilist and later making significant contributions beyond the ropes, his personal journey serves as a testament to both his exceptional talent and unyielding determination.
Within Tony Mundine biography, we explore the various stages of the boxer's life story, highlighting notable accomplishments along with formidable obstacles he encountered while also emphasizing the enduring legacy he has cemented within the sport.
Early Life and Boxing Beginnings
Anthony William Mundine (born 9 June 1951) hails from the charming town of Baryulgil in New South Wales. Passion and dedication bloomed within young Mundine, prompting him to begin training at a local boxing gym and laying down the solid groundwork for what would become an illustrious career.
Tony's skills shone brightly during his amateur days, winning numerous fights that showcased not only his exceptional talent but also his lightning-fast speed, nimble footwork, and devastating punches. With each victory came heightened recognition and increased anticipation for his transition into professional boxing circles. But before he made his mark on the boxing world, Tony played rugby, but his Rugby career didn't last long.
Rugby League
Tony Mundine was a natural athlete and excelled in both rugby league and boxing. He began playing rugby league at a young age and quickly rose through the ranks. In 1968, he was offered a spot on the Redfern All Blacks, a prestigious rugby league team in Sydney. Mundine was only 17 years old at the time, but he was already a star player.
However, Tony's heart was not in rugby league. He was more interested in boxing and began training at Ern McQuillan's gym in Newtown. McQuillan was a renowned boxing trainer, and he quickly recognized Mundine's talent. He offered Mundine a fighter-trainer contract, which he accepted.
Mundine's time at Ern McQuillan's gym was significant. McQuillan was a challenging and demanding trainer, and he credits Ern with helping him develop the skills and discipline that he needed to succeed in boxing.
ALSO READ: Jim Lampley Biography: Know The HBO Commentator
Transition to Boxing
Anthony achieved his first victory in the boxing ring on March 5th, 1969, when he faced off against Frank Graham.
In what marked his fifth professional bout, Ray Wheatley managed to knock down Mundine during their ten-round match held at the Manly Leagues club in May of that same year. This incident made Wheatley the only Australian boxer to have successfully brought Mundine to the canvas. However, Mundine quickly recovered and secured a victory over Wheatley by stopping him in round two.
Within just one year of beginning his boxing career, Mundine became the holder of his first championship title – namely, the highly coveted Australian Middleweight crown.
Some of his titles are given below:
| | | |
| --- | --- | --- |
| Title | Date | Opponent |
| Australian Middleweight title | 23 April 1970 | Billy Choules |
| Australian Heavyweight title | 25 February 1972 | Foster Bibron |
| Commonwealth Middleweight title | 14 April 1972 | Bunny Sterling |
| Australian and Commonwealth Light Heavyweight titles | 30 October 1975 | Steve Aczel |
| Australian Cruiserweight title | 24 July 1981 | Steve Aczel |
Table Source: turningsixty
The Australian boxer, with a commendable 16-year career, faced off against Carlos Monzón on October 5, 1974, for the WBA World Middleweight title. Unfortunately, he was defeated in the 7th round by knockout.
Throughout his career, Mundine remained undefeated when facing other Australian boxers and challenged formidable opponents such as Steve Aczel, Monty Betham, Emile Griffith, and Bennie Briscoe. His final fight took place on March 19th, 1984, against Alex Sua. He retired from boxing in 1984 with a record of 80 wins, 15 losses, and 1 draw.
Personal Life
Mundine currently resides in Redfern, New South Wales, overseeing the operations of a training facility known as Redfern Gym located next to the Block. In addition to his managerial responsibilities, Mundine is also involved in boxing training and promotion.
Tony is a proud father of former World Super Middleweight Champion Anthony Mundine and daughter Kelly Mundine. Tony Mundine's partner with whom he had the two children is Lyn Mundine. His brother Mickey Mundine holds significant recognition for being part of Australia's first Aboriginal rugby league team back in 1973.
Acknowledging his contributions to sports, particularly boxing and mentoring Aboriginal youth, Mundine was honored with the Medal of the Order of Australia on 26 January 1986. Furthermore, he received The Ella Award for Lifetime Achievement in Aboriginal and Torres Strait Islander Sport at the Deadly Awards ceremony held in 2004.
Tony Mundine, a renowned boxer known for his aggressive style, has become an iconic figure in the world of Australian boxing. Despite facing criticism for his outspoken perspectives and controversial reputation, he is widely acknowledged as one of Australia's most esteemed boxers.
Taking a bold leap into the realm of professional boxing proved to be a gamble that paid off handsomely for Mundine. His unwavering dedication propelled him to great heights, establishing himself as one of Australia's exceptionally accomplished Indigenous fighters.
Tony Mundine biography serves as a testament to his resilience and determination. Shattering barriers on both the rugby league field and in the ring required overcoming numerous obstacles along the way. He stands today not only as an inspiration to young Indigenous Australians but also as a shining example for all individuals with aspirations of achieving greatness.
References
Did you notice an error ?
Please help us make corrections by submitting a suggestion. Your help is greatly appreciated!