Celebrities
Lily Brooks O'Briant Biography: A Journey Through Film, TV, and Music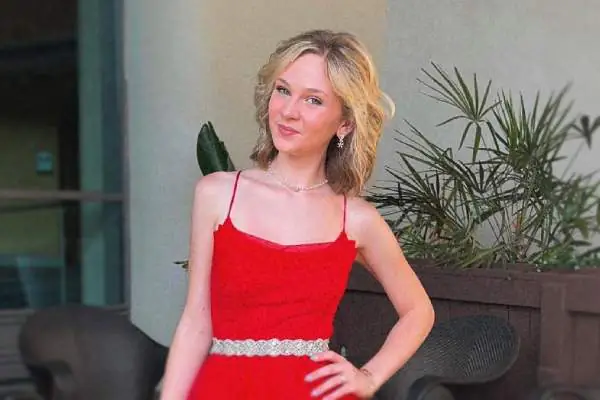 Lily Brooks O'Briant Biography. Image Credit: Instagram.
Full Name

Lily Brooks O'Briant

Age

17 yrs

Birth Date

July 10, 2006

Country

America

Relationship Status

In a relationship

Nationality

American

Ethnicity

White

Profession

Actress, Singer, and Songwriter

Awards and honors

2018 Best Young Actress Award

Education

High School, ICL Adacemy

Height

5 feet 6 inch
As each year casts a shining glow upon her aspirations, actress Lily Brooks O'Briant has nothing but a bright future ahead. With an insatiable appetite for entertainment, the Young and Restless actress has marked her name as a singer and songwriter as well.
Today, this article about Lily Brooks O'Briant biography will serve as a reminder that dreams can indeed become a reality. As we turn pages, we will uncover the mosiac of her passions and the symphony of her achievements. So, let us enter her life's gallery to see the journey of her self-discovery and empowerment.
A quite successful child actress, Lily appeared on stage and toured the country for the number-one stage musical Matilda. Best known for portraying the lead role of 'Ella McCaffrey' on the Apple TV+ series Life by Ella, O'Briant is a true candidate for a promising adventure of growth and success in the coming years.
Family Background: Finding The Passion
Lily Brooks O'Briant was born on July 10, 2006, in Memphis, Tennessee, U.S., to parents Allen O'Briant and Hope Kizer O'Briant, who are divorced. Lily grew up in Tennessee with her older brother, Colin O'Briant, and a younger sister, Hannah O'Briant.
What was your dream when you were young? Well, most of us can't even remember our childhood's imaginative illusion. However, there are people like Lily O'Briant who had a clear vision about their futuristic endeavors. From a very young age, she took dance and singing lessons at school, and by age 4, Lily knew she wanted to act. Additionally, she was a baton twirler and was on the swim team as well.
When she was just around the age of 5, Brooks went to a theater production company put on by her local community theater. Likewise, with her mom's help, she entered a few theater camps, and thus, her acting career began.
As Lily Brooks O'Briant's parents are divorced, the actress is seen mostly with her mother and her siblings, who reside in California. Meanwhile, there is little information about her father. Further, Lily's mom, Hope O'Briant, is an attorney who studied law at the University of Memphis. In 2021, the senior associate attorney joined Kilburn Media as its vice president and oversees the business affairs and in-house counsel. Hope played an instrumental role in her daughter's acting career.
ALSO READ: Gulliver McGrath Biography: A Promising Actor On The Rise.
Matilda Muddling Her Step Into The Movie World
When Lily saw her favorite characters come alive on screen or stage, a spark ignited within her, and that curiosity later blossomed into an unexpected passion. At 8, O'Briant debuted on the big screen, appearing alongside Dolph Lundgren in the 2015 movie Shark Lake. The same year, she earned the lead role of 'Matilda' in the US National Tour of the Broadway musical Matilda and toured the country until mid-2016.
From 2016 until 2018, Lily shone in short movies and appeared in critically acclaimed productions, including Marina (directed by Story Chen) and Presentation (directed by Danielle Kampf). For her performance as 'Marina,' a girl born with spinal muscular atrophy, O'Briant received the Best Young Actress Award title at the Wasserman Awards, New York City Independent Film Festival Awards, and Five Continents Film Festival Awards. Similarly, she received the lead actress award at the 2018 Craft Awards. For the short film Presentation, Lily received the Best Children/Young Action Duo at the Independent Shorts Awards with Emily Rey.
In 2018, O'Briant appeared in Six Minutes, a children's podcast by Gen-Z media, where she appeared in the role of 'Birdie.' The year 2019 saw Lily's first major TV role in the Amazon TV series The Tick. The same year, Lily Brooks O'Briant's performance as Mandy Wight in The Big Show Show brought her wide applause. In the show, she appeared in the lead cast as 'Mandy,' the middle child of WWE superstar Big Show, whose real name is Paul Wight.
In late 2020, Brooks worked in the award-winning musical The Perfect Fit, and in 2021, the Matilda actress appeared in the titular lead role of 'Ella,' a middle school student diagnosed with cancer, in the Apple TV+ dramatic series Life by Ella. Do you know? She suffers from endometriosis, and she is going to have surgery in late summer of 2023 after going through three and a half years of symptoms.
In January 2023, O'Briant joined the cast of The Young and the Restless, which is one of the longest-running daytime soap operas. She portrayed the role of 'Lucy Romalotti' in over ten episodes of the show.
Is Lily Books O'Briant Dating? Know About Her Personal Life
At a young age, the Life by Ella actress earned a reputation for being a serious actor. Therefore, her hardcore fans are always looking for something spicy and juicy. And guess what? There is indeed something going on with Lily Brooks O'Briant's personal life.
Actress Lily O'Briant's boyfriend, or shall we say best friend, is none other than young actor Kingston Rumi Southwick, who has worked on 9 Full Moons and Presumed Innocent. But there is one little curiosity about their relationship. Are they still dating? If you look at the lovely pair's Instagram accounts, you can find sweet little comments and replies here and there.
After a little digging on both Lily and Kingston's Instagram, we found that they were indeed a couple. On January 15, 2023, which also marks Kingston's birthday, Lily O'Briant commented on her partner's post, wishing him a lovely birthday post. Replying to the comment, Southwick shared his happiness on the social media platform.
On January 3, 2023, Lily and Kingston arrived together at the special screening of the horror movie M3Gan at Universal CityWalk in Universal City, California. Likewise, they arrived together for a premiere at the Orpheum Theater on March 8, 2023.
Now, talking about their relationship, the couple might have chosen a low-profile strategy to keep their personal life far from media attention. Nevertheless, the young lovebirds are enjoying their companionship.
Lily graduated high school a year early with honors and a 3.9 GPA from ICL Academy/Dwight Global. On June 3, 2023, she shared an Instagram post revealing the good news and also said that she would take a gap year in 2024 before attending university. O'Briant further wrote that the coming year won't be a quiet year as she is going to focus on making music. Additionally, she revealed her wish to concentrate on songwriting and music production. With acting projects, writing, and directing another short film for festival submission, Lily Brooks O'Briant can't wait for what the future holds for her.
Similarly, you might want to read about another rising talent, Dylan Kingwell's Biography and Net Worth.
Lily Brooks O'Briant Net Worth
Since the age of four, O'Briant has been on the stage, and that has continued into her teenage years. To this day, she has more acting credits to her name than many adults could only dream about. So, a question often arises: How much is Lily Brooks O'Briant's net worth?
As per reports, the average salary for a child actor in the U.S. is $32,450 per year, but the general figures can vary depending on a number of factors, including the actor's age and the type of work they are doing. Child actors are also entitled to certain benefits, they are also protected by child labor laws, which limit the number of hours they can work and the types of jobs they can do.
As O'Briant is a teenager, there will is still a lot of time for her to accumulate enough wealth in the coming years. As an actress and singer, Lily is ready to grasp the marvels that the future holds.
In conclusion, Lily Brooks O'Briant biography serves as a testament to the magic that unfolds when passion meets discipline, dreams can become a breathtaking reality.
Did you notice an error ?
Please help us make corrections by submitting a suggestion. Your help is greatly appreciated!