Net Worth
Breaking Down David Cheriton Net Worth: From Stanford to Silicon Valley Riches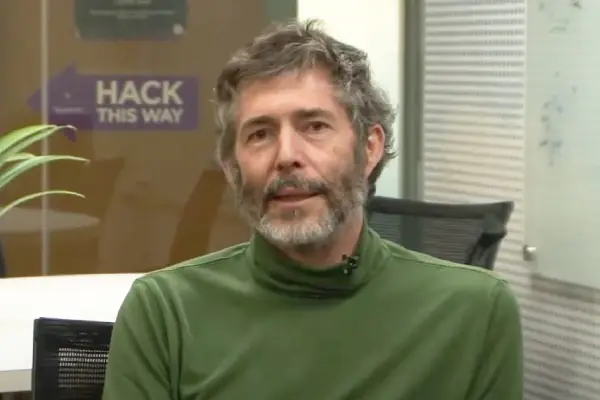 David Cheriton Net Worth. Image Credit: Social Media.
The wealthiest college professor to ever exist. Meet David Cheriton, who is known for his massive fortune. But how did he attain staggering figures for his net worth? Well, that's an inspiring story as Cheriton was any normal college professor at Stanford when he decided to take a chance at his student's project.
Furthermore, Professor David Cheriton net worth is a testament to the famous saying, Gambling is not about money; it's about the thrill of the risk. Little did the now-billionaire Canadian know he was investing in one of the century's biggest innovations that would soon transcend him from Stanford to Silicon Valley.
How Did David Cheriton Attain His Wealth?
The easter eggs of how David Cheriton amassed such a humongous amount of fortune lie in the pivotal decision he took during the year 1998. Back in the day, Cheriton held a professorship in Computer Science at Stanford University.  During his tenure at Stanford, a few major events followed one after another. He was leading a team of computer researchers who were working to develop the operating system "V."
The main idea behind  Cheriton's initiation at V was to develop a microkernel operating system to facilitate graphical user interface research. The billion-dollar professor's project later went on to pave a major foundation for the Internet Protocol (IP) layer and GUI, the integral elements of modern networks and computer displays.
Around the same time, Cheriton came across a genius Ph.D. prospect, Andy Bechtolsheim, who missed classes to work on his projects. Andy developed a networked system of computer workstations, which at that time was named the Stanford University Network, a.k.a. the SUN. Later, Bechtolsheim dropped out of his Ph. D. program and founded a company under the name Sun Microsystems that hit $1 Billion in revenue nine years after its birth.
Professor Cheriton had a 10% stake at Sun Microsystem, which allowed him to scale his pay cheque from $100,000 to $22 million. Then, the second major event followed by the late 90s' that would soon terraform the internet and David Cheriton's net worth.
ALSO READ: Tony Ressler Biography: Journey of a Visionary Investor and Business Titan
The Birth of Google: Investor Professor
It was the late 90s when search engines were still in their primitive stages. Any search results around that time would pop up a long page that often featured NSFW content and spam.
The two new prospects at Stanford, Larry Page and Sergey Brin, who were preparing their Ph.D. project at the time, thought of a way to index and calibrate the webpage quality. Thus, they developed an algorithm that detected the content quality of web pages and named it 'PageRank.' The name was a reference to Larry's name and the internet's web pages.
Contrary to their expectations, the duo's thesis blew up the IT world, and their document became the most downloaded research article in the history of the internet in that time frame. Hence, they decided to professionalize their thesis, which led them to knock on Prof. Cheriton's door. They were well-known for the financial prosperity that David made off of investing in Sun Microsystem, which is identified as Granite Systems now.
To Larry and Sergey's surprise, Andy Bechtolsheim happened to be visiting professor the same day. After thoroughly listening to their idea of a brief 15 minutes, both Cheriton and Bechtolsheim wrote a check of $100,000 each, impressed by the youngins' initiation. Larry and Sergey initially decided to name the company Googol, which translated ten to the power of a hundred. However, they later settled down for a more clingy and now a household name of search engines, "Google."
As you all may know, the rest is history. The company that was founded by two Ph.D. prospects and funded by $200,000 from their professor and Bechtolsheim now has a monopoly-like influence in the world of the internet today.
Google has a market cap that is nearing $2 trillion and is likely to further expand in the coming days. David Cheriton made approximately more than 10 billion dollars, skyrocketing him to the top of the world's richest academics list.
Similarly, you might want to look at Roblox CEO David Baszucki's Biography.
David Cheriton Net Worth: Investments Besides Google
Apart from Google, Cheriton has been actively deploying his investments all over the wide spectrum of technology business. He has circulated more than $50 million of his wealth to startups and up-and-coming tech innovations. 'The Billionaire Professor' was also an early investor at VMware, a cloud computing software, which later got acquired for a whopping price of $625 million.
David Cheriton net worth stands at a whopping figure of $11.7 billion, yet his stance towards life has stayed the same as it was during the late nineties when he was yet to secure a check valued more than a hundred thousand dollars.
| | |
| --- | --- |
| Year | David Cheriton Net Worth |
| 2020 | $5.5 billion |
| 2021 | $8.8 billion |
| 2022 | $10.9 billion |
| 2023 | $9 billion |
Table Source: Forbes
Davids owns $2.5 billion stakes in ANET and has sold off more than half a billion shares to the external circuit. Thus, more than luck, it's David's wisdom in identifying the possible startups with potential that has placed him on the pedestal of one of the richest people on the planet.
What is David Cheriton Upto Now?
Anyone would guess this 72-year-old billionaire professor to be leading a lavish lifestyle that his massive fortune grants him. However, he rather likes to keep it simple as he is still giving lectures at Stanford University. Unlike fellow billionaires, Cheriton still cruises in a 2012 Honda Odyssey, which his an upgrade to his previous car 1986 Volkswagen Vanagon.
Moreover, David even founded a video streaming software, Kealia, alongside Andy, which later sold off for $120 million. In addition, the duo of David and Andy co-founded the networking tech company called Arista Network (ANET), which stands at a market cap of $30 billion on today's date.
Despite his massive net worth and the noise he made in the investing world, Professor Cheriton is still thriving off of the same office, phone number, and campus email address. A man of class indeed!
Did you notice an error ?
Please help us make corrections by submitting a suggestion. Your help is greatly appreciated!