Net Worth
Cracking The Code of Kevin Streelman Net Worth: From Fairways To Financial Success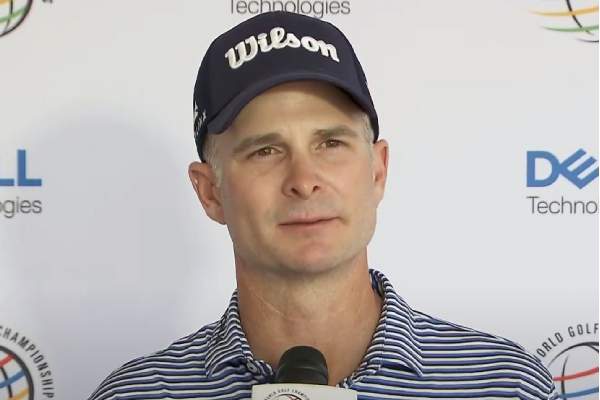 Kevin Streelman net worth. Image Credit: Social Media.
To putt the ball, a golfer needs to understand five major components of the course: Tee, Fairway, Green, Rough, and Hazards. And pro-American golfer Kevin Streelman makes a living out of playing the sports he loves. He understood the golf course, and along the path, he discovered his inner strength.
Today, we will be looking at the golfer's connection to the fairways, greens, and holes of the course. With a staggering fortune, we will also be shedding light on Kevin Streelman net worth. His ability to rise to adversity stuns his hardcore golfer fans.
Without any ado, let's dive deep into this article to learn about Streelman, his struggles, and his achievements. His story from a failing golfer to one of the most sought-after pro-PGA Tour golfers is truly astounding.
Kevin Streelman: A Brief Overview
Kevin Garret Streelman was born on November 4, 1978, in Winfield, Illinois, USA.
Streelman's parents are Dennis Streelman and Mary Lou Streelman, and his siblings are Jimmy Streelman and sister Kristin Streelman.
Kevin attended Duke University and played collegiate golf all four years.
The golfer turned pro in 2001 and began competing in the mini-tours.
At Duke, Streelman was a member of the Delta Sigma Phi fraternity. He graduated with a degree in Sociology in 2001.
Earnings from Professional Golf
Streelman's primary source of income is his professional golf career. Like most professional golfers, he earns money through tournament winnings. Likewise, the PGA Tour offers substantial prize money for its events, with larger paychecks for prestigious tournaments like The Masters, U.S. Open, and The Open Championship.
As said, Streelman struggled in his early years with both winning and earning lucrative prize money. In 2005, the Illinois golfer just made over $20,000 in official payout; in 2007, he earned $25,000 as an unofficial payout. Below is a table of a few tournament earnings that Kevin earned through competing in the Barclays, Travelers Championship, and Wyndham Championship, among others.
| | |
| --- | --- |
| Year | Earnings |
| 2008 | $1,352,705 |
| 2009 | $1,007,444 |
| 2010 | $1,472,349 |
| 2011 | $1,327,049 |
| 2012 | $893,736 |
Table Source: Spotrac
Throughout his career, Streelman has earned a significant amount of money from PGA Tour events. His first official payout was a huge sum of $1,352,705 in 2008. Since then, the golfer has gone on to win millions of dollars in prize money.
Streelman finally made it to the finals after finishing 14th at the 2007 PGA Tour Qualifying Tournament. His determination finally paid off when he earned his spot on the 2008 PGA Tour season after competing at the grueling qualifying school.
ALSO READ: Exploring Adam Hadwin Net Worth: Teeing Up Success in Golf and Finances
The Years of Fortune
Professional golfers often supplement their income with lucrative endorsement deals and sponsorships. These deals can include partnerships with golf equipment manufacturers, clothing brands, and other companies related to the golf industry. Kevin earned his career-highest earnings of about $3,088,284 in 2013.
Throughout his career, Streelman has recorded top-10 finishes in 29 PGA Tour events. Besides Tampa Bay, he won the Travelers Championship in 2014 and has appeared on multiple FedExCup and Ryder Cups as well.
Kevin and his wife, Courtney Streelman, have two children: a daughter named Sofia and a son named Rhett. The family resides in Arizona in their 6,040 sq ft home, which the golfer purchased in for $1.5 million.
Factors That Boost Career Earnings
As per the statistics, Kevin Streelman's current owgr rank is 113. Likewise, his best owgr rank is 36 within the 54 actual events played. Besides all those ranks and career earnings, a golfer's net worth is also determined by the number of partners he is associated with.
Being a skillful golfer, Kevin Streelman attracts not only the viewer's attention but also the companies' and brands' wish to connect with him. Streelman has a number of sponsors and partners, which he happily represents in the course. Some of his sponsors are Wilson Staff Equipment, AM Technical Solutions, Johnnie-O Clothing, Airbox, Titleist, Uniti Fiber, and LocalIQ.
How Much is Kevin Streelman Net Worth?
If we look at his career earnings, it's safe to say that Kevin Streelman net worth is $26 million, and the official reports of ESPN claim the same. His consistent performance in various tournaments over the years has earned him a reputation as a formidable competitor. In 2020, Streelman earned $2,520,845 with $195,000 in the tour championship bonus.
For the 2022-2023 season, Streelman earned $590,200 after competing in 3M Open tournament. Similarly, he made $237,075 in the Charles Schwab Challenge and $285,000 in the Wells Fargo Championship.
Kevin happens to make a living playing a sport he loves. One of the biggest career earnings came in 2013 when he made $3,088,284 in competitions in tournaments including PGA, BMW, and The Players Championship, along with John Deere Classic, RBC Heritage, and others. The series of victories contributed to Kevin Streelman's fortune. In conclusion, Streelman's journey from a golfer to a successful individual is a tale of hard work and dedication.
References
Did you notice an error ?
Please help us make corrections by submitting a suggestion. Your help is greatly appreciated!