Top Lists
All About Emma Kimilainen Marriage, Separation, And Current Relationship Status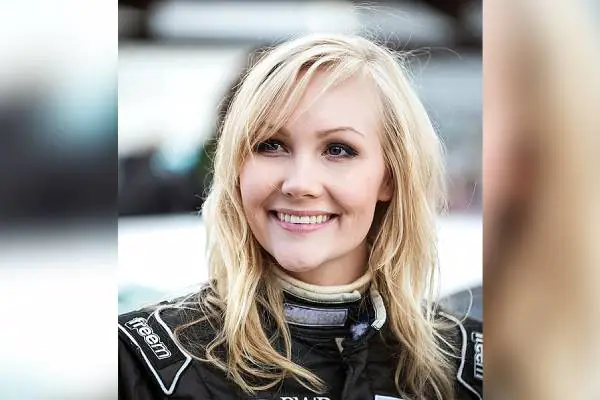 Emma Kimilainen Marriage. Image Credit: Emma Kamilainen.
In the world of professional racing, women racers are walking shoulder to shoulder with the men racers in terms of popularity, earnings, and fan following. Emma Kimilainen is one such female racer who has found pro-found success in her illustrious racing career.
In this article, we are going to deeply discuss the personal life of this Finnish racing sensation and answer the question about Emma Kimilainen marriage, separation, and present dating status. The racing star is shining like a diamond in the world of racing. But is the situation the same in her personal world as well?
Thus, all the racing fans, follow this article if you are also keenly interested in knowing about Kimilainen's dating history and life. Before diving there, let's get to know her a little.
A Brief Overview About the Professional Racer
Emma was born Emma Elina Kimilainen in Helsinki, Finland, to Merja Kimilainen and Hannu Kimilainen. She has two siblings: one brother, Mikko Kimilainen, and one sister, Julia Kimilainen. Her father introduced her to the world of racing.
Kimilainen went to Makelanrinteen Urheilulukio High School and graduated in 2008. Further, she attended EVTEK University of Applied Science in 2010 and graduated with a Bachelor's degree in business, marketing, and logistics in 2012.
In 2005, Kimilainen made her professional racing debut in the Northern European Formula Ford Championship.
Emma Kimilainen Marriage With Timo Liuski – Who Is the Mystery Man?
As a professional racer, this Finnish national has managed to become a household name in her native country of Finland. And, just some years after making her professional debut, she found a companion in Timo Liuski to share her success and happiness with.
According to multiple sources, the couple met for the first time in 2009 and walked down the aisle in 2012. Emma gave birth to their daughter, Fanni Liuski Kimilainen, a year later in 2013.
Emma Kimilainen's daughter has frequently appeared on her mother's Instagram, but her face has not been revealed yet.
Talking about Kimilainen's husband's education and career, he graduated from Markkinointi Instituuti in 2009 with a degree in Marketing and Sales Management. Similarly, after graduating, he took his first job as a Project Manager at Suomi Mediaplanet Oy.
After working as a Client Manager and Key Account Manager at different companies, Timo landed his current Account Manager position at Atea Finland Oy in February 2023.
ALSO READ: Exploring Roy Nissany Net Worth And Salary: How Much He Earns?
Emma's Separation With Timo – Why and When?
Emma Kimilainen marriage with Timo was going smoothly, and the couple was living happily with their daughter and enjoying their time together. However, fate had something else on its hand, and their happy life took a dramatic turn in 2021.
View this post on Instagram
On October 28, 2021, Emma and her husband filed for a divorce at the Helsinki District Court, marking their relationship's end. The couple did not mention the exact cause of their separation, but their divorce was eventually finalized and dissolved their marriage.
Similarly, you might be interested in reading about professional racer Gosia Rdest's Husband and her married life
Who Is She Dating Now?
After Emma Kimilainen marriage to Timo was shelved in 2021, the Finnish racer began a romantic journey with former football and manager Sami Hyypia in 2022. She first introduced Sami as her boyfriend on one of her Instagram posts in March 2022 when she went to Anfield Stadium to watch a game between Liverpool and Barcelona.
Emma Kimilainen's boyfriend, Sami, was one of the eleven players on Liverpool's team. She shows her support towards her man by attending matches whenever he plays on the Liverpool Legends team.
Kimilainen's partner is sixteen years older than her. They celebrated Sami's 50th birthday together in October 2023.
In conclusion, we wish Emma all the best in her personal and professional life and hope that she wins more titles in the upcoming years and shares good moments with her lover and daughter.
FAQs
Q: What is Emma Kamilainen's nationality?
A: Emma Kamilainen's nationality is Finnish.
Q: When was Emma Kamilainen born?
A: Emma was born on July 8, 1989.
Q: Is Emma Kamilainen married?
A: No, Kamilainen is not married currently. But, she was previously married to Timo Liuski from 2012 to 2021.
Q: Who is Emma Kamilainen's boyfriend?
A: The Finnish racer's current boyfriend is Sami Hyypia.
Q: When did Emma Kimilainen make her W Series debut?
A: Emma made her W Series debut in 2019.
Did you notice an error ?
Please help us make corrections by submitting a suggestion. Your help is greatly appreciated!