Top Lists
Get To Know About Madison McFerrin Boyfriend Plus Manager: A Look Into Their Love Story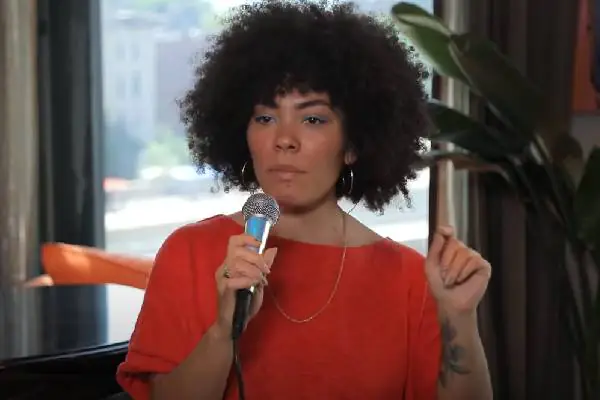 Madison McFerrin Boyfriend. Image Credit: Social Media.
Madison McFerrin is an American singer and songwriter who has defied the traditional way of songwriting with her genre-bending songs that are a combination of cappella, jazz, electronic pop, and soul. In spite of her huge celebrity persona, the singer has kept a low profile when it comes to her relationship.
Today, we are going to take a peak into the personal life of this fantastic singer and explore everything there is about Madison McFerrin boyfriend. So, stay tuned with us and find out the man who stole her heart.
Some Facts About The American Singer
Madison was born in 1992 in San Francisco, California, to the famous jazz vocalist Bobby McFerrin. She is the granddaughter of Robert McFerrin Senior, who was the first black person to perform at the Metropolitan Opera.
The American singer is a graduate of Berklee College of Music and has collaborated with her musician and producer brother, Taylor McFerrin, on a non-cappella record.
Nicknamed Maddie, the singer became interested in music at age five and spent her high school years honing her music skills while residing in Philadelphia and Minneapolis.
After graduating from Berklee, Miss McFerrin relocated to Brooklyn, began playing in the electronic duo Binary Soul, and accompanied her father on his tours.
Meet Madison McFerrin Boyfriend
The San Francisco native is currently in a relationship with her boyfriend, Ned Levy. Levy is not only her boyfriend but also her manager. The couple currently reside in Brooklyn, New York.
Madison and Ned are busy in their respective jobs, but they are like every other couple on their day off. In an interview with the New York Times, Madison mentioned that she likes to keep her Sundays really simple, cooking at home and staying in.
Madison and Ted usually like to take charge of the kitchen themselves, but when not, they go out to a restaurant called Brown Butter in their neighborhood. Furthermore, the pair is really fond of Shipwreck Seafood Boutique and dine there every now and then.
Madison McFerrin's partner also believes in the phrase 'Netflix and Chill.' So, he and Madison would stream something informative, such as a documentary, on their projector and talk about it afterward.
ALSO READ: 5 Things You Must Know About Claressa Shields Boyfriend: Marriage On The Cards?
Impact on His Girfriend's Music
It is not the first time a singer has dedicated their music to their partners. Madison did the same when she wrote a song called Insane when Ted was away.
Long-distance relationships are hard, especially when you can't live without one another. The American songwriter experienced the same situation when her boyfriend was not home, which drove her crazy.
In an interview with Pitchfork, McFerrin revealed that she was home alone in a snowstorm and was daydreaming about her man. She decided to utilize the time by pouring her love into music and expressing her feelings in the form of a song.
Insane was a big hit, and the audience responded positively to the song. Even though the meaning of the song is about sex, the singer wanted to express that it is a normal thing to fantasize about.
Madison McFerrin boyfriend is one lucky guy to have an entire song dedicated to him when his girlfriend was reminiscing about him when he was away.
Similarly, you might be interested in Marianne Williamson Spouse And Children.
Are Madison and Ted Getting Married?
Unfortunately, as amazing as the news would have been, the couple has kept this aspect of their relationship private from fans and media outlets. At the moment, there is no sign of them tying the knot.
Madison is currently on a US tour for her concert, and she recently performed at the AFROPUNK Festival in Brooklyn, New York. As her manager, Madison McFerrin boyfriend must have been really busy organizing her schedule and fan meets.
Therefore, the lovely pair is enjoying their journey as boyfriend and girlfriend for the time being. So, We would have to wait some more to hear some good news in their relationship.
FAQs
Q: Is Madison McFerrin Bobby's daughter?
A: Yes, Madison is the daughter of renowned jazz vocalist Bobby McFerrin.
Q: What is Madison McFerrin's nationality?
A: Madison McFerrin is an American.
Q: Where is Madison McFerrin from?
A: Madison is based in Brooklyn, New York.
Did you notice an error ?
Please help us make corrections by submitting a suggestion. Your help is greatly appreciated!