Sports
Ali Krieger Biography: The USWNT Soccer Player Defying Odds, And Defending Glory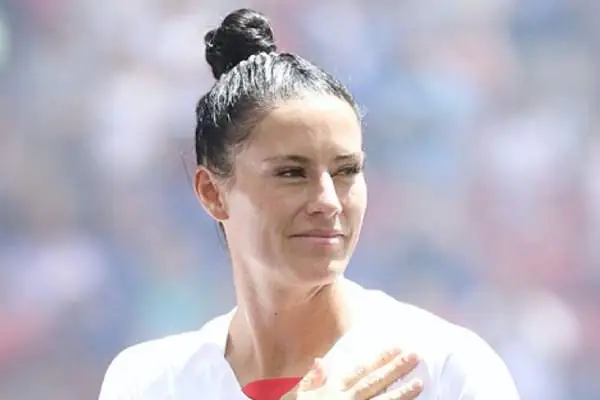 Ali Krieger Biography. Image Source: Wikimedia Commons
Full Name

Alexandra Blaire Krieger

Age

39 yrs

Birth Date

July 28, 1984

Country

America

Relationship Status

Married

Spouse

Ashlyn Harris

Nationality

American

Ethnicity

White

Profession

Soccer Player

Children

Sloane Phillips and Ocean Maeve Krieger-Harris

Awards and honors

2015 FIFA Women's World Cup Winner

Education

Bachelor's in Advertising and Public Relations, Penn State University

Height

5 feet 6 inch
In almost every sport, male athletes have been dominant on a global basis. But there are players like Ali Krieger, who have inspired hundreds of thousands of people with their exceptional athletic skills.
The American soccer player is one of the most celebrated women athletes who has garnered immense love and honor. Krieger is best known for playing with teams like Washington Spirit, Orlando Pride, and Gotham FC of the National Women's Soccer League (NWSL).
Let's not make delay in exploring Ali Krieger biography, as this article about the 2006 Herman Trophy Award semifinalist will make you feel closer to the player.
Early Life and Education: Started Soccer Under Her Father's Wing
Born as Alexandra Blaire Krieger on July 28, 1984, to parents Debbie Alongi (mother) and Ken Krieger (father), Ali grew up with her brother, Kyle Krieger, in the Washington DC suburb of Virginia. The surname Krieger means warrior in German.
From an early age, the Kriger siblings took soccer as their favorite sport. Additionally, their father, Ken, is a former professional soccer and a coach in Virginia. From age 7-19, Ali played in the Prince William Sparklers, where her father coached her for 12 years.
Krieger spent a year at Hylton High School before transferring to Forest Park High School. At Forest, she was a three-year team captain leading the team to their first undefeated regular season. Due to her skills, Ali became a first-team all-district player three times. During her sophomore year, she was twice named an All-Virginia AAA selection and appeared as an All-Met Honorable Mention.
Krieger continued to showcase her ability as a midfielder, and in her senior year, The Washington Post named her Player of the Year. Similarly, Ali bagged Gatorade's Virginia Player of the Year in her final year at Forest Park.
College Career With Penn State University
After high school, Krieger attended Penn State University in 2003 and graduated with a bachelor's degree in Advertising and Public Relations in 2007. While at Penn, she played for Nittany Lions Women's Soccer Team and was a captain/co-captain for the University women's soccer team.
Throughout her college season, Krieger earned several honors. In her debut season, she became the 2003 Big Ten Freshman of the Year. The next year, Ali started in all 23 matches for Penn State, and at the season's end, she was given NSCAA All-Mid Atlantic region first-team honors, All-Big Ten first-team honors, and Academic All-Big Ten honors. In 2005, Krieger earned NSCAA All-America and Mid-Atlantic region first-team honors, All-Big Ten first-team honors, and Academic All-Big Ten honors.
In her senior season, Krieger became the team's captain and switched from the midfield position to defense. She played in all 19 games for Penn State, and in 2006, she became Big-Ten Defensive Player of the Year and Penn State's Most Valuable Player. Likewise, Ali Kriger is the only Nittany Lion to earn all-American honors at two different positions of captain and co-captain as she was named to the NSCAA All-America first team in both 2005 and 2006. 
After college, Krieger played with teams such as Washington Freedom (2004) and Northern Virginia Majestics (2005). She returned to Freedom in the 2007 season as their full women's league team. From 2007-2008, Krieger signed a two-year contract with the German team Eintracht Frankfurt (previously FFC Frankfurt). During the first season, she helped the team become Bundesliga champions and was one of the first Americans to win the UEFA Women's Cup.
Ali was one of the 21 US National team players who were allocated to a team in the newly formed Women's Professional Soccer (WPS) league but was unable to join due to her commitments with FFC Frankfurt. After the Bundesliga season in June 2009, Frankfurt allowed her to join the Washington Freedom on loan for the 2009 season.
Krieger appeared for Freedom in the 2009 WPS season and afterward returned to Germany to play with FFC Frankfurt for the 2009-2010 season. Her contract was extended until 2011, but in December 2012, Krieger was granted release from her contract in order to play in the newly formed National Women's Soccer League.
Professional NWSL Career
At the inaugural season of the NWSL, Ali Krieger was allocated to the Washington Spirits during the 2013 NWSL player allocation, along with goalkeeper Ashlyn Harris and midfielder Lori Lindsey. After the regular season, she joined Tyreso FF, the highest division of women's soccer in Sweden. For the 2014 season's start, Krieger and Harris returned to the Washington Spirit, where the former was voted Spirit Fan Favorite and Spirit Defender of the Year.
From 2014-2016, Krieger served as the captain of the Washington Spirit, but later, in November 2016, she was traded to the Orlando Pride. She joined national team players such as Alex Morgan and her former teammate Ashlyn. Ali remained with Orlando from 2016-2021, and in December 2021, she and Harris were traded to Gotham FC in exchange for a first-round pick in the 2022 NWSL Draft and a third-round pick in the 2023 NWSL Draft. Since 2022, Krieger has been playing as one of Gotham's and the national team's best defenders.
Talking about the national team, Krieger has represented the United States three times at the 2011, 2015, and 2019 FIFA Women's World Cup held in Germany, Canada, and France, respectively.
ALSO READ: Professional Basketball Player Sylvia Fowles Biography.
World Cup Champion, Success At FIFA Women's World Cup
Krieger was first called to the USWNT training camp in January 2008. She was named to the roster for the 2008 Four National Tournament and as an alternate for the 2008 Summer Olympics. Likewise, she made it to the 21-player roster for the 2011 FIFA Women's World Cup, where she appeared in all six US matches. Further, Fox Soccer took her name in the Best 11 list of best right backs.
For the first time, Ali became a World Cup champion after she helped the US team defeat Japan in a 5-2 victory at the 2015 Women's World Cup final. Likewise, Ali Krieger was one of the final 23-player squad for the 2019 FIFA Women's World Cup alongside Harris, Emily Sonnett, Cyrstal Dunn, Sam Mewis, Carli Lloyd, and other top players. The USWNT went on to defeat the Netherlands in the finals with a 2-0 victory. For the information, Megan Rapinoe (OL Reign) and Rose Lavelle (OL Reign) scored the goals and helped the US successfully defend its World Cup title.
Unfortunately, the defending champion USWNT was eliminated in the 2023 FIFA Women's World Cup after losing in a penalty shootout against Sweden.
Ali Krieger and Ashlyn Harris: One Of The First Openly Lesbian Couple In Women's Soccer
The midfielder, Ali Krieger's partner, is none other than her longtime teammate, Ashlyn Harris, a former professional soccer.
Together, Ali Krieger and Ashlyn Harris, as Gotham FC's members, have appeared in multiple NWSL and USWNT tournaments. The couple is one of the sport's most beloved couples, and they are an inspiration to the young LGBTQ community.
Before coming out in 2019 as a lesbian couple, both Krieger and Harris successfully maintained their privacy for a very long time. Although their hardcore fans suspected they were a couple long before they ultimately decided to go public.
Ali first met her future spouse in the 2010 USWNT training camp, and she always wanted Harris to be around her. The lovely couple began a romantic relationship which they kept secret for a long time. In an interview, Ali and Ashlyn said that the main reason behind their secret affair was the fear of losing endorsement deals.
Journey Towards Marriage and Parenthood As A Same-Sex Couple
In March 2019, the couple's official move toward marriage started when Ashlyn asked Ali to marry her in Clearwater, Florida. They were enjoying a weekend away, and just before dinner, they headed down to the beach to watch the sunset.
After having a glass of champagne, Ali wanted to take selfies with her lover. She became shocked when the entire time Ashyln was carrying the engagement ring while they were making silly poses. Both with excitement and surprise, Ali's happiness touched the roof, and the couple then enjoyed the incredible sunset, which was a lovely perfect moment in their life.
After almost ten years of dating, Ali Krieger married Ashlyn Harris over holidays in a wedding that was a weekend-long party and served as a reunion for many of the USWNT team members. Their wedding took place on December 28, 2019, at Vizcaya Museum and Gardens in Miami, just three days after Christmas, in the presence of friends and family.
Ashlyn's best friend and USWNT team captain Megan Rapinoe served as the maid of honor, while Ali's brother Kyle served as the best man. Meanwhile, Orlando player Sydney Leroux was the officiant. Kyle wished his sister and said that the couple was like a beacon of light for all young queer LGBTQ women and men who just need someone to look up to. For the information, Kyle is gay as well and is working as a hairstylist in Los Angeles.
Talking about the wedding dress, Ashlyn wore a Thom Browne custom tuxedo with a beaded argyle pattern. Meanwhile, Ali took a weekend trip to New York City on the hunt for her right bridal dress. Well, she wore a Pronovias Helio gown, a fit, and flare dress with long sleeves and a V in the back. Both star soccer players looked stunning on their special day. Further, LGBT icons Marsha P. Johnson and Anderson Cooper were also present at the ceremony.
As a same-sex couple, Krieger and Harris faced challenges in the adoption process. Nevertheless, they wanted to embark on a journey of parenthood. Therefore, Ali Krieger's partner decided to adopt their first child, a daughter named Sloane Phillips (b: February 12, 2021). Ali couldn't be happier, and the couple's story has also inspired others to embrace their own unique journeys.
The next step toward Ali Krieger and Ashlyn Harris's journey toward parenthood came in August 2022 as they adopted a second child, their first son named Ocean Maeve Krieger-Harris. As of now, Ali and Ashlyn have been living happily with their children. As the midfielder says, there is no greater force on our planet that can achieve more than love itself and showing love to others. Moreover, both soccer stars use their social media platform to raise awareness about issues such as LGBTQ+ rights, gender equality, and mental health issues.
Ali Krieger Net Worth: Salary and Endorsements
One of the most decorated midfielders in women's soccer, Ali Krieger's net worth is still a topic of mystery. The primary reason behind the difficulty in calculating the women's soccer players' fortune is that players earn salaries from their NWSL contracts in addition to their national team earnings.
The general figure of NWSL players varies because players earn a lucrative income from endorsements, investments, and other financial pursuits. Similarly, female athletes are paid significantly less than male athletes. Although the prize money increased from $30 million to $110 million for the 2023 Women's World Cup, as per reports, women's soccer players received a maximum of $46,000.
On the other hand, Krieger was associated with Nike as a professional athlete in 2007. Likewise, she partnered with Unequal, a company that makes protective sports gear. Further, Krieger teamed up with both ZICO and Smuckers for the 2016 Summer Olympics. The USWNT players' salaries and compensation have been a subject of discussion and controversy due to the gender pay gap between the men's and women's national teams.
After a three-decade soccer career, Krieger announced in an interview that she would retire from soccer at the end of the 2023 NWSL season. However, the "Warrior Princess," Ali Kriger, has managed to make a living out of her professional soccer career. In conclusion, we hope this article about Ali Krieger biography has given you some insight into the athlete's personal life and professional career.
References
Did you notice an error ?
Please help us make corrections by submitting a suggestion. Your help is greatly appreciated!