Sports
Hossein Vafaei Biography: Behind The Scenes of The Iranian Professional Snooker Player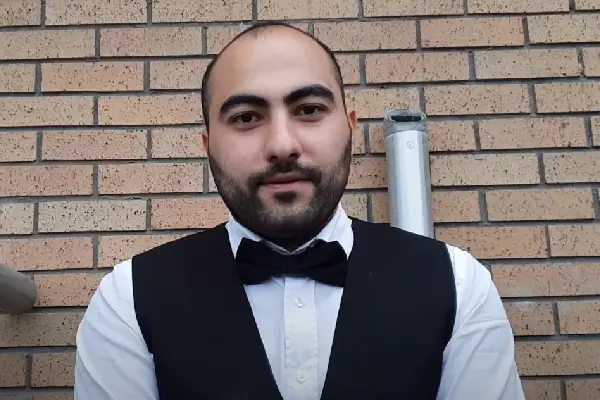 Hossein Vafaei Biography. Image Credit: Social Media.
Full Name

Hossein Vafaei

Age

29 yrs

Birth Date

October 15, 1994

Country

Iran

Relationship Status

Not Confirmed

Nationality

Iranian

Profession

Snooker Player

Awards and honors

2022 Snooker Shoot Out

Height

5 feet 9 inch
Life has a unique way of bringing cues of fortune when you least expect it. For Hossein Vafaei, a professional snooker career seemed impossible. However, after years of competing in minor tournaments, Vafaei finally made his breakthrough shot at the 2022 Snooker Shoot Out Tournament.
Hossein made history by becoming the first Iranian snooker player to qualify for the World Snooker Championship's Crucible in 2022. Be sure to read more interesting details through Hossein Vafaei biography. During his snooker career, Hossein has competed in numerous tournaments such as the European League, British Open, Wuhan Open, Welsh Open, WST Classic, etc.
What Led Hossein Vafaei to Become the First Professional Snooker Player From Iran?
Hossein Vafaei was born on October 15, 1994, in Iran.  He grew up in the oil-rich city of Abadan, but Vafaei neither wanted to pursue a business career, nor he wanted to join the traditional wrestling groups.
Most dreams and desires are born out of curiosity. As a child, Hossein's curiosity about snooker got him hooked on the sport. At 6, he became aware of snooker, and his father taught him the basics. Since the day he held his cue stick, the young Iranian knew that he wanted to become a professional snooker player. Two years later, Vafaei won his first local tournament at 8.
Recalling his childhood memories, Hossein mentioned his father's contribution and motivation to his career. As per the snooker player, his father recovered from a coma and was initially pronounced dead years before Hossein was born.
Backed up with his passion and dedication, Vafaei began working on his skills. Now in his late 20s, the first Iranian professional snooker player has gained wide recognition from his homecountry and international peers.
All About His Amateur Career
Hadn't it been the issue of securing visas for professional tournaments, Hossein Vafaei's career would have progressed much faster. However, his achievements at the amateur level can't go unnoticed. During his three seasons and four tournaments, Vafaei recorded three wins, showcasing his potential for professional matches.
| | | | |
| --- | --- | --- | --- |
| Year | Tournament | Opponent | Score |
| 2011 | ACBS Asian Under-21 Championship | Cao Yupeng | 3–7 |
| 2011 | World Amateur Snooker Championship | Lee Walker | 10–9 |
| 2012 | ACBS Asian Under-21 Championship | Zhang Anda | 6–2 |
| 2014 | World Amateur Under-21 Championship | Josh Boileau | 8–3 |
A confident talent, he won the World Amateur Snooker Championship, defeating Lee Walker (former Welsh snooker player) with a score of 10-9. Previously, he was a runner-up at the ACBS Asian Under-21 Championship. Likewise, Vafaei also won a U-21 championship in 2012 and a World Amateur U-21 Championship in 2014.
During the 2015-2016 season, Hossein qualified for the 2015 Australian Goldfields Open. Similarly, he played in the UK Championship for the first time but lost to Luca Brecel. Vafaei booked a place in the second-ranking event quarter-final of his career after defeating Joe Perry, Ben Woollaston, and Rory McLeod at the China Open in the 2016-2017 season.
Net Worth: Prize Money and Earnings
The first Iranian professional snooker player, Hossein Vafaei, is far behind on the prize money list compared to his colleagues. The reason behind his stunted fortune might be a series of obstacles in getting international visas. It is evident that overseas players experience relative difficulties, and therefore, Hossein's path has been a little tougher than most.
Hossein Vafaei's net worth is in six-figure digits. Currently 15 on the world rankings, Vafaei's money list earnings are reported at $321,526. Therefore, the former World Amateur Snooker Champion has a fortune in hundreds and thousands of dollars. Despite turning professional in 2012, Hossein began earning a decent amount of money from the 2015-2016 season.
Below is a table that shows Hossein's earnings in the early 2020s, which he made from his professional snooker career.
| | |
| --- | --- |
| Season | Prize Money |
| 2020-2021 | $52,000 |
| 2021-2022 | $150,000 |
| 2022-2023 | $154,750 |
| 2023-2024 | $51,500 |
Table Source: cuetracker
Prize money from major tournaments like the World Snooker Championship or the Masters can range from $10,000-$1 million for the winner. Meanwhile, Hossein qualified for the World Snooker Championship for the first time in his career in the 2021-2022 season.
As per the reports, all 130 professional snooker players on the World Snooker Tour will be guaranteed minimum earnings of $24,450 for the 2022-2023 season. Similarly, several top figures, including world champions Ronnie O'Sullivan, John Higgins, and Judd Trump, are at the top of the prize money list.
ALSO READ: Discover The Swiss Snooker Player Alexander Ursenbacher Net Worth
Hossein Vafaei Personal Life: Has The Persian Prince Found his Princess?
Before jumping right into Hossein Vafaei's married life, we have to consider the fact that marriage ceremonies in Iran have been changed by Islamic traditions. Although men and women now have the freedom to choose their partners, the tradition is deeply observed by the Iranian ethnic groups.
While there is an Iranian tradition of men marrying up to four women at once, Hossein Vafaei, in his late 20s, has kept his personal life behind the limelight. Therefore, it is difficult to assume that he is a married man. Similarly, it is not disclosed whether Vafaei is currently dating or not.
As a passionate snooker player, Hossein has always given importance to his professional career. But we also have to remember the fact that the man is extremely private regarding his personal life.
The Pioneer Iranian's Impact on Snooker
Did you know? Snooker was banned in Iran for over 20 years by the Islamist government for its gambling associations. But there are players like Hossein Vafaei who have made an impression on the public.
When Vafaei began to play and win professional events, a federation back in Iran initially wanted Hossein to stay an amateur for national glory. Meanwhile, he only played events in the UK, China, and India for several years.
After 2015-2016, Hossein began getting his fair share of his turn at the table. His success in snooker means the sport's profile will become bigger in Iran. In conclusion, Hossein Vafaei biography reminds us that despite the geographical limitations, we can achieve anything we put our minds to.
Did you notice an error ?
Please help us make corrections by submitting a suggestion. Your help is greatly appreciated!