Sports
Teresa Abelleira Biography: Real Madrid Midfielder's Journey to Greatness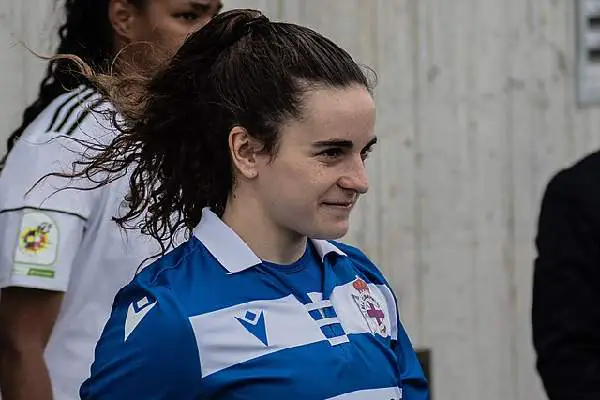 Teresa Abelleira biography. image Credit: Wikimedia Commons.
Full Name

Teresa Abelleira Dueñas

Age

23 yrs

Birth Date

January 9, 2000

Country

Spain

Relationship Status

In a relationship

Nationality

Spanish

Profession

Spanish Soccer Player

Awards and honors

FIFA Women's World Cup: 2023

Net Worth

$5 milion

Height

5 feet 3 inches
Teresa Abelleira, a promising talent in the realm of women's football, was born on January 9, 2000. Hailing from Pontevedra, Spain, she has garnered recognition for her impressive technical prowess, astute vision on the pitch, and remarkable leadership qualities. Her career progression at both club and international levels serves as a testament to her exceptional abilities, tireless work ethic, and unwavering dedication to the sport.
Embarking upon her journey in youth football up until presently assuming an integral role in Real Madrid's midfield, she continues to leave an indelible mark with every step. A captivating narrative awaits as we delve into Teresa Abelleira biography—where accomplishments interweave with hurdles, testifying to her relentless pursuit of excellence within the global soccer arena.
Early Life and Introduction to Football
Teresa Abelleira Dueñas developed a passion for football at an early age, inspired by her father (Milo Abelleira) and brother. In addition to playing regular football, she also excelled in futsal during her formative years. At just 16 years old, Abelleira achieved an impressive feat by becoming the Spanish champion with the club Poio Pescamar.
Right from the start, Abelleira exhibited natural talent and an astute comprehension of the intricacies of the game. Motivated by her desire to improve and fueled by relentless training sessions, she paved her own path toward achieving remarkable success in women's football.
Abelleira's exceptional skills on the field, coupled with unwavering dedication, were key factors that led to triumphs in her formative years as a player. Representing prominent local clubs such as Poio Pescamar and CD Lérez allowed her to refine her technique further and demonstrate unparalleled prowess in controlling midfield play.
It was through these stellar performances that Abelleira caught the attention of scouts roaming far and wide – opening doors for higher-level competitions where she could truly shine brightly.
Rise in Spanish Women's Football
Teresa Abelleira experienced a significant turning point in her career when she became part of Deportivo La Coruña's women's team. In 2016, Abelleira joined the Deportivo Abanca team of the Segunda División after the women's club section recovered. She marked her debut on 4 September 2016 with a draw against Oviedo Moderno.
Alongside her teammate Raquel Béjar, she achieved the distinction of being Galicia's first professional women's footballer on 6 August 2016. She swiftly proved herself as an essential player, demonstrating exceptional technical skills, strong vision, and admirable leadership qualities.
Thanks to Abelleira's stellar performances, Deportivo La Coruña earned promotion to the Primera División – the highest level of women's football in Spain. As a result of her noteworthy on-field contributions and rising reputation as a promising young talent, she garnered interest from larger clubs.
ALSO READ: Savannah DeMelo Biography: Forging Her Path in Women's Soccer
Move to Real Madrid
In 2020, Teresa Abelleira embarked on a notable professional journey by joining Real Madrid's women's team. The club's dedication to nurturing an exceptional women's team perfectly resonated with Abelleira's personal goals and ambitions.
Since becoming a part of Real Madrid, she has emerged as a pivotal player in the midfield, showcasing her expertise, strategic insight, and ability to guide her teammates on the field. Abelleira's exceptional performances have significantly contributed towards elevating Real Madrid in women's football and their unyielding quest for triumph.
International Success
Abelleira's exceptional talent and impressive performances have garnered recognition on a global scale. The midfielder was selected to represent the Spain U17 team in the 2016 UEFA Women's Under-17 Championship held in Belarus. The Spanish team finished as runners-up in this tournament. Furthermore, she showcased her skills at the 2018 UEFA Women's Under-19 Championship and emerged as a European champion there.
Due to her stellar performances and strong leadership qualities, Abelleira has been consistently called up to represent the senior national team, further solidifying her contribution towards Spain's ongoing achievements on the international stage.
Teresa Abelleira showcased her talent on the global stage by participating in the 2023 FIFA Women's World Cup. As a vital member of the Spain national team, she demonstrated her skills throughout all matches. Her noteworthy contributions included scoring an impressive goal against Australia during the group stage.
Recognized for her exceptional passing, dribbling, and dedication to play, Abelleira played a crucial role in Spain's attacking strategy, leading them to reach the finals of this prestigious tournament and ultimately winning the Cup. With players like Ona Batlle, Rocio Galvez, Laia Codina, and Oihane Hernandez repeatedly defending Spain's team, the England team failed to beat the Spaniards.
Undoubtedly, Abelleira's outstanding performance has solidified her position as one of today's finest young midfielders globally—a player that will undoubtedly continue to be invaluable for Spain in the upcoming years.
Playing Style and Strengths
Teresa Abelleira is known for her exceptional technical abilities, precision in passing, and midfield control. Her strategic vision allows her to set the pace of the game and create scoring opportunities for her teammates.
In addition to these skills, Abelleira's leadership qualities make her a valuable asset to any team. Off the field, Teresa Abelleira finds inspiration from important figures in both her personal life and within football. She acknowledges that she owes much of her development as a player to the unwavering support of her family and influential coaches.
Drawn to legends like Xavi Hernández and Andrés Iniesta, who embody the style of play she aims to replicate, Abelleira strives towards their level of excellence.
Teresa Abelleira Net Worth
Teresa Abelleira's net worth is estimated to be $5 million. On February 28, 2022, she signed a new contract with Real Madrid that will last for two years until 2024. She joins Maite Oroz and Kenti Robles as the third player on the club whose contract has been extended.
Under her agreement with Real Madrid, it is reported that the athlete earns an annual salary of $216,340. However, considering her sponsorship deals in addition to this figure, it is likely that her overall worth exceeds €1 million. This significant amount contributes substantially to her income stream.
Personal Life
Spanish professional soccer player Teresa Abelleira has been in a committed relationship with her former teammate Patricia Curbelo for more than four years. They began dating in 2019.
Teresa Abelleira's partner, Patricia, who is six years older than Teresa, currently plays goalkeeper at Vuajes Interrias FF B team in Spain's Second Federation Group. Abelleira faced homophobic abuse when she publicly shared about her relationship. She received derogatory comments from some of her teammates, which they found appalling. Despite the adversity, the couple remains determined to combat homophobia and promote inclusivity within the sport.
Teresa Abelleira and Patricia Curbelo have a history that dates back to their time playing professional soccer for Deportivo La Coruna in 2018. What initially started as a partnership evolved into friendship and eventually blossomed into a romantic relationship by February 2019.
The couple is very open about their relationship and doesn't hesitate to show affection on social media.
We hope this article on Teresa Abelleira biography provides an intriguing glimpse into her impressive journey, showcasing her unwavering determination as she overcame obstacles and setbacks to triumph and be awarded the highly sought-after trophy.
References
Did you notice an error ?
Please help us make corrections by submitting a suggestion. Your help is greatly appreciated!