History & Culture
Who is Susan Ahn Cuddy's Husband? A Beautiful Story of an Interracial Navy Couple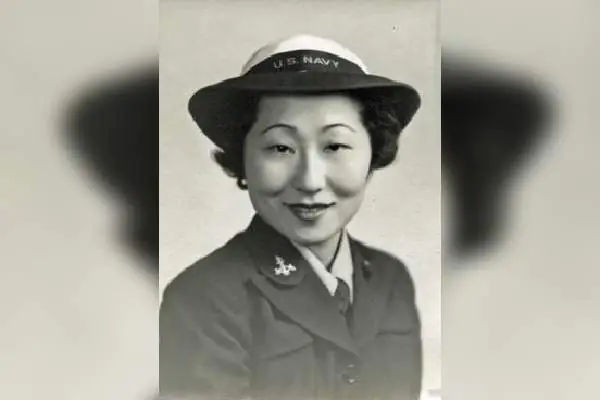 Susan Ahn Cuddy's Husband. Image Source: Twitter.
As the daughter of the first married Korean couple to immigrate to the U.S., Susan Ahn Cuddy had also managed to make a name for herself.
Susan became the first female gunnery officer in the U.S. Navy and, in doing so, became the first Asian-American woman to join the Navy. But in this article, while still discussing the officer's feats, we will focus more on Susan Ahn Cuddy's husband. So let's get started.
The 1st Asian-American Woman in The Navy
Susan, daughter of Korean Independence advocate Dosan Ahn Chang-ho and Helen Lee, was born on January 16th, 1915. Her folks' unwavering commitment to Korea's emancipation from Japanese colonization greatly influenced her character and principles. The first Korean married couple to immigrate to the US in 1902 were Susan Ahn Cuddy's parents.
As the eldest daughter of five children, the Navy officer asserted that their selflessness defined her sense of self. Having completed her studies at San Diego State University in 1940, Ahn Cuddy entered into service with the United States Navy four years after losing her father, a post she held until 1946.
After the Pearl Harbor bombing by Japan, Susan Ahn Cuddy made two attempts to join the Women Accepted for Voluntary Emergency Service. Her first attempt was unsuccessful; however, she was accepted on her second try and attended U.S. Naval Reserve Midshipmen's School at Smith College in Northampton, Massachusetts.
Ahn Cuddy believed that joining the US Navy allowed her to pay tribute to her father's legacy of fighting for Korean independence while simultaneously opposing Japanese aggression, which she perceived as predatory. To this day, Ahn Cuddy is regarded as an outstanding individual whose successes are without a match.
Similarly, another female soldier you might want to read about is Nancy Harkness Love. Check out our article on her.
Get To Know Susan Ahn Cuddy's Husband
Ahn Cuddy was a pioneer not only in her professional life but also in her personal affairs. She broke new ground when she tied the knot with Francis X. "Frank" Cuddy, a Navy Intelligence officer and NSA code-breaker.
While the Navy officer belonged to a Korean heritage, Susan Ahn Cuddy's husband was an Irish-American. During that time interracial couples used to have it difficult because the majority were against interracial relationships let alone marriage.
The couple had no other option but to get married at the Navy Chapel in Washington D.C., where there was no ban on interracial marriage. Their decision was considered an act of defiance against societal norms that dictated otherwise. But love won regardless.
Susan Ahn Cuddy's husband's contribution did not stop there – during his service to the United States, he helped release Korea from its tethers while lending financial aid to Ahn's family business- Moongate Restaurant.
Their marriage bore fruits; they made Los Angeles their permanent residence where they raised children apart from striving hard to earn cultural acceptance for their mixed-race matrimony. The couple hoped especially high upon gaining the approval of Ahn's mother – finally ending society's oppressive racial segregation once and for all.
What Do We Know About the Couple's Family?
The loving pair were blessed with a son named Philip Cuddy, who was affectionately called "Flip," and a daughter named Christine Cuddy. In 1959, Ahn Cuddy decided to leave her career in intelligence services behind to devote more quality time to raising and taking care of her children.
Once settled back in California, Ahn Cuddy assisted in managing Moongate – a renowned restaurant in Panorama City run by her noteworthy siblings: elder brother Philip Ahn (a revolutionary Asian American actor) and Soorah (her sister).
The first female Asian American naval officer who eventually became the service's first female gunnery officer, Navy Lt. Susan Ahn Cuddy carved the path for Asian American women. #AAPIMonth

For more info: https://t.co/cfW1h0n7lH pic.twitter.com/xGNoPUxH1f

— United States Strategic Command (@US_STRATCOM) May 8, 2021
Susan Ahn Cuddy's husband died in 197. Following his death, she embraced responsibility as their esteemed family's spokesperson while organizing records for archival purposes. Furthermore, she successfully ran Moongate until its closure around 1990.
ALSO READ: The Biography of The Child Acting Prodigy, Walker Scobell.
Cuddy's 
Accomplishments
 and Accolades Are Endless
Susan Ahn's dedication to serving the public was recognized numerous times, including being hailed as Woman of the Year by California State Assembly District 28 in 2003 and earning the American Courage Award from the Asian American Justice Center in D.C. three years later.
In Northridge, on June 24, 2015, Frank Cuddy's wife passed away peacefully at her home at the admirable age of a hundred.
However, even during her last days with us, Susan remained fully engaged and active – one testament is her recent appearance as a speaker for an event organized by U.S. Navy Seabee Museum located in Port Hueneme, California.
Through pushing boundaries and maintaining a can-do attitude alongside a pioneering spirit, Cuddy facilitated opportunities for women and individuals of Asian-American descent to serve with dignity within various branches of military service.
This recognition falls under the celebration that marks both "Asian American" & "Pacific Islander Heritage Month," where we lend our respect towards Cuddy for all she has done through hard work over many years.
Did you notice an error ?
Please help us make corrections by submitting a suggestion. Your help is greatly appreciated!