Celebrities
Perry Mattfeld Biography: From Ballerina to Hollywood Star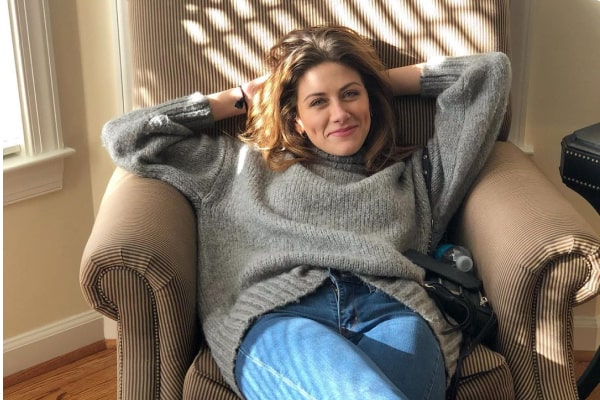 Perry Mattfeld Biography. Image Credit: Instagram.
Full Name

Perry Frances Garcia Mattfeld

Age

29 yrs

Birth Date

March 29, 1994

Country

America

Relationship Status

Married

Spouse

Mark Sanchez

Nationality

American

Profession

Actress and Producer

Education

University of Southern California

Height

5 feet 11 inches
From elegant ballet moves to captivating performances, Perry Mattfeld has smoothly moved from the graceful realm of dance to the enthralling world of acting.
With the grace and talent of a top ballerina combined with the skills of an experienced actress, Mattfeld has demonstrated her limitless artistic abilities.
In Perry Mattfeld biography, we explore the American actress' remarkable transformation – going from being a ballerina to becoming an actress – as she gracefully navigates through Hollywood's stages, leaving viewers mesmerized by her magnetic charm and undeniable gift.
Early Life and Passion for Ballet
Perry Frances Garcia Mattfeld, born on March 29, 1994, in the state of California, is a talented performer with a deep love for the arts. Growing up in Long Beach, she was inspired by her Mexican heritage and followed in the footsteps of her entertainer grandparents and great-grandparents.
Perry's moniker, derived from the Persian term 'Pari' or 'Paricheher,' carries connotations of 'Face of an Angel' or 'Face of a Fairy.' Her academic achievements include graduating with honors from the University of Southern California, School of Dramatic Arts, having obtained a B.F.A. in Acting and a minor in Film Theory. Furthermore, she showcased her talents at USC as one of The World Famous USC Song Girls, engaging audiences both on and off the field at various promotional events.
— Perry Mattfeld (@perrymattfeld) April 15, 2014
At an early age, Mattfeld's passion for ballet became evident as she dedicated herself to honing her skills through intense training sessions. She invested countless hours into perfecting her technique and cultivating her talent within classical ballet.
Through this immense commitment and unwavering dedication to her craft, Mattfeld garnered recognition that granted her opportunities to showcase her abilities across esteemed ballet companies nationwide – laying the foundation for future achievements within the entertainment industry.
Beginning of Her Ballet Career
From the tender age of 5, Perry Mattfeld nurtured a deep-seated ambition to pursue ballet dancing. Over the course of 9 years, she honed her skills under the tutelage of Debbie Allen, an esteemed ballet instructor. During this time, Mattfeld had numerous opportunities in productions like "Ms. Allen's World Premiere Musical" and "Alex in Wonderland," which were overseen by Allen herself.
After achieving success as a ballerina, Perry Mattfeld stumbled upon another interest that would alter the trajectory of her professional path – acting. Fascinated by storytelling and the opportunity to embody various personas, Mattfeld chose to venture into acting as an avenue for self-expression.
Perry opted for classes in acting and swiftly developed a deep fascination with this artistic discipline. Through dedication and unwavering commitment, Mattfeld effortlessly transitioned from ballet to pursue her newfound passion for acting.
At just 12 years old, Mattfeld was already making waves as part of Mattel's American Girl Dolls musical theater troupe—specifically portraying characters such as Kirsten Larson and Kit Kittredge. This early experience served as a springboard for her budding acting career.
Breakthrough Role in "Shameless"
With each new endeavor further solidifying her talent, Mattfeld graced screens in notable projects, including Disney's "The Wizards of Waverly Place (2009)," "Secret Diary of an American Cheerleader (2012)," "Escape from Polygamy (2013)," Conan (2016), and "Stitches (2017)". However, it was her unforgettable, recurring role on "Shameless" from 2017 to 2018 that truly propelled her into stardom.
Perry's compelling depiction of a troubled young woman grappling with personal struggles in "Shameless" garnered immense admiration and highlighted her talent for infusing intricacy into her roles.
Mattfeld's standout performance on "Shameless" established her credibility within the entertainment industry, paving the way for exciting prospects in both television and film projects.
ALSO READ: Chandler Lovelle Biography: An American Actress and Singer
Leading Role in "In the Dark"
Perry Mattfeld gained significant recognition for her role as the main character Murphy Mason in "In the Dark," a popular CW series. In the show, Perry portrays Murphy, a socially withdrawn blind woman who struggles with addiction and works at a school where guide dogs are trained – an occupation she deeply dislikes due to its association with her parents (played by Kathleen York and Derek Webster).
View this post on Instagram
However, everything changes when one of her closest friends is murdered, prompting Murphy to take on the role of an amateur detective in order to uncover the truth about the killer.
Critics highly praised Mattfeld's performance as Murphy because of her ability to skillfully portray a complex range of emotions. She flawlessly captures both vulnerability and strength while also demonstrating quick-wittedness throughout.
Audience members and advocacy groups supporting individuals with disabilities greatly appreciated how authentically she portrayed such a character without relying on stereotypes, further cementing Perry's commendable portrayal.
Film and Other Television Appearances
In addition to her television work, Perry Mattfeld has also made appearances in various films and other television series. Some of the works of the popular actress are listed below:
| | | |
| --- | --- | --- |
| Title | Credit | Year |
| The Norton Avenue All-Stars | Amanda Hammerschmidt 'The Hammer' | 2008 |
| Escape From Polygamy | Bonnielee | 2013 |
| Shameless | Mel | 2017-2018 |
| Homecoming | Makeover Associate | 2018 |
| Mending the Line | Lucy | 2022 |
| A Little White Lie | Layla | 2023 |
Table Source: IMDb
Other than her acting projects, Perry has also ventured into production with her input in the show "In the Dark." Furthermore, the actress also has a movie lined up to be released called "The Idea of You." The movie stars Anne Hathaway and Nicholas Galitzine in lead roles and is currently in post-production.
Although the role of Perry has not yet been disclosed, fans are eagerly waiting to see the American beauty on the big stage once again.
Marriage to an NFL Legend
While Perry is widely recognized for her acting talents, sports enthusiasts know her as Mark Sanchez's wife. The 29-year-old actress from "Shameless" and the 36-year-old former NFL player tied the knot on May 28 in Oaxaca, Mexico, at a picturesque colonial monastery dating back to the 16th century.
Perry Mattfeld's husband, Sanchez, was accompanied by his mother as he walked down the aisle, with close friends Leslie Powell and Seth Cook serenading them with Elton John's "Can You Feel the Love Tonight."As she made her grand entrance wearing a timeless custom Karen Sabag gown, Mattfeld chose Rihanna's "Lift Me Up" as her soundtrack.
During their heartfelt ceremony filled with handwritten vows, Daniel – Sanchez's son who also served as a groomsman and ring bearer – stood faithfully beside them. Afterward, they celebrated their union along with 222 guests at Casa dos Lagos, an exquisite private estate surrounded by gardens and home to countless butterflies situated in Oaxaca City.
As Perry Mattfeld continues to make her mark in the entertainment industry, her future looks promising. With her talent, versatility, and dedication to her craft, she is poised to take on diverse roles and further showcase her acting prowess.
Audiences eagerly anticipate her upcoming projects, as Mattfeld's ability to captivate and emotionally resonate with viewers has solidified her place as a rising star in Hollywood.
Perry Mattfeld biography is still being written, and newer chapters are yet to be added. Visit us again to see what has changed and what new information has been added.
Did you notice an error ?
Please help us make corrections by submitting a suggestion. Your help is greatly appreciated!