Top Lists
Know 5 Surprising Facts About Hannah Jadagu: The Rising Star of Bedroom Pop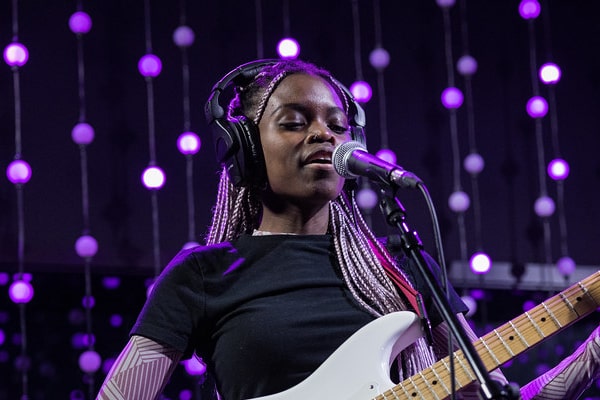 Hannah Jadagu. Image Credit: flickr.
Hannah Jadagu is a rising Bedroom Pop icon who rose to fame after her iPhone7-produced EP received massive love from the audience. The self-taught musician's homemade debut EP, What Is Going On? was not contained in between her walls. Thousands adored the catchy melody, intimate story-telling, and relatable lyrics in a short period that bestowed limelight light upon her.
A young Hannah who was having fun with her music did not anticipate that her hobby of making music would place her in the limelight so soon. However, as of today, the 20-year-old pop singer is signed to a record label and is pursuing her studies in music, intending to push her horizon in music. Besides, we are here to give you an insight into five surprising facts you might not know about Jadagu.
5. Hannah Jadagu is From Zimbabwean Descent!
The musical inspiration of the 20-year-old bedroom pop sensation lies deep-rooted within her ancestry and family culture. Hannah was introduced to R&B and Hip-Hop music early as it was the household music in their family. Her parents moved to the United States from Zimbabwe during the late 90s', and nested in suburbs where Black and Hispanic families lived.
The local K104 Hip-Hop radio was Hannah's parent's go-to station so that they could connect to the swagger of their new community of Houston, Texas. Around that time, she got familiar with many US artists, specifically the Young Money icons Wayne, Nicki, and Drake.
However, Hannah Jadagu's 'cool' older sister has to be credited for instigating her into the world of Indie music. In no time, the Admit It singer fell in love with the sounds of artists like The 1975, which led then-15-year-old Jadagu into the deeper trenches of Indie music.
4. Hannah's Inspiration In Indie Music
Hannah discovered her love for indie music while listening to 'Chocolate' by The 1975, which immediately got included in a palette of musical goodies that she was consuming back then. The appetite grew shortly, and she dug exceptionally to quench her curiosity and thirst.
The genius behind What Is Going On? soon found inspiration in artists like HAIM and  Vampire Weekend. However, her discovery of Clario's 'Pretty Girl,' and Steve Lacy pushed her to begin making her music from her smartphone.
Apart from this, Charli XCX, Frank Ocean, SZA, Haim, Billie Eilish, Tame Impala, the Beatles, Ellie Goulding, CeeLo Green, beabadoobee, and M. I. A. make it to the list of artists that inspired Jadagu throughout her musical undertakings.
Thus, an accidental discovery of indie dragged Hannah along from where she started. As of today, the Zimbabwean-descent bedroom pop icon boasts a discography that includes a handful of solos, an EP, and an album.
ALSO READ: Top 5 Reasons That Increased Singer Mitski Net Worth
3. Is Hannah Studying Music?
Hannah was catching the eye of a broader scope of audiences, and her college sessions were about to start soon. Hence, she had a decision to make as to whether or not she would continue her music and what faculty she would study. However, the Bedroom pop icon found it hard to part ways from music as she always wanted to make a mark as an artist or music manager.
Thus, to further enrich her music vocabulary and become more resourceful, Hannah Jadagu decided to pursue a major in the music business. However, despite landing a managerial stream of study, she leaned more toward music making.
In 2022, Hannah Jadagu even took her time off of college to tour with fellow indie artists Faye Webster, Wet, and Frankie Cosmos. After the tour, she cited that her time during the tour was productive and taught her more valuable lessons in the music industry than her whole year at the college. She is currently in her third year of graduation.
Similarly, you might want to read about Deryck Whibley Wife, Ariana Cooper.
2. Securing a Record Deal!
The What Is Going On? singer was walking to the unknown when she relocated from Houston to NYC to pursue music business. Although she had a budding fanbase that adored her, it was still not adequate for her to consider taking the leap of faith and doing full-time music.
However,  Hannah Jadagu never knew that her dream of stepping into a professional studio to make her records would come to knock on her door. Thanks to her iPhone 7-produced EP, she got noticed by a New York-based indie record label, Subpop. Moreover, she dropped her first LP, 'Aperture,' which dropped in collaboration with Subpop.
1. Idea Behind 2023 Album 'Aperture'
Aperture is a term that originated from the camera, and it represents how, like an aperture of the camera, Hannah is encapsulating her experiences via her songs to memorialize them forever. Unlike her previous works, she took a different approach as she loves experimenting in the booth. She can be heard up close and sounding more vulnerable in her LP.
In a nutshell, Hannah Jadagu is making her mark as an artist that pops up occasionally. Moreover, she embodies beauty in balance as she moves forward with her study completion, touring, and a full-fledged music career blooming on the sideways. We wish her further success in her endeavors.
Did you notice an error ?
Please help us make corrections by submitting a suggestion. Your help is greatly appreciated!